For the original in Portuguese by Betinho Casas Novas, published in Voz das Comunidades, click here.
Just 38 years old, Vanessa Aparecida Abcassis was shot on the afternoon of March 19 during an intense shootout in Complexo do Alemão. The victim was standing at the gate of her residence speaking to neighbors when a stray bullet suddenly hit her stomach. Alemão's UPP police quickly rushed her to the Estrada do Itararé's ICU, but she did not survive her injuries and died in the unit.
This marks 78 days of shootings in Complexo do Alemão. In other words, there has not been a single day in 2015 when we have not heard the cacophony of war. Counting Vanessa Aparecida's death, 17 residents have been shot, six of them fatally; nine military policemen have been shot, one fatally.
After Vanessa's death, residents took to social media to alert others of the continuing shootout in different parts of the cluster of favelas of Alemão.
2014 was the most violent year in Complexo do Alemão since the police occupation in 2010.
Since the beginning of 2014, around 27 residents have been shot in the Alemão favelas. Among these, 13 were injured, attended to in hospitals and clinics and immediately released, and 14 passed away.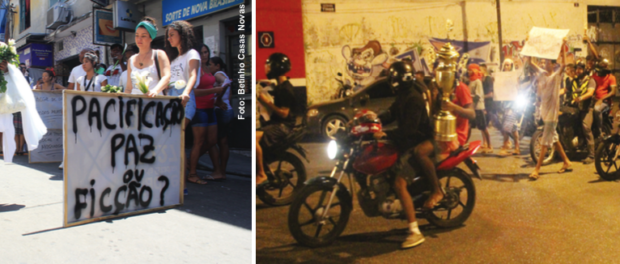 In early October alone, 12 people were shot in Alemão. Of these, three died: two were found dead in Fazendinha and the other was found dead on a street in the Sabino community. The other nine victims survived: three military policemen and six community residents. Of the six residents, four of them were shot on the same night during the occupation of the former Tuffy Habib Plastic Factory. The old factory has been occupied since March of last year, with close to two thousand people living on the site.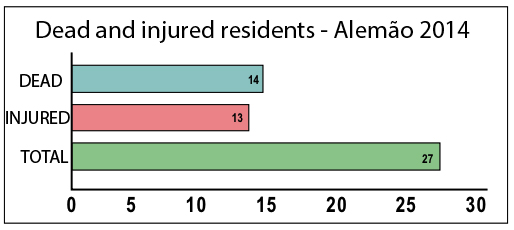 The violence terrorized Alemão residents, homes remained closed, stores and houses had 'for sale' signs. Complexo do Alemão was the stage of one of the biggest wars being televised globally. Residents felt the tension every day.
Fear reached everyone: police officers, residents, business owners and visitors alike. In 2014, 46 military policemen were shot in action in Alemão. Of these, three were killed and 43 wounded.