Around 500 people took to the streets of Complexo do Alemão on the morning of Saturday April 4 to call for an end to violence in the community after five people were shot dead there in 24 hours. The victims included a ten-year-old boy, Eduardo de Jesus Ferreira, shot on the doorstep of his house by a policeman, and Elizabeth Alves de Moura Francisco, killed inside her home by a stray bullet.
Protesters mobilized to remember the victims of the ongoing violence in Alemão, where intense shootouts have been a daily reality for months.
Alemão residents and supporters from other parts of the city gathered at 10am at the entrance of Grota, Complexo do Alemão. Various residents and community leaders gave speeches, buoyed on by the multiplying crowd shouting "We want peace!" and calling for an end to the Pacifying Police Unit (UPP). Guest speakers from outside the community included president of Amnesty International Brazil, Atila Roque.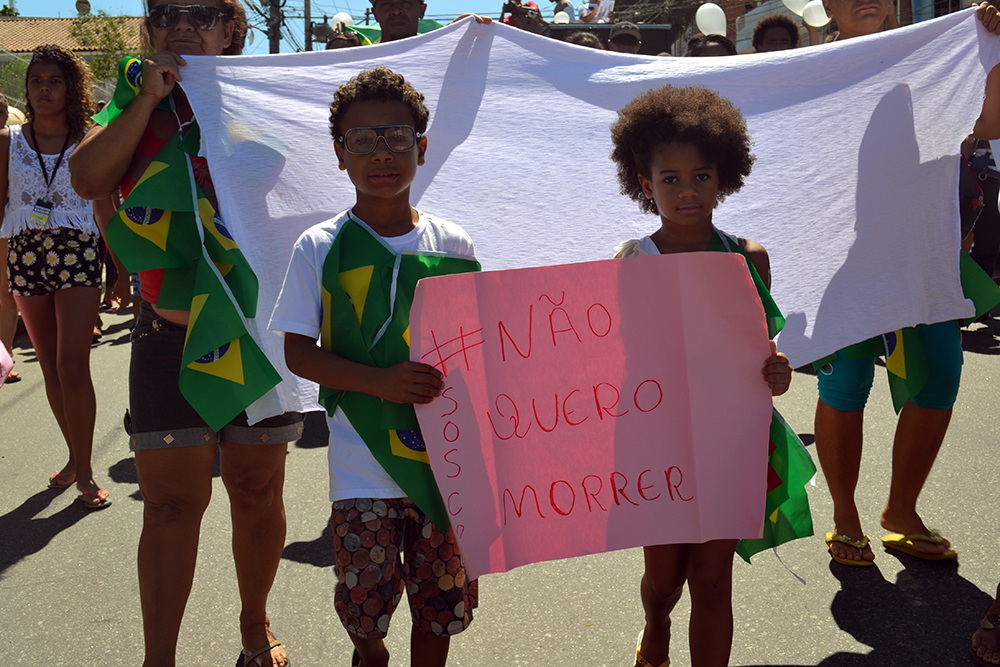 Resident Rosilene de Oliveira, from Morro da Baiana in Alemão, said she is tired of seeing violence in a community that used to be peaceful. She said: "I am here because I am tired of so much violence in a community where before we could come and go without worrying; now this doesn't happen. We have been losing several NGOs that have projects here in Alemão because their workers are scared to come in here. Residents who used to work in the cable car are being fired because they are decreasing the number of employees since the cable car has to stop when the shootouts start. So I think it's time to end all this violence."
Many protesters wore white and carried white balloons with the word "peace" drawn on them. Some held placards reading, "We deserve to live without fear," "We've had enough of so many deaths," and "The favela calls for peace," among other slogans. Children carried banners calling for "fewer bullets, more love."
The rally ended with a roll call of children who had been killed in Complexo do Alemão. The crowd responded by shouting "present" as each name was called out.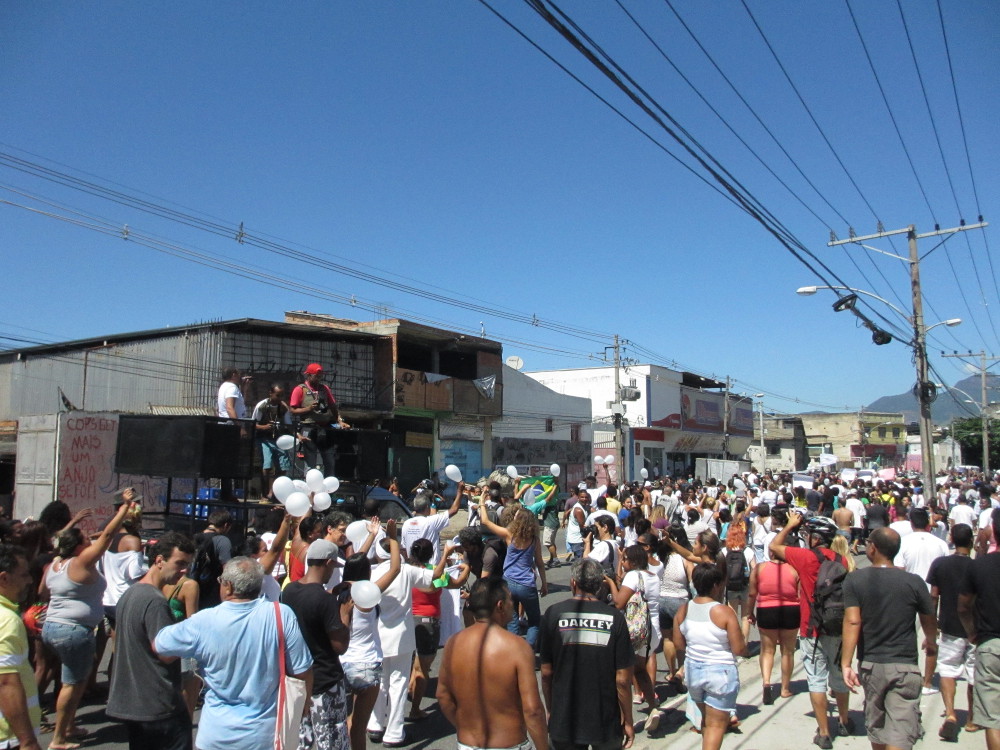 At 11am the crowd of approximately 500 people began to march, beginning on the busy main road, Estrada do Itararé, slowing traffic, and continuing into the Nova Brasília neighborhood. A large group of mototaxi drivers, who lost a colleague to police violence in May 2014, led the march. The protesters were accompanied by policemen on foot and followed by five UPP police cars. A police helicopter, booed every time it came around, could be seen circling the community.
Resident Simone Nunes expressed concern over the media representation of violence in the favela. She said: "When something happens, they say [the victim] was involved [with drug trafficking] when they're not. They say [the victim] had a gun when they don't. So if a person dies inside the favela they're either criminals or involved in something. They always accuse the resident of being in with the drug traffickers when sometimes all [the victims] were doing was playing when the shootout started out of nowhere."
Many residents complained that mainstream media outlets never interview residents live, which gives the media power to control the narrative as they choose. Nunes said: "We have nowhere else to go for help because the media films us from their helicopters and never let the resident speak live because they prefer to edit and show what they want to show, so we are tired. That's all I have to say."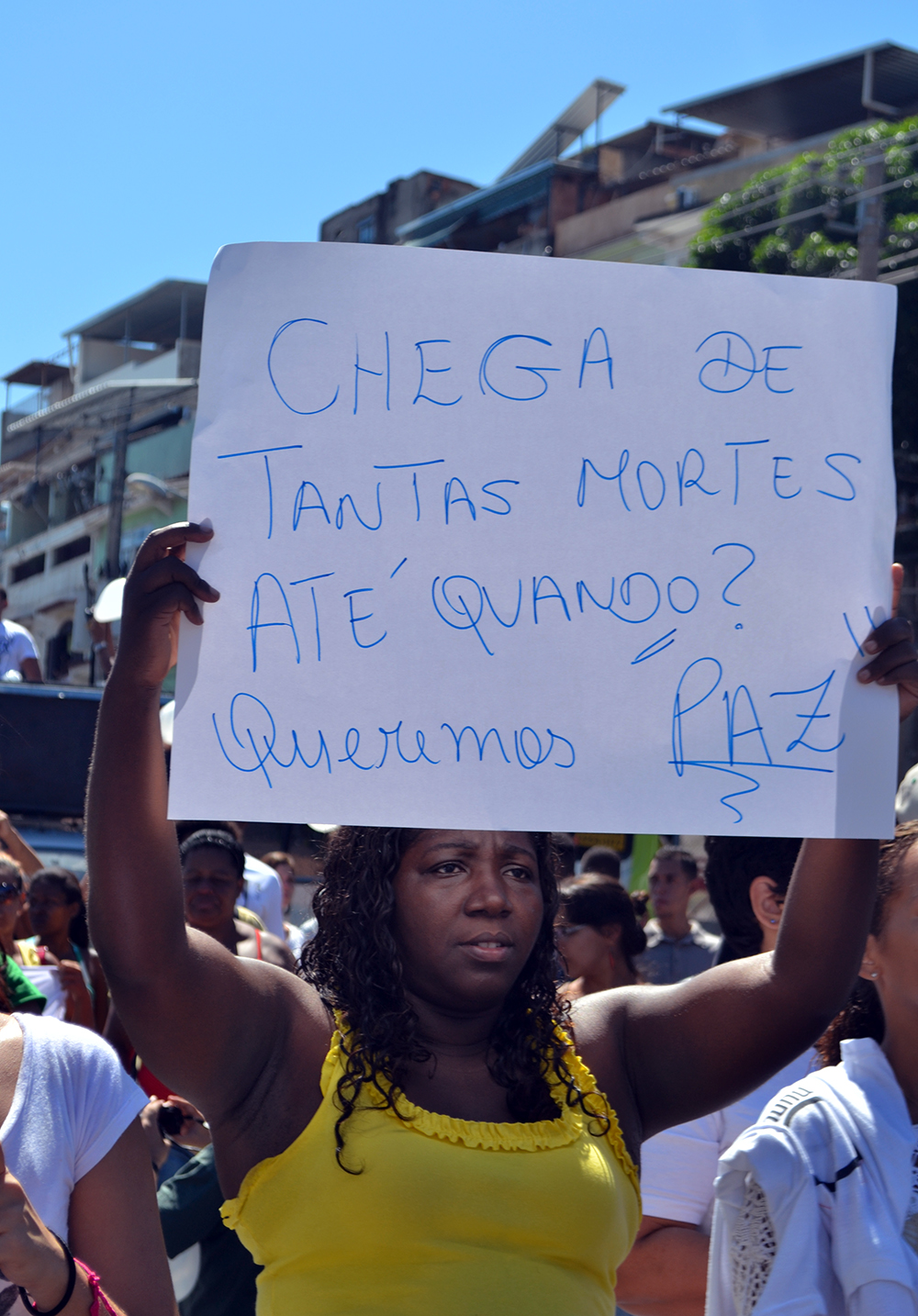 A truck containing a loudspeaker drove alongside the march, providing space for speeches and music. Many protesters sang along to the lyrics of Rap da Felicidade (by Cidinho), played repeatedly as the protest continued: "I just want to be happy / To walk in peace in the favela where I was born."
Raull Santiago, part of the community media collective Coletivo Papo Reto, said he was protesting to remember the people who lost their lives to violence. He said: "I am here today to call for life, to call for the end of killings and to remember each one of us who bled, not only over all these years in Complexo do Alemão but especially since January 1. It's been more than 90 days of daily shootouts, a lot of blood, a lot of death and I am here to call for this to stop, to call for people to stop bleeding and for people to stop killing."
Protesters dispersed upon reaching a large square in Nova Brasília and joined in prayer for those who were killed. At the end of the protest an announcement was made by loudspeaker of reports of a shootout taking place in Grota, where the march had begun just hours before, providing a sharp reminder of the importance of the demonstration.
Watch RioOnWatch's video report of the protest below: