Every day Mariluce Mariá de Souza, 33, wakes up early to set up her stand at the Palmeiras cable car stop in Complexo do Alemão, in Rio's North Zone. The paintings she sells are her own interpretation of the community where she was born and raised: a blue cable car towers over colorful houses that cover the hills from top to bottom, a kite or two flying in the orange-red sky.
It all started when she and her husband, Cléber, started a favela tour business called Turismo no Alemão to show tourists around their community. Their intention was to bring in foreigners who were curious about favelas to stimulate the economy of the community and promote cultural exchange.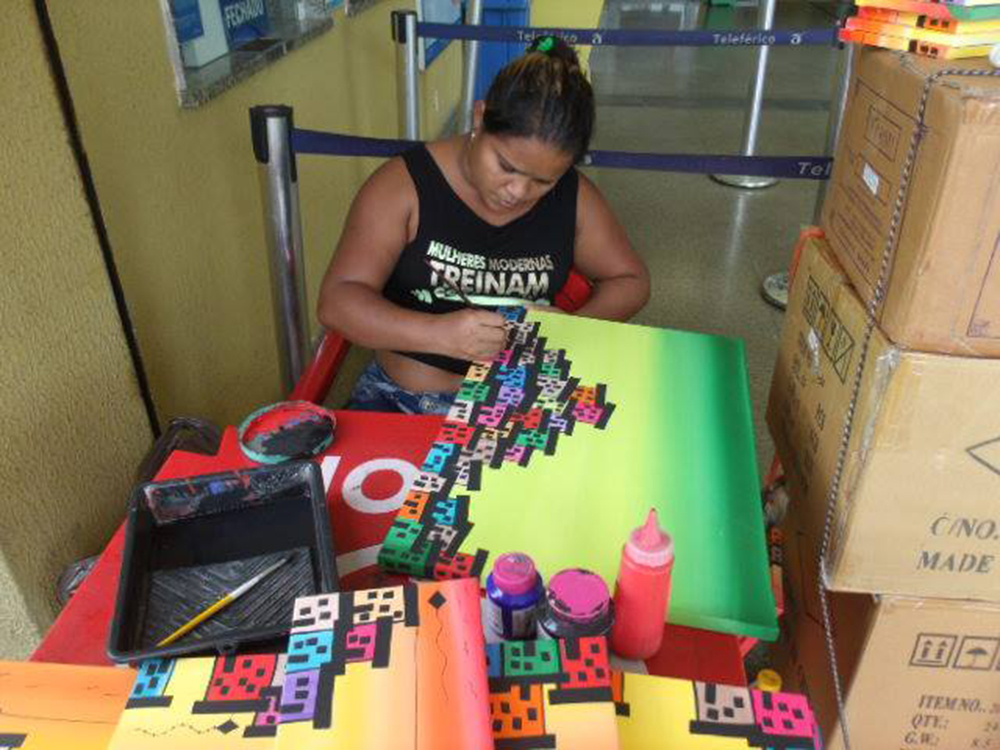 The couple realized that the visitors didn't have any Complexo do Alemão-themed souvenirs to take back home after the tour, so Mariluce started decoupaging photos of the favela onto glass bottles to make some extra money off the tours. This was in 2012, around the time the cable car in Complexo do Alemão was inaugurated and violence in the community appeared under control with the installation of a Police Pacifying Unit (UPP) there, allowing tourists who wouldn't normally leave the South Zone to venture north.
"Our first souvenirs [to sell to tourists] were the glass bottles and I also started making some wooden boxes. But then I realized decoupaging was a lot of work, so I decided to try to draw those images. I made one, two, three boxes… Soon enough, Cléber was selling every single one," Mariluce says.
Soon, Mariluce was painting on canvases that were easy to fit into luggage and her art was being bought to be taken all over the world. The paintings were selling more than the tours, so she decided to focus on painting instead of the tour guide business.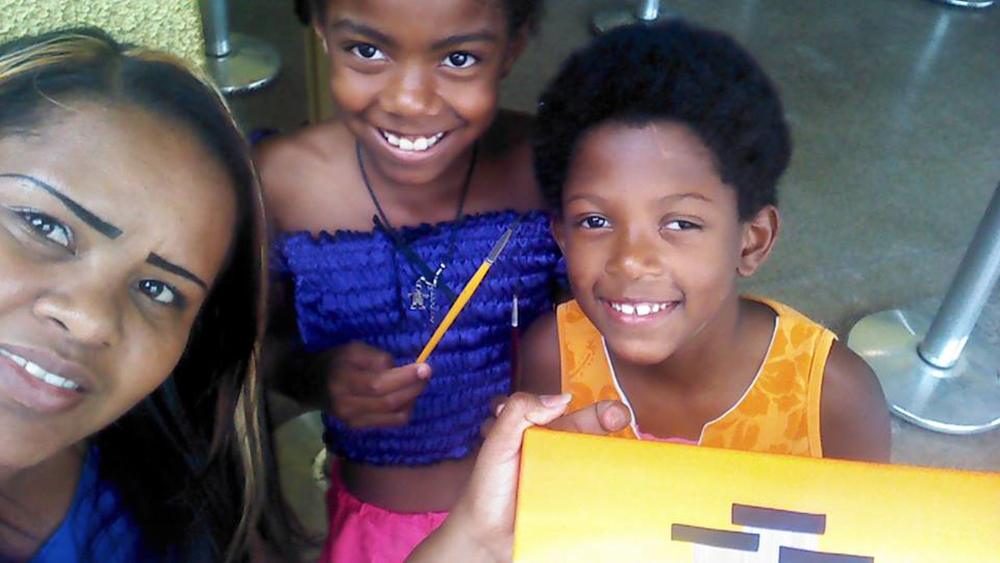 Perhaps this was a blessing in disguise: the couple's tour company closed its doors in 2014 because confrontations between the police and drug traffickers resumed and grew in frequency after a brief respite. This new wave of violence took the lives of many (often at the hands of the police) and affected Cléber and Mariluce's livelihood heavily: the company had previously provided tours for groups of up to 90 people, but tourists became reluctant to visit a community where shootings were reported every day. Turismo no Alemão has been closed since.
Mariluce and Cléber initially used their Facebook profile, Alemão Morro (now changed to Mariluce's full name due to Facebook's Standards and Practices), to tell positive stories about their community and promote their business. However the page gained another purpose when the violence returned: keeping residents informed of shootings and confrontations around the community so areas of risk could be avoided. The page is also used to promote Mariluce's work, which is how she got invited to speak at Stanford University's Educational and Entrepreneurial Initiatives to Support Youth in Places of Violence conference.
"With time, the violence came back and people distanced themselves and we suspended the tour. We're not giving tours anymore. And the selling of my art became our only income," Mariluce says. "But everything I do, I think: 'I want to do something for my community.' Just painting and selling my art wasn't helping, since I could no longer bring the tourists to the favela to spend their money in the favela, to have a cultural exchange with the residents and to help residents. So I started thinking about how I could help.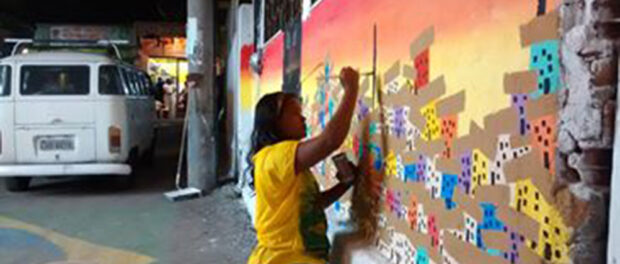 Her stand in the Palmeiras cable car stop—the last stop on the 16-minute journey across 13 communities—is located right in front of the community library. With many children spending their free time there, Mariluce started putting on a painting workshop for children every Saturday to teach the kids how to paint. "It's important to do this because the workshops fill up the children's free time and I am also motivating them to develop an interest in art and culture."
But Mariluce wanted to do still more for her community. "How can I share [my talents] with the people here? So I started to paint the walls [of the community] because I realized they had tagging with swear words on them, you know? Also with provocations between the police and the criminals. So I decided to erase those marks on the walls and put my drawings on them, but with the help of the children."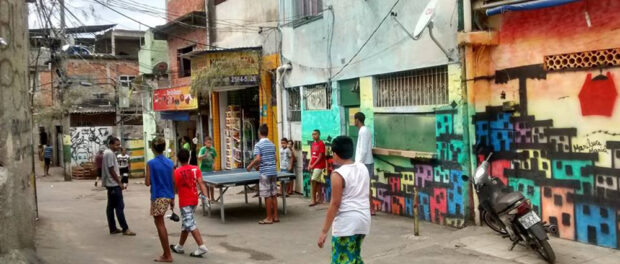 Each child paints a part of the planned mural and Mariluce gives the final touches to the work of art. "Besides erasing all the swear words, the community looks prettier. Art always brings happiness."
The painting of the walls is done on demand through Mariluce's Facebook profile. If a resident wants their beco (alleyway) painted, they get in touch through private message and nothing is charged from the people who ask for a little art near their home. For this purpose, she started a crowdfunding campaign so she can paint more locations across Complexo do Alemão. Support Mariluce's crowdfunding campaign here.