On Saturday, October 3, around 60 Rocinha residents gathered in the Praça Roupa Suja to discuss their hopes and dreams for the community in the latest event of the "If The City Were Ours" series. As described on the Facebook event page, residents were invited to ask themselves: "What if we, who every day face full buses and trains, long lines at hospitals, and suffer with poor public education, could give our opinions and make decisions regarding public policy? Imagine how Rio de Janeiro would be if transportation, education, and sanitation were ours."
Before beginning, children from the community gathered in the plaza to create posters describing their wishes for the community "if Rocinha were theirs." When asked about the posters later, a young boy said: "If Rocinha were mine, I would try to make everyone happy."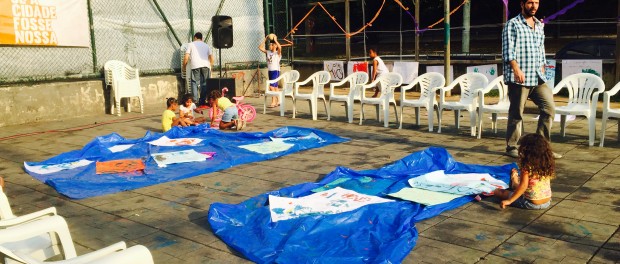 The event began with a presentation by local theater group Bando Cultural who dressed as different animals and led activities and games for children. This encouraged parents to attend the event and participate in the discussion.
After the cultural event, residents sat to discuss issues surrounding health, sanitation, transportation, security, culture, and the use of public spaces. As outlined in the event description: "All these questions unite everyone's belief that Rio's culture is created by those who live, study, work, love, and dream in the city itself. We want a Rio with better human rights, where profit is not valued above life."
Roberto Lucena, a resident and member of "Rocinha sem Fronteiras" (Rocinha without Borders), spoke about sanitation issues that the favela faces and criticized the state's plan to build a cable car without consulting residents: "The government thinks of a plan and doesn't ask residents what it is they truly need." Since the announcement of the Olympics, Rio authorities have prioritized visible interventions in the favelas. The effect, many agreed, is that rather than improve life for residents, these events simply promote the city's image. Roberto voiced the opinion that a cable car will only boost tourism, while the community's urgent needs continue to be neglected.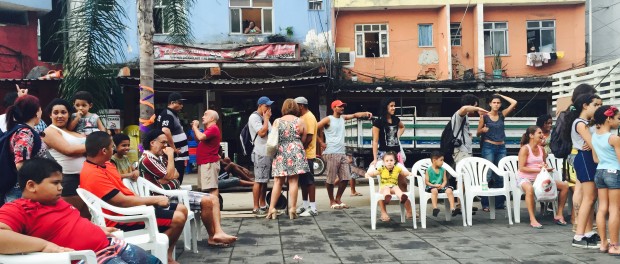 The lack of an effective sanitation system in Rocinha is directly related to another urgent issue in the community: health care. Rocinha has one of the highest rates of tuberculosis in the state, yet is underserved by the public health system. One resident said: "Health care is a basic human right—we need more specialists at the Municipal Health Center and have a huge lack of doctors."

Though the discussion was cut short due to rain, many community members were able to speak out on issues that affect them and their daily lives. It was clear that the community has suffered recurring problems for decades and that issues related to sanitation and health are immediate priorities. Participants emphasized the cultural aspects and true value of the community as well as the need to get urgent demands met. As Ritinha declared: "It's not 'If they city were ours.' The city is ours."