On Tuesday October 6, Studio X Rio de Janeiro hosted the event "When People Take Control: Bottom-Up House Making" to discuss alternative ways the world can house all its inhabitants given the rapid rates of urbanization in the 21st century.
Speaking at the event were: Axelle Dechelette, a graduate from Sciences Po Paris who shared her recent research on Urban Squatting Movements spanning across Rio de Janeiro and São Paulo; Elisete Napoleão, a national leader of the National Movement for Housing Vindication (Movimento Nacional de Luta pela Moradia or MNLM) explained the movement's role and various projects around Rio; and Fernando Minto, an architect and urbanist from the University of São Paulo, spoke about several social housing projects in São Paulo.
"Today the city of Rio de Janeiro has a housing deficit with respect to 220,000 of its residents." – Axelle Dechelette
Axelle Dechelette presented her research on four urban occupations that she has been following closely since August: Manoel Congo in Cinelândia, Chiquinha Gonzaga in Centro, Quilombo da Gamboa in the Port Region, and Mariana Crioula, also in the Port Region at the foot of Providência. She highlighted that the occupation movement in Brazil began in the 1970s with support from the Catholic Church in response to the historical housing deficit. Today the city of Rio de Janeiro has a housing deficit with respect to 220,000 of its residents, while São Paulo's is over 475,000. She expressed that social movements want to increase the number of housing units made available as one of many efforts to ensure the right to housing.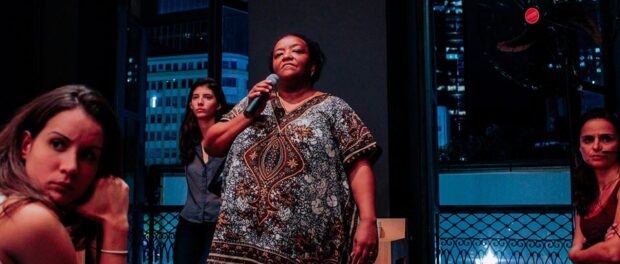 Elisete Napoleão spoke about her experiences of inequality in Rio de Janeiro.  She grew up in the South Zone favela of Pavão-Pavãozinho and started work at the age of 14, later earning a scholarship to study law at university. At university, Elisete explained, she was constantly reminded about Article 5 of the Constitution, "everyone is equal," but every day when she returned home she felt this to be untrue. Elisete didn't go on to practice law, but is now a national leader in the National Movement for Housing Vindication (MNLM) fighting for housing rights. According to Elisete, many of the Minha Casa Minha Vida residents who are relocated to public housing end up moving out. She spoke about MNLM's activities teaching families self-management and sustainability.
Architect and urbanist from the University of São Paulo, Fernando Minto presented three of his projects working closely with residents from the occupation movements of São Paulo. He highlighted the success of "horizontal" decision-making for the process of house building. The projects begin the social housing process with training that includes parties from both inside and outside the movements. With each of their projects the architects worked with locals and their resources facilitating "collective project activity." They provided easy to use mechanisms which encouraged participatory design and planning of the housing units. Initial plans included resident input and knowledge and giving them a vision of their new home to which they'd contributed and therefore had some ownership over the design process.
See images of the event here. Read other articles covering Studio X events here.