Eight community projects in Complexo do Alemão are participating in a joint crowdfunding campaign entitled #TodosPeloAlemão (#AllForAlemão). The campaign began on October 13 and ends on December 15 and has reached 33% of its goal of R$60,000. The campaign was initiated by Via Varejo, a large national retail company with stores in Alemão, after opening a process to select eight community projects. Via Varejo promises to match all donations raised via the crowdfunding campaign, ultimately delivering an award of R$15,000 to each of the community projects featured. To support the campaign in English, visit the final paragraph below.
Coming together to raise funds is a model that Mariluce Mariá from Favela Art, one of the eight community organizations involved with the campaign, recommends for other community projects. "Doing a campaign with other projects gives it more force," she said. "Collectively you have the support of others and can show other projects. People donate not just to one project, they donate to all of them." Unfortunately, she warns, "It's been confusing for the majority of the community. People think we've already received the R$15,000."
The community projects involved also hope the initiative will raise awareness about the importance of Alemão's community-based organizations. Mariá said: "The ideal for us isn't just to raise funds. Visibility is very important so people can know the projects and they become visible."
Visibility and funds for these projects is of paramount importance at this time of escalating violence in Complexo do Alemão, with recent events making international news. The community has responded in various ways, including through peaceful protests calling for an end to police violence. The presence of the Pacifying Police Unit (UPP) since 2012 has failed to bring peace to the large favela complex and violent clashes continue. The community groups involved in the crowdfunding campaign demonstrate an alternative path to peace in the community while changing the image of their community and its residents through art, welfare, education, sports, music, digital inclusion and professional training.
Each participating project has a specific goal in mind should the campaign be successful. Find out more about the eight projects below:
Creche Algodão Doce
Created in 2011 by Andreia de Oliveira, Creche Algodão Doce (Cotton Candy Daycare) looks after 48 children daily. The daycare makes it easier for many women in the community to work and serves as an educational space for children in the community. Their goal is to expand the daycare to support 40 more children.
"We believe that a quality education transforms lives." – Andreia de Oliveira, Creche Algodão Doce
Espindola Team
Espindola Team currently offers kickboxing classes to close to 70 children and adults. The organization prides itself on developing the character and values of their students. They hope to host the first Martial Arts Tournament in Complexo do Alemão for around 1,000 people by investing in infrastructure and equipment, which will allow them to take in more students.
"We're proud to see students training hard and putting themselves out there in competitions with force and determination. We incentivize our kids and young people so they can build their own dreams and seek out the good." – Raphael Espindola, Espindola Team
Favela Art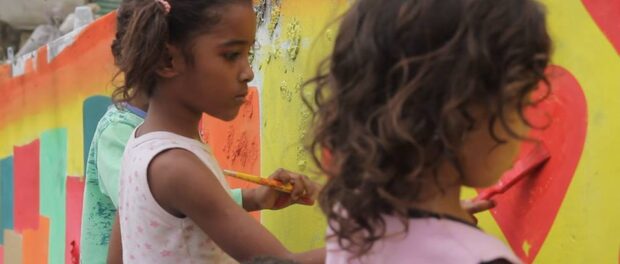 Favela Art was founded by Mariluce Mariá de Souza and her husband when they had a favela tour business called Turismo no Alemão and realized there were no souvenirs to represent their community. She decided to start painting Complexo do Alemão on canvases. In 2014, Turismo no Alemão closed due to growing confrontations between the police and drug traffickers, but Favela Art has nonetheless prospered. Mariluce holds painting workshops in the community, while also filling Alemão's walls with colorful murals with the help of about 30 children. She hopes to restructure her studio and invite 30 more children to her project to continue beautifying the community.
"We want to involve as many people as we can with art and transform the Alemão scenery with new colors." – Mariluce Mariá, Favela Art
Agência Novo Complexo de Alemão (NCA)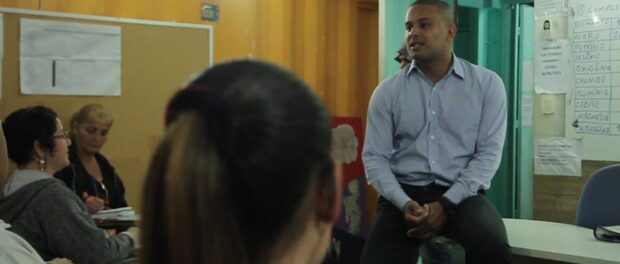 NCA serves as an employment agency in the community that offers social services and personal coaching. The organization offers workshops to improve resumés and strengthen interview skills with the goal of helping residents access better jobs. Should the campaign be successful, they will host a job fair in the community presenting over 1,000 employment opportunities.
"We are the showcase of the community's invisible talents." – Robson Santos, Agência Novo Complexo de Alemão
Na Ponta dos Pés
In 2011, ballerina and gymnast Tuany Nascimento, 20, participated in Gymnaestrada, the biggest gymnastics event in the world. She decided to bring her passion back to her community with Na Ponta dos Pés (On Tiptoes). Every year, she works with 40 new girls between the ages of 4 and 15 in the sports court in Morro do Adeus. Her dream is to build a ballet studio to train 60 more dancers a year.
"By contributing to the training of a ballerina, we challenge her reality. She gains new hope in her life."  – Tuany Nascimento, Na Ponta dos Pés
GatoMÍDIA
GatoMÍDIA believes that everyone has the right to gain visibility through technology. They have created 15 workshops in photography, video, live transmission, Internet, collaborative coverage, as well as social media. GatoMÍDIA provides skills so community members can promote their work, projects, and causes. They currently offer workshops to close to 100 young adults, and hope to increase their efforts to invite 100 more students.
"Visibility is a right that begets other rights. We believe in media activism as a tool of youth empowerment." – Thamyra Thâmara de Araújo, GatoMÍDIA
Projeto Paloma
For ten years Projeto Paloma has aided and supported community members who have suffered accidents through free physical therapy and rehabilitation. The project works to reintegrate their patients into society by helping them regain a sense of independence and by supporting them in maintaining the same daily routine as before their accident. Now, they are able to assist 22 patients. They hope the campaign will allow them to equip a new facility that will allow them to support up to 60 people at a time.
"We fight to reclaim dignity and contribute to the health of hundreds of people, often victims of stray bullets and other tragedies."  – Mônica Cirne, Projeto Paloma
Ritmo do Complexo
Ritmo do Complexo (Rhythm of the Complex) is a samba school that works to maintain the culture of Complexo do Alemão through music workshops for children. They offer percussion classes for 30 children, and hope to expand to 90 more students thanks to this campaign. They also plan to purchase uniforms and more instruments.
"We believe that by investing in children we are building a new future. The person who doesn't fight to see the future they want has to accept the future that comes." – Luís Cláudio Silva, Ritmo do Complexo
Watch the #TodosPeloAlemão campaign video:
To donate to the #TodosPeloAlemão campaign and for more information (in Portuguese) click here. Catalytic Communities, the US 501[c][3] nonprofit that runs RioOnWatch, can act as fiscal sponsor for those who would like to make a US tax-deductible donation in English here. You may follow up at donate@catcomm.org confirming your donation is earmarked for "Todos Pelo Alemão."