On October 23 agents from the city government carried out the unannounced demolition of five homes in Vila Autódromo, next door to the 2016 Olympic Park. 60 year-old Dona Mariza do Amor Divino lived in one of those houses and has been left homeless. It is the second eviction she has suffered as a resident in the community she's called home for almost 40 years.
The first eviction
Mariza do Amor Divino was cleaning fish to take to market one morning when some men showed up at her cabin. A few hundred yards away construction workers were building a wall around the nearly-completed Formula One racetrack, the Autódromo de Jacarepaguá. It was 1976, and the men whom Mariza had never seen before told her that she was on their land.
"They kicked me, took the [fishing] knife out of my hand, and destroyed my cabin," Mariza recalls. "They even took my fishing net."
Mariza, who was born by the Jacarepaguá Lagoon, had just moved to the small fishing community later named Vila Autódromo after the racetrack next door. Back then, Barra da Tijuca was an undeveloped swampland in Rio's West Zone. The wave of real estate development that began in the 1980s would transform the area into the sprawling suburb of wide avenues, shopping malls and gated condominiums it is today.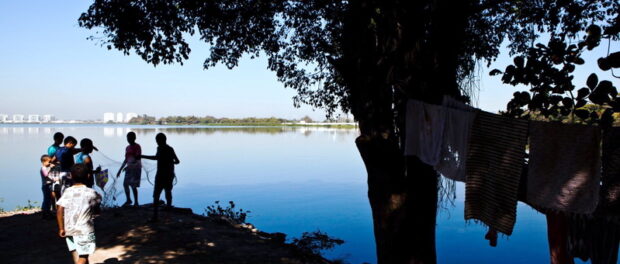 "Outsiders started to arrive and the fishermen started to worry about evictions. People started to settle on the land to build houses."
The land on which Dona Mariza had built her cabin exchanged hands between different owners until a man named Carlos purchased the lot in the early 1980s. Carlos built a house and invited Mariza to be caretaker of the property for a small salary. She accepted, staying there for five years until she moved to another house in the community.
"Since 1976, I have never left Vila Autódromo," she said.
A promise from the Mayor
With the development of Barra da Tijuca as a wealthy, aspirational suburb, the 2007 Pan-American Games and the announcement of the 2016 Rio Olympics in 2009, Vila Autódromo residents have long faced eviction threats. Since 2009 these have intensified and in response the community has also intensified its resistance efforts, organizing and mounting a sustained and exemplary resistance campaign which has included international media reports, protests, community events and an award-winning people's plan to upgrade the community and ensure their permanence.
In 2013, Mayor Eduardo Paes assured residents who wanted to stay in Vila Autódromo that they would not be evicted. However weeks later plans were revealed to remove much of the community. Residents protested outside City Hall and Mariza was one of those invited to speak with the mayor. 
"There were six people allowed to enter his office and I was one of them," Mariza recalls. "When he ended the talks and everybody had gotten up, I was the last to leave. I complimented him and I told him: 'I need your help. I have lived in Vila Autódromo for 37 years, but I don't have a title and I don't know what's going to happen to me.' He looked at me and said, 'You aren't going to end up in the street. You will have your own house.'"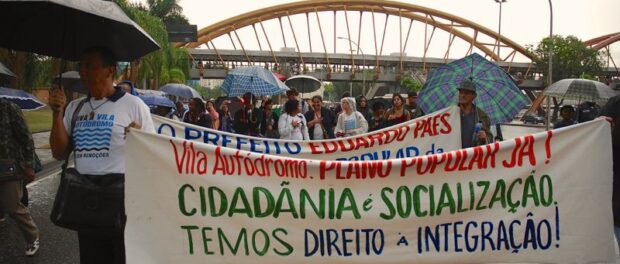 Power cut
In early 2015, Mariza moved within the community, into a house Carlos had built. By then Vila Autódromo was a shell of what it used to be. Rows of houses were now piles of rubble, and dust from ongoing construction in the Olympic Park loomed over the community. 
One day, in September of this year, Mariza recalls the power went out. It was strange, she thought, that the two other houses on her block still had their lights on. She was recovering from a recent operation so asked Carlos, her landlord and employer, to call Rio's electric utility, Light, but she didn't hear back. One night she heard a knock at the door.
"I saw it was 3am on the dot and I thought, 'what could this possibly be?'"
Outside was a man who claimed he was with Light. He asked if he could come inside to talk with Mariza, but according to Mariza the power outage stemmed from a damaged cable on the street, not from inside the house, so she politely refused. The man's response was stark: "[He said], 'If you don't come down then you won't get your power back.'"
Mariza doubted the stranger was with Light and suspected he had come to scope out the house for demolition. One month later her suspicion was confirmed.
Lightning eviction
At 4:40am on October 23 this year, Mariza left her house for a doctor's appointment and, like in 1976, she saw men in street clothes standing around her house. "I wanted to go back," she said, "but I thought, as a woman, to go back alone… they could have attacked me."
When Mariza returned from the doctor, a bulldozer had razed the house to the ground. Her clothes, her furniture, even the money she had saved and placed under her bed, had all disappeared. Mariza's blood sugar was high, but like the rest of her belongings her medication was nowhere to be found.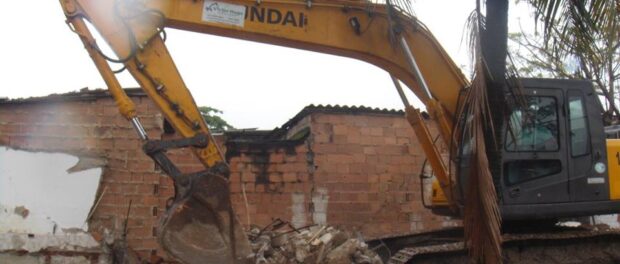 "Nobody warned me," Mariza explained. "Everything I had in there I had earned through sacrifice."
Vila Autódromo's Facebook page documented the lightning evictions that day. The Municipal Guard had arrived around 5am and later more government agents appeared. Five houses were demolished that day. The other four houses, Mariza explained, were owned by people like Carlos who owned property in Vila Autódromo but lived outside the community.
"They had property here but they didn't live here. I was the only one who ended up on the street… they have their lives outside [of the community]. My life is right here."
Mariza was told that her belongings were in storage at sub-mayor Alex Costa's office in Barra da Tijuca. She arrived to find everything in disarray. Many of her belongings, including the money she had saved, had disappeared.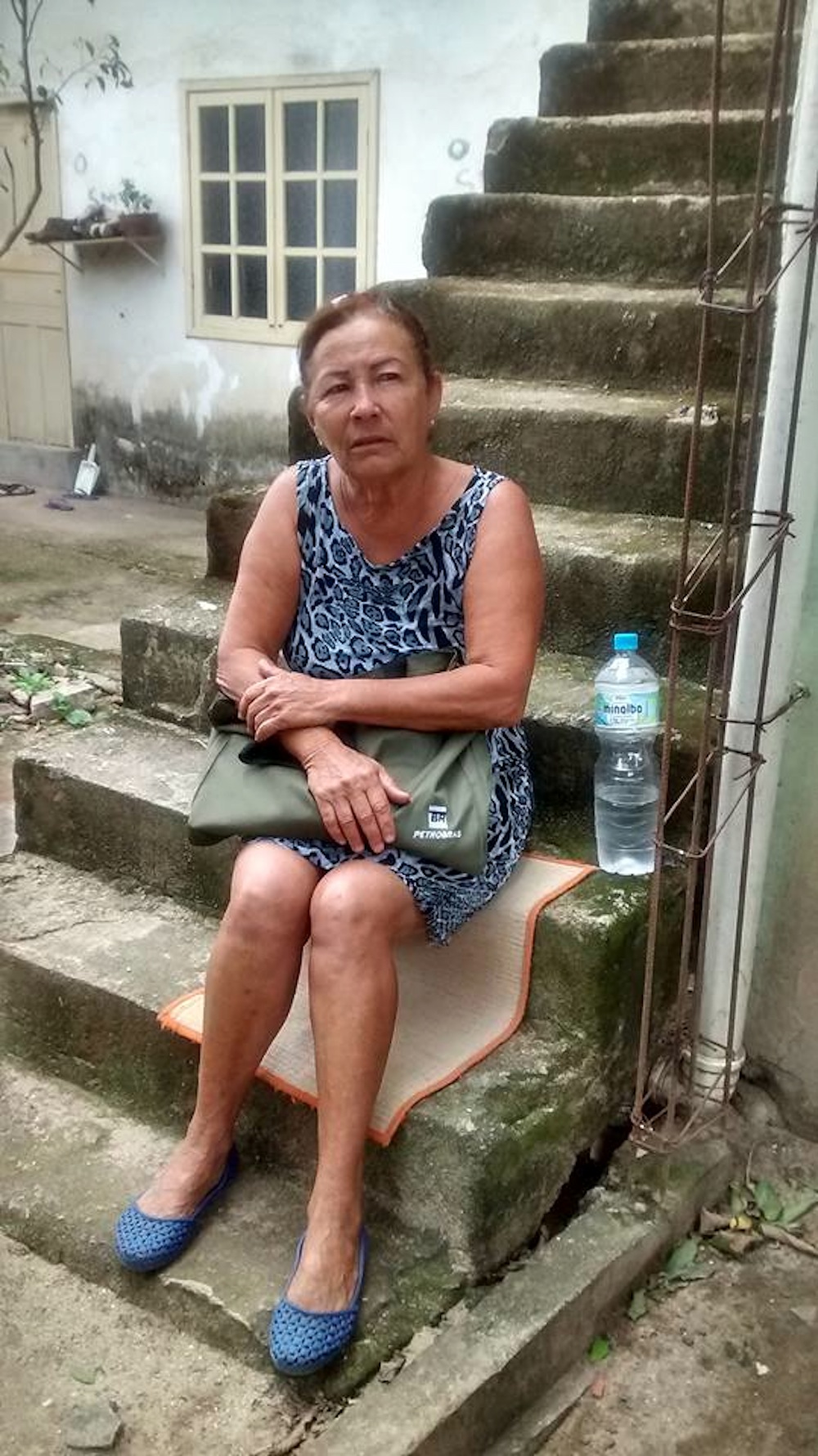 "Nothing was the same. Everything was mixed up… I didn't see my clothing, my television was face down and mixed with other people's belongings," Mariza recalls. "Then they said, 'We need to use this space so you're going to have to take everything.' I asked them: 'How will I carry it all? On my head? I don't have a house. I'm on the street!'" All that Mariza was able to recover after the demolition was her diabetes medication.
"How am I going to start my life over without a place to live?" she asked, her arms waving in exasperation. "I don't have a stove, I don't have anything. I have four pieces of clothing that were donated to me… This is my life: a sixty-year-old woman on the street."
Uncertainty in Vila Autódromo
The remaining 40-50 families in Vila Autódromo are keen to hold on to what's left of their community. After Mariza was left homeless, a post with her picture appeared on the Vila Autódromo Facebook page asking for someone to offer a place to stay. Maria da Penha, another Autódromo resident fighting eviction, took Mariza into her home.
"Maria da Penha felt bad for me," Mariza said. "She brought me here to her house… if she hadn't I would be on the street."
Uncertainty overshadows the community now more than ever. When asked where she would go if Maria da Penha were forced to leave, Mariza didn't have any doubt: "I'll live on the street," she replied.
Her belongings along with most of her neighbors are gone, but Mariza refuses to leave the place she has called home for nearly 40 years. She says she is registered to receive housing through the government housing program Minha Casa Minha Vida but she has yet to receive any word from the city. She hasn't forgotten Mayor Paes' promise.
"If he would put me under a roof, give me a stove to cook with, and a mattress to put on the ground, that would be good enough for me to start my life again. That's all I want."