Thousands of people gathered in Madureira Park on Thursday, December 10, for the Everyone Has Rights Festival to celebrate International Human Rights Day. The event, organized by a collective of the same name, sought to bring public attention to "the rights of women, indigenous people, youth, workers, non-traditional families, public health 'beneficiaries/users,' students and black youth."
The event occurred following a wave of demonstrations addressing police brutality, women's rights, violence against black women, and the militarization of pre-Olympic Rio. Organizers and activists from many of these demonstrations hosted discussion groups in an effort to advance conversations on unwavering human rights abuses in the city.
Speakers, performers, students and activists went to the Madureira Park in Rio's North Zone to participate in the day's events. Sections dedicated to "freedom of expression," "respect for the body," "right to life," and "music and resistance" hosted poetry slams, dance recitals, theatre performances, and photography exhibitions that explored human rights struggles in Rio.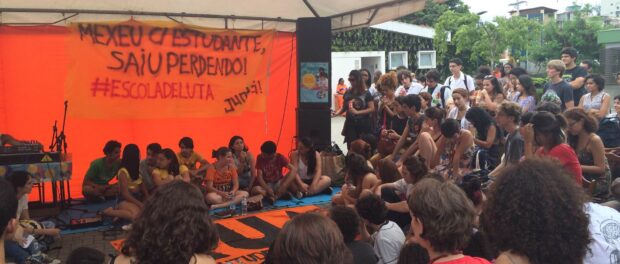 The focal points of these spaces were discussions of social justice campaigns, facilitated by organizations and individuals engaged in activism. One group discussed the recent student occupations in São Paulo, led by ten high school students who organized the occupation of their school. The wave of protests were coordinated in response to the city's proposed measures to close 94 public schools which would require over 311,000 students and 83,000 teachers to change schools. The São Paulo students candidly described their experiences with a crowd of over 150 high school and college students from Rio, who articulated their interest in using the São Paulo occupations as a model for their own protests.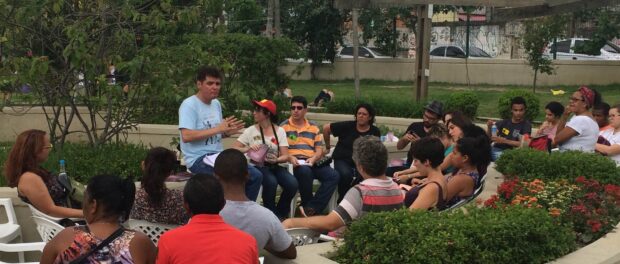 In a discussion of the criminalization of human rights defenders, Institute of Human Rights Defenders coordinator Thiago Melo, lawyer and activist Eloisa Samy, and Homeless Workers Movement activist Vitor Guimarães discussed the proposed law that could criminalize protest movements leading up to the 2016 Olympics. Samy argued that repression of protesters has increased substantially since the 2013 demonstrations, with those organizing around issues specifically related to the 2016 Olympics under intense scrutiny. Samy, who faced charges following demonstrations during the 2014 World Cup and sought asylum in the Uruguayan consulate, has been a vocal supporter of protester rights in the last year.
The event took on a decidedly more celebratory tone with performances by fifteen musical artists, including Flora Matos, Batida Nacional and Consciência Tranquila. By the time headliner Caetano Veloso performed, an estimated 50,000 people had descended on the park for the free show.
Participants and organizers alike reiterated the value of having a day to assemble, debate and celebrate following weeks of tense demonstrations, ahead of what many anticipate will be a contentious eight months before the Olympic Games begin.