In Rio de Janeiro, the word "community" is used in various ways. In the media, the term tends to refer to a 'favela.' But a search in the dictionary reveals that a "community" is:
Community¹: The quality of what is shared; parity, community, identity, feelings.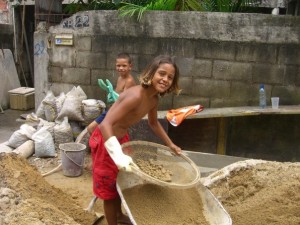 It is precisely this definition of community that we find in Vila Autódromo, a community established in 1967 by fishermen who used the nearby lake to make a living. This community, neighbouring the city's racetrack, grew and its residents received deeds for their homes under former governors Leonel Brizola and Marcello Alencar, acquiring legitimate and legally recognized status.
However since 1992, under the administration of Mayor Cesar Maia and subsequent mayors, residents have been living with the constant threat of eviction given the high value of the land where this community is located. Many excuses have been used to evict residents of the community, but lately the justification has been the infrastructure projects required to host the 2016 Olympics.
Naturally then, fear has been the primary feeling of Autódromo residents. "If you ask most residents who have their homes here, nobody wants to leave the community. But how are we going to stay here?" asks Edmilson who has lived in the community for over 10 years. He also said that when he had to renovate his home, the feeling of fear lingered. "When I laid the first floor in my house, the neighbors said that I was crazy because the community would be removed. Soon I will have grandchildren, and I won't be able to live in this condition any longer."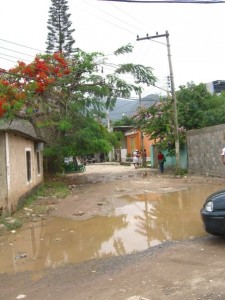 For Dona Lucia, the worst feeling is that of the unknown. "The city's indecisiveness regarding the status of our homes is complicated and awful for us," admitted this resident who still claims she would prefer to live with this uncertainty than be removed from her home. "I want to live my whole life here, what I do not want is to be kicked out of my own home."
Community²: A set of proofs united by interests, habits or common opinions.
What the media doesn't often mention, however, is that the current government's excuse for removing Autódromo is actually a result of pressure from civil construction companies that financed the candidacy of current Mayor Eduardo Paes.
After announcing the purchase of a parcel of land valued at R$19.9 million upon which to resettle the families of the community, the city backed down after allegations published in the newspaper "Estado de São Paulo." Complaints were made that the land belonged to Tibouchina Ventures, a company owned by PDG Realty and Rossi Residencial, which together had donated more than R$600,000 (out of a grand total of $ 11.4 million) to Mayor Eduardo Paes' election campaign. The land purchase has been canceled and is now awaiting the formal process which had previously been neglected: a court-appointed appraiser to determine the amount to be paid.
Community³: A group of citizens of a state, inhabitants of a city with socio-economic or geographic affinities.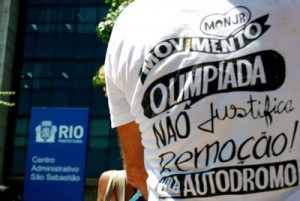 The efforts of the community, comprised of people with different socio-economic interests, have generated a large mobilization in support of the preservation of Vila Autódromo. Led primarily by residents (with the help of the Residents' Association), Public Defenders and volunteers began to provide information, holding public meetings as well as establishing their own documentation system to register citizens of the community. This was done to demonstrate to the city's public administrators that beyond the desire to remain in their community, residents also want to participate actively in the proposed actions for the area.
For this to happen it is necessary that all government efforts to remove residents from their homes be reversed and turned into public works projects. "Paved roads, sewerage, education and health care are all things they do not offer us," says Alcides, who like other residents of Vila Autódromo, has a greater sense of what unites residents: the hope that their community shall see better days.
Please watch the following video for testimonials from Vila Autódromo Residents: