War of Places: The Colonization of Land and Housing in the Financial Era [BOOK REVIEW]
For more than six years Dr. Raquel Rolnik toured the world as Special Rapporteur on Adequate Housing for the UN Human Rights Council, obtaining testimonials and observing the striking shift in the concept of housing from a social good to a financial asset. Her latest book, Guerra dos Lugares: A Colonização de Terra e Moradia na Era de Finanças (War of Places: The Colonization of Land and Housing in the Financial Era), addresses this shift through a collection of case studies and is a continuation of Rolnik's doctoral thesis combined with new insights from her years in the field with the UN.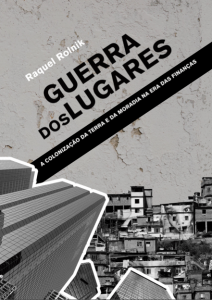 From the Maldives to the United States, funding for social housing has dried up, giving way to a new urban complex dominated by what Rolnik calls "financial hegemony," where financial and housing market deregulations coincide with credit expansion, pushing more families into the private market through mortgages that are impossible to pay off, particularly after the 2007 global housing crisis. This, Rolnik claims, has led to a "generation of men and women in debt."
While each country that Rolnik visited has its own unique history, certain upheavals in the global economic scene—like the fall of the Soviet Bloc, and structural adjustment programs that spawned from the 1944 Bretton Woods conference—have altered housing policies in a similar fashion: large construction enterprises create the bulk of new housing units while private banks stoke housing demand by providing cheap credit, which in turn increases housing prices. When the bubble burst in 2007, it left millions of households that were unable to pay off overvalued mortgages in its wake.
The case of Astana, Kazakhstan
One case that Rolnik mentions is the rise and fall of Kazakhstan's new capital, Astana, which she calls an "experiment in designer architecture." Formerly part of the Soviet Bloc, the Kazakh economy's about-face from communism to neoliberalism pivoted on Astana, which became a testament to the country's revitalization. Petrodollars propelled the once-isolated city to unprecedented foreign investment. Now, Astana boasts a flashy skyline fraught with futuristic commercial towers, luxury hotels, and shopping centers like the Khan Shatyr: a 500-foot tall tent which houses, along with designer clothing outlets, a miniature golf course and an artificial beach resort.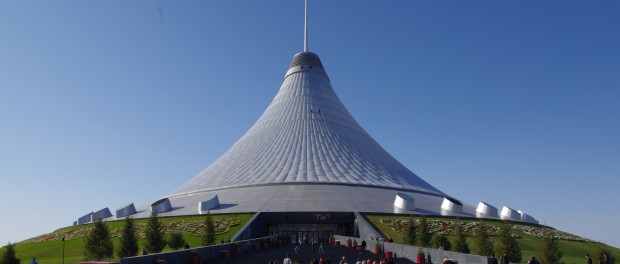 Financial and construction industries flourished, and the Kazakh government spurred economic growth by expanding credit to lower-income families, encouraging tenants from Soviet-era social housing to take out a mortgage.
Prosperity was short lived, however. Astana's population swelled, and the free market failed to provide sufficient affordable housing; as a consequence, precarious self-built housing exploded. Meanwhile, deregulation in housing laws allowed privately-built units to be sold while still in the blueprint stage. And when the global housing crisis struck, Kazakhstan crumbled. Construction companies, most of which were foreign-owned, abandoned their housing projects, leaving families "without a home and without money." Rolnik credits the "radical deregulation of the financial system" for the ensuing crisis that left countless families homeless and indebted.
Housing in Brazil
A full third of the book explores Rolnik's native Brazil. No stranger to the "housing-financial complex," Brazil's economic boom in the early 2000s gave way to dramatic hikes in housing prices; in Rio and São Paulo, for instance, housing prices soared at twice the rate of inflation. Rolnik, however, addresses top-down initiatives aimed to make housing more affordable. She criticizes the most recent social housing program, Minha Casa Minha Vida (MCMV), for increasing, rather than mitigating, urban segregation.
Launched in 2009, MCMV is described in the book as largely a political move: a R$100 billion nationwide project implemented on the eve of an election year. Housing resources became a federal matter, thus highly politicized, and when Dilma Rousseff won the 2010 presidential election she became the "mother of Minha Casa," nicknamed Minha Casa Minha Dilma.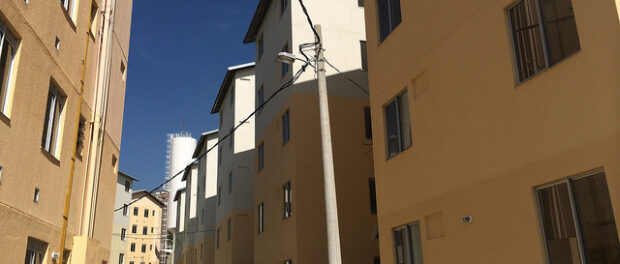 Similar to Kazakhstan and other case studies mentioned in the book, Brazil's housing reform promoted individual homeownership through subsidized mortgage credits. On the supply side, private consortiums jockeyed for publicly-funded contracts to build MCMV units. To little surprise, winning consortia were often munificent campaign donors.
Construction firms minimized their costs and built MCMV units on the cheapest land available. Consequently, MCMV recipients were relocated to hastily-built housing on the urban periphery, where jobs were scarce and transportation to city centers virtually non-existent.
Rolnik likens Brazil's MCMV to Chile's Viviendas Económicas program: an experimental initiative put in place in the 1980s under the military dictatorship. In a campaign to eradicate Chile's informal settlements, or campamientos, the government subsidized mortgages to lower income families who moved into Viviendas Económicas housing units, which were built by private enterprises. While it was successful in reducing Chile's housing deficit, the Viviendas Económicas initiative, like MCMV, exacerbated spatial inequality as private construction companies built apartments on urban fringes.
Global patterns
Relocating residents from precarious housing in urban centers to privately-built units on the periphery is a global phenomenon, Rolnik reports. Whether they are Brazilian favelas, Chilean campamientos, or Indonesian kampungs, originally informal settlements occupy land that is mired in legal limbo.
"When dealing with squatter communities in cities around the world, the category 'illegal' should not—and cannot—be made absolute."
In several of her case studies, Rolnik reveals how governments treat these communities as "reserved spaces" that can be repossessed at any time for capital venture. Often, governments have employed shock policies to remove paralegal settlements. The earthquake in Haiti, the tsunami in the Maldives, even sporting mega-events in Brazil, China, and South Africa provide governments with a carte blanche to remove informal occupants while valuable urban spaces are ceded to private interests.
It is in these highly-contested urban spaces where the war of places occurs. As the global economy has shifted to a more neoliberal model, financial assets like land and housing have been consolidated, usually to the detriment of poor families. Rolnik's book provides a collection of snapshots of the political and economic structures that create an unequal playing field in mobility and access to housing.
Vila Autódromo will host a public book launch of Rolnik's War of Place tomorrow, Saturday, March 5, as part of the community's series of events resisting demolitions and removal.