April 2 marked an important anniversary for the North Zone favela of Complexo do Alemão. One year ago on the day, an officer from the Pacifying Police Unit (UPP) shot and killed 10 year old Eduardo de Jesus Ferreira. The incident was widely covered by local, national, and international media and came to symbolize the distrust that exists between favela residents and police given their excessive use of force and impunity. The police officer has yet to be held accountable for his actions and Eduardo's mother, Terezinha de Jesus has dedicated herself to finding justice for her son and other victims of police brutality.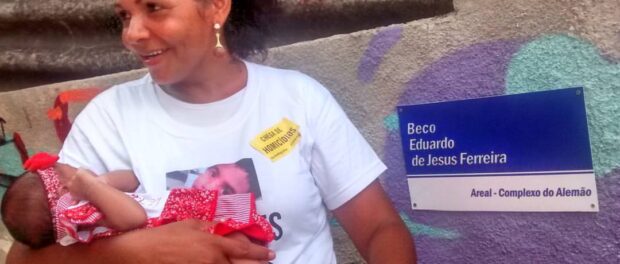 In the face of an indifferent state and criminal justice system, members of the community decided to honor Eduardo by re-appropriating the alley where he both lived and died during an event called "Eduardo Presente!" or "Eduardo, Here!" Activists often use this phrase to remember those who have lost their lives to police brutality. Together with Amnesty International, the human rights and media activist collective Coletivo Papo Reto, and other parents who have lost children to police violence, de Jesus led a procession of residents and activists through the Areal neighborhood of Complexo do Alemão before arriving at the renamed Beco Eduardo de Jesus Ferreira or Eduardo de Jesus Ferreira Alley.
Holding an Amnesty International Banner with the Portuguese hashtag #JustiçaParaEduardo, or #JusticeForEduardo, de Jesus delivered an impassioned call for justice: "I should have requested this a long time ago, but I'll ask now that the Public Prosecutor place the police officer who shot my son in pre-trial detention. He can't be free, he can't be in the streets, because if he's not [held] he could kill other children."
Local rap and graffiti artists entertained the crowd at the renaming ceremony. For Thainã de Medeiros of Coletivo Papo Reto, the event carried a significant weight: "This is a very symbolic point for us. Naming this alley after Eduardo is a way to change the meaning of this place."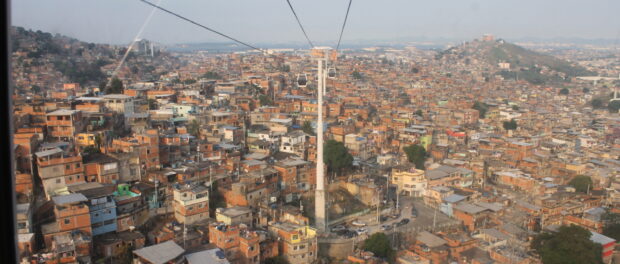 Later that same day, in the State Park Library at the Palmeiras cable car stop in Complexo de Alemão, directors David Morris and Angelica Melo premiered their film The Other Side of the Postcard. The film follows the events shortly after Eduardo's death, placing them within the context of Rio's urban violence and what some say is a failed UPP police model. Featuring interviews with former drug traffickers, known only as E and N, Military Police Colonel Ibis Silva Pereira, human rights and social media activist Raull Santiago of Coletivo Papo Reto, photojournalist Tiago Ramos, and Terezinha de Jesus, the film explores the roots of community distrust in police.
Morris, a British filmmaker, and Melo, a Brazilian filmmaker who has been working in favelas for years, had previously shown the film to a group of film students in the UK who were shocked by the level of state violence in the Olympic city.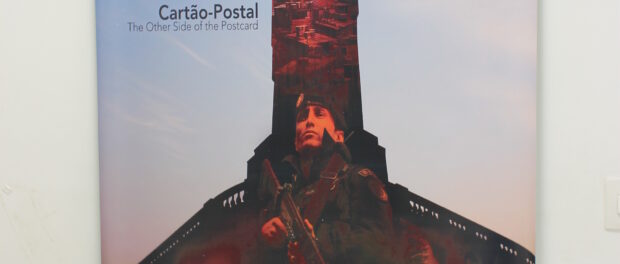 Throughout the film de Jesus recounts the last day of her son's life, showing him as the normal 10 year old that he was. Often the police, either by planting evidence or through incomplete testimony, try to paint those who they kill as the initial aggressors. A similar case caught the global spotlight months later in the Providência favela, where police were filmed firing shots and planting a gun to incriminate Eduardo Felipe Santos Victor in his own death.
Colonel Ibis Silva Pereira is a rare moderate member of the Military Police, who places state violence in Brazil within a socio-historical context: "We are, sadly, a country that kills people, and seems to not care about it." Towards the end of the film he even advocates for the decriminalization of drugs.
Terezinha de Jesus was present for the screening, along with other families who had lost children to police violence. Though she did not speak at the screening event, her fortitude defined the day, as she fights for justice for Eduardo, not only on April 2, but every day.