Two public high schools in the city of Rio de Janeiro have been occupied by students, protesting against spending cuts to public education that were proposed to curb the state education department's R$166 million debt.
On March 21, after several protests in Complexo do Alemao, Penha and Tijuca, students began occupations at public schools Mendes de Moraes in Ilha do Governador and Gomes Freire in Complexo da Penha.
Many of their demands are similar to those of the teachers currently striking from public schools, citing arbitrary firings of cleaning staff and security personnel, deterioration of school infrastructure, scrapping of humanities and arts subjects, and overcrowded classrooms where there is one teacher responsible for a class of between 45 and 70 students.
"They want to take away fundamental school subjects," said Laetitia, 17, one of the students occupying Gomes Freire. "Sociology and philosophy are essential today. How can we vote, from the age of 16, without a base for understanding?"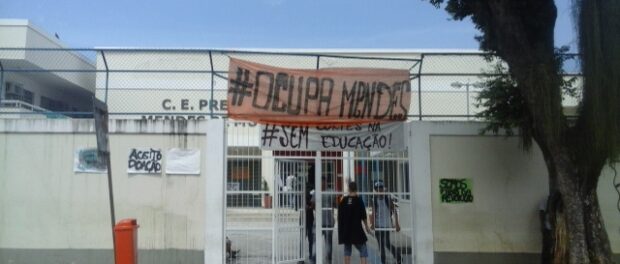 Pupils have been without classes since March 2, when public school teachers across Rio de Janeiro state began their strike. They say they are facing severe job instability due to delayed salaries, increases to pension contributions and poor teaching conditions in schools where resources are diminishing.
"With this infernal heat, having 50 students in one classroom and no air conditioning… it becomes impossible to keep their attention," explained Adno Soares Ferreira Jr, a teacher at Mendes, shaking his head.
He continued: "All schools in Rio state are now also without security at the doors, which is a huge security issue because many of these schools are not in safe areas and anyone could enter. It's not something that would happen at private schools."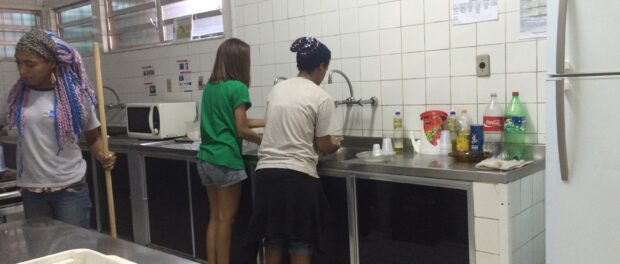 Students at Mendes say the state's Education Secretary Antonio Neto contacted them within two hours of occupation on March 21. Later that afternoon, after failing to reach an agreement with the students, Neto denounced the occupations, calling them an "invasion" and a result of teachers' "manipulations." On March 29, he insisted on Rádio Globo that issues are limited to specific schools and could be resolved internally.
"The students are the first to suffer the consequences of Rio's complete lack of investment in education," commented Cristiane Ferreira, a teacher at Mendes.
"As teachers, we did not initially support the movement because we are very afraid for our students' physical wellbeing, as the Military Police in Rio de Janeiro are often violent. But we do believe that they are right to protest."
Students occupying both schools say they have received support, visits and donations from their local communities, as well as from wider online communities and support from across the country.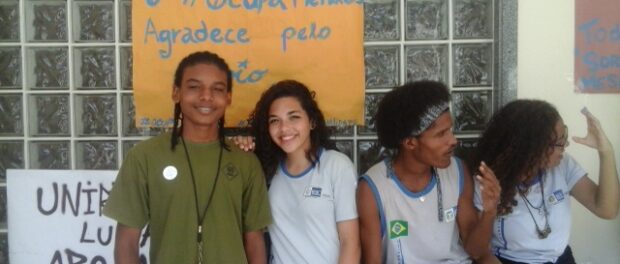 Marcos, 18, was one of the students to occupy his high school in São Paulo for more than two months in 2015 and came to Gomes Freire to help when he heard about the occupation.
"What's happening in Rio now is the same thing that happened in São Paulo," he said.
"In São Paulo, the government thought the best way to cut money was to close schools; here, they are maybe not closing schools but they are taking away vital things and ruining students' educations."
Like Marcos, students and teachers speculated that Rio's cuts to education are linked to the upcoming Olympic Games, the financial crisis and the wider corruption scandal.
João Victor, the student leading the Mendes occupation, said: "The government is building a Rio de Janeiro for tourists rather than residents. There is no money for civil servants, teachers or doctors, but the Olympics will happen and the reality is this: there are students sleeping on the floors of their high schools, fighting for their right to study."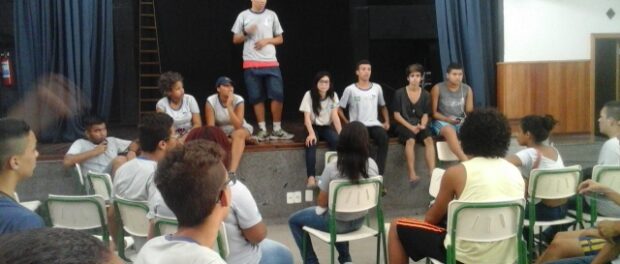 João and Marcos both hope that the occupation movement will spread, feeling that students' efforts so far have not been sufficient to trigger genuine discussions with the state on the issues they are facing.
But students and teachers alike are also wary of potentially violent repercussions in response to their actions, as seen against students in São Paulo last year.
"Of course we're afraid," grimaced Adno, recalling the use of tear gas and pepper spray against teachers as they demonstrated outside Rio de Janeiro's legislative assembly a few weeks ago. "We don't have a particularly amicable police, or one that respects human rights."
Alessandro, an 18 year old student at Mendes, insisted that fear of violence won't stop the students.
"I'm afraid, like anyone else," he said. "But we will resist, because the fight for our education is just."