With less than 100 days to the 2016 Olympic Games, Rio's Pacifying Police Unit (UPP) program and public security in Rio is in crisis. Although the controversial UPP program has faced setbacks at increasing frequency over the years, now in the context of Brazil's current economic crisis and the subsequent budget cuts facing Rio de Janeiro's security programs, many of Rio's favelas have experienced a noticeable increase in or return of violence. 
On March 21 Rio's state security secretary announced a roughly 35% cut to the original R$7 billion security budget for the year. The budget cut could jeopardize many aspects of Rio's security infrastructure such as security cameras and police officers' salaries. Funding for the UPP program is also at risk, with former plans to expand UPPs to additional communities on hold indefinitely in favor of strengthening existing units in the favelas considered most violent. But even some of the favelas once considered to be models of the pacification program's success are seeing the return of armed conflict. In March both the United States Consulate and the German Consulate issued notices advising those visiting Rio not to visit any favelas, even pacified ones, and even blanketing the advice to contemplate all favelas, including those with no incidences of violence. 
According to Amnesty International, "so far in 2016, homicides resulting from police interventions in the city of Rio de Janeiro have risen by 10%. The figures are from January to March, in comparison to the same period in 2015." At least 11 people were killed in police operations in the first three weeks of April.
Here we summarize just some of the events in select favelas across the city.
Babilônia / Chapéu-Mangueira
Babilônia and Chapéu-Mangueira, adjacent favelas located in Rio's South Zone near Leme and Copacabana, have jointly been considered one of the models for successful "pacification" since the UPP installation there in 2009. However, on February 18 police reported that shots were fired at their UPP base. Resident Eduardo Henrique Souza Baptista took to Facebook, writing that the shooting was not targeted at the police and was actually a result of "other types of conflict occurring in our community." He added that the shooting had resulted in one death that, at the time of his post, had gone unreported by the police or Globo.
About a month later, Paulo Roberto Santos de Oliveira, 21, was found dead by police officers and Thiago Vinicius da Silva, 22, was rushed to the hospital where he later died. Both residents were identified by other locals as two hard workers who were not involved in drug trafficking. On the morning of March 25 two additional bodies were found after reported shooting throughout the night. One resident said: "It's difficult to live here. There was a lot of shooting. It seemed like I was in Syria. I've never seen shooting as violent as this time." O Dia reported the increased conflict was the result of a renewed war between two gangs over the territory, and residents of the area described the recent violence as the worst they had seen since 2009. Commander Carlos Eduardo Sarmento said BOPE special forces will be assisting the UPP in dealing with the new cases of violence.
In large part due to the perceived success of the UPP, Babilônia and Chapéu-Mangueira are among the most regularly visited favelas by tourists, along with Vidigal, but business owners are concerned shootouts will keep potential visitors away.
Rocinha
In Rocinha, Rio's largest favela located in the South Zone, local journalist Michel Silva attributes much of the increase in violence to the continued absence of promised investment in social programs. As he describes, "the government invests heavily in public security, but not in education."
On December 25, 2015, Christmas Day, there was a shootout between the police and locals which resulted in the death of a passerby Jorge Arui, a 49-year-old who was walking to buy bread, and injuries to six others. Residents stated that the shooting began after police ordered people to turn down their music. Additionally, on the same day, BOPE officers were accused of raping a young woman. This is another severe blow to trust in police in the same neighborhood where the disappearance, torture and murder of bricklayer Amarildo de Souza, in 2013, marked a turning point in sentiments towards the pacification program across the city. A Global Post article in January of this year concluded that gangs still maintain control in Rocinha and that resident trust in police is low.
City of God
Like Rocinha, City of God in Rio's West Zone also experienced violence in its community around Christmas 2015. An 11-year-old child and a teenager, 17, were left dead on the morning of December 23, 2015 when, according to residents, a militia group opened fire on a busy street. The 11-year-old, Marcos Vinicius dos Santos, was reportedly helping his father sell fruit when he was caught in crossfire and killed. Two others, a boy and a woman, were injured by the shooting. Grieving and shocked residents gathered to protest the violence. Local singer Tonzão Chagas said 2015 had been the year of "the most murders" in City of God and that residents would continue to struggle because "no one is going to quiet us."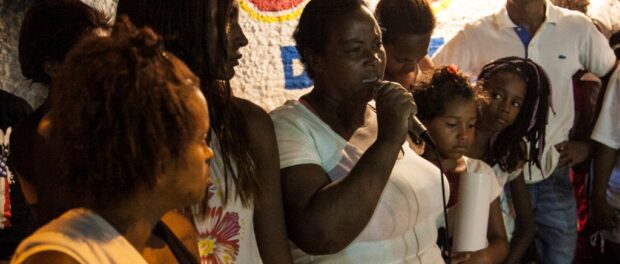 Rocinha journalist Michel Silva wrote that "cases like this show the pacification policy is exhausted. We need to demilitarize the paramilitary police and to have the state government take more social responsibility." Sociologist Marina Motta argues the December 23 incidents in City of God highlight that the UPPs are not able to guarantee favela residents' safety, which raises the question of whether that's "because of the incompetence of the Rio State Military Police, or because protecting favela residents is simply not their objective."
As of April 4, the Rio Youth Forum reported it was receiving daily messages about shootouts in City of God.
Manguinhos
In Manguinhos, a favela complex located in Rio's North Zone which has had a UPP since 2013, there have been several recent cases of violence. On the morning of April 4, 2016, João Batista da Silva, a 29-year-old local who had just returned from a job interview, was shot and killed by the police while trying to protect others in his home. Just a few weeks earlier, 14-year-old resident Caio Daniel Faria was shot and killed in the crossfire of a shootout between police officers and locals suspected of drug trafficking. Also caught in the crossfire was Erick Cardoso, Caio's 19-year-old cousin, who was shot in the hand while playing soccer. Residents reported that in the three days before Caio's death there had been several shootouts involving police.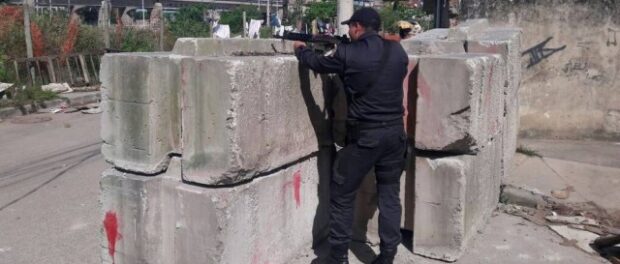 On March 18 the Military Police installed cement barricades around the base of the UPP, further reflecting the heightened tensions between the UPP and residents. The installation of cement barricades also represents the UPP's movement away from its original purpose of providing not only security but trust and social programs.
Complexo do Alemão
On April 2 residents of Complexo do Alemão in Rio's North Zone gathered to remember the death of Eduardo de Jesus Ferreira, the 10-year-old boy who was shot and killed by Military Police a year ago on that date. The police officer who fired the fatal shot has yet to be held accountable.
Frustration with the UPP in Alemão is further aggravated by the apparent lack of consideration towards important community social spaces. Early this February, the UPP in the Nova Brasília favela announced its plans to finally move its base out of a school, responding to sustained demands from residents. However, the new space the UPP has decided to occupy is one of limited spaces within the favela which served as a recreational, educational, and social center, in which residents gather to attend courses, use the jungle gym, and practice capoeira. This move appears to go completely against the purposes of the UPP, which are to promote social programs, not take them away.
In addition, on Tuesday, April 5 a BOPE officer was shot and taken to a nearby hospital after reports of a police operation and shooting that began Monday afternoon and continued through Tuesday morning. Residents reported that several houses were marked with bullet holes as a result and at least one school canceled classes. On the weekend of April 15-17, community newspaper Voz das Comunidades reported that police operations and shootouts left eight people, including one 7-year-old, injured in about 24 hours in an "undeclared war."
This last weekend, on April 23 it was reported that a moot-taxi driver was shot and killed by police, who proceeded to alter the crime scene, according to local media collective Coletivo Papo Reto.
Jacarezinho
This past December the UPP program in Jacarezinho in the North Zone faced a major setback when BOPE special forces entered as the police from the permanent UPP force retreated. This was the first occasion of this kind of retreat in any favela since the implementation of the UPP program. It came about in response to the death of three police officers, Rodrigo Ribeiro Pinto, 34, Marcos Santana Martins, 26, and Inaldo Pereira Lion, 33, earlier that month. The return to violence after a period of relative peace led one writer to say there must have been an expiration date on the calm brought by the UPP.
Shortly after the deaths of the officers, an unidentified police officer in an audio recording expressed that he was happy to be out on medical leave rather than have to continue to risk his life in Jacarezinho, stating: "Two more of my friends have gone and how much longer are we going to stay here? When 50, 100 police officers die?" Other UPP officers have complained that they lack adequate equipment, vests, funding or weaponry. The wife of one of the deceased police officers echoed this sentiment: "The deaths will continue if nothing is done."
Also in December, Wesley Daniel Santos Oliveira, age 17, was shot and killed in a shootout between suspected criminals and police officers when leaving his evangelical church.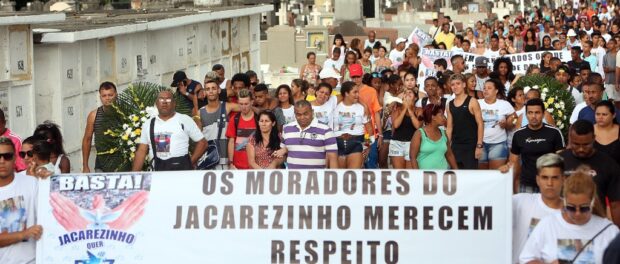 This year, the Facebook page of Nós Por Nós, a newly launched application created to disseminate news and collect data about police violence, reported that police officers in Jacarezinho were terrorizing residents by holding shooting training at 6am, as well as during the night—timing which the Nós Por Nós team argues suggests a deliberate scare tactic rather than actual training. In February Nós Por Nós detailed regular confrontations involving police with at least one youth killed on February 11.
On April 7, 2016, a shootout between traffickers and UPP police officers stopped car traffic and a local train, left two dead, and prevented 1,200 children from attending school that day. Further shooting saw a resident shot in the head on April 19. Across social media, residents have been critical of the mainstream media's failure to give due coverage to sustained violence involving police in the area.
On Saturday April 23, a local pastor was shot and killed as he left church in an intense weekend of shootouts. The ongoing violence has caused the train service through the community to be suspended for the sixth time in three weeks.
Complexo da Maré
After Complexo da Maré was occupied by the army in 2014, the timeframe for installing four planned UPPs shifted from undefined to July 2015, to March 2016, and now to no earlier than 2017, if ever. Since the army left in April and May of 2015, Maré has had a Military Police presence to varying degrees, but residents report the police primarily patrol the area's borders and venture inside just for operations, a return to the pre-pacification norms. These operations often close schools, daycare centers, hospitals and businesses for the day. In January Globo reported the government was considering placing even more Military Police in Maré in preparation for the 2016 Olympics, with BOPE as well as aerial and maritime forces based in the surrounding area, which is close to Rio's main highways and the international airport. On Monday, February 22 of this year, conflicts between Military Police and residents resulted in the killing of 19-year old Igor Silva by the police.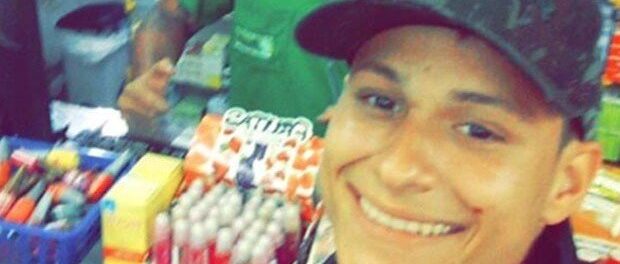 It's not only "pacified" communities or even favelas that are struggling. In recent weeks residents of Morro da Conceição and Pedra do Sal, in the Port region, have reported an influx of traffickers and police operations and shootouts have followed.
On April 4 a police operation in Acari, in the North Zone, killed five people. Amnesty International in Brazil immediately demanded a thorough investigation into the deaths, particularly in light of Acari's history of extrajudicial executions by police.
The human rights organization also highlighted the significant increase in deaths during police operations in these first four months of 2016, comparing it to the spike that occurred around the 2014 World Cup. As the director of the Brazil's Amnesty International summed up: "With few months to the Olympic Games, Rio de Janeiro shows a continuation of an extremely lethal public security policy, especially in favela and peripheral territories."