A community organization in Rio de Janeiro's West Zone which has been educating local children for almost three decades is currently under threat due to increased violence in the area.
Semente do Amanhã (Seed of Tomorrow) has been providing cultural education and safe recreational spaces for children in the Vila Aliança favela in Bangu for the last 28 years. The NGO currently serves 180 children between the ages of 3 and 18, and has a further 302 children on its waiting list. Daily activities focus on developing children's creativity and self-expression, as well as providing concrete transferable skills through classes such as ballet, judo, drama, citizenship and IT courses. However, the biggest obstacle currently facing the NGO is the effect of increased violence in the local area on its funding streams.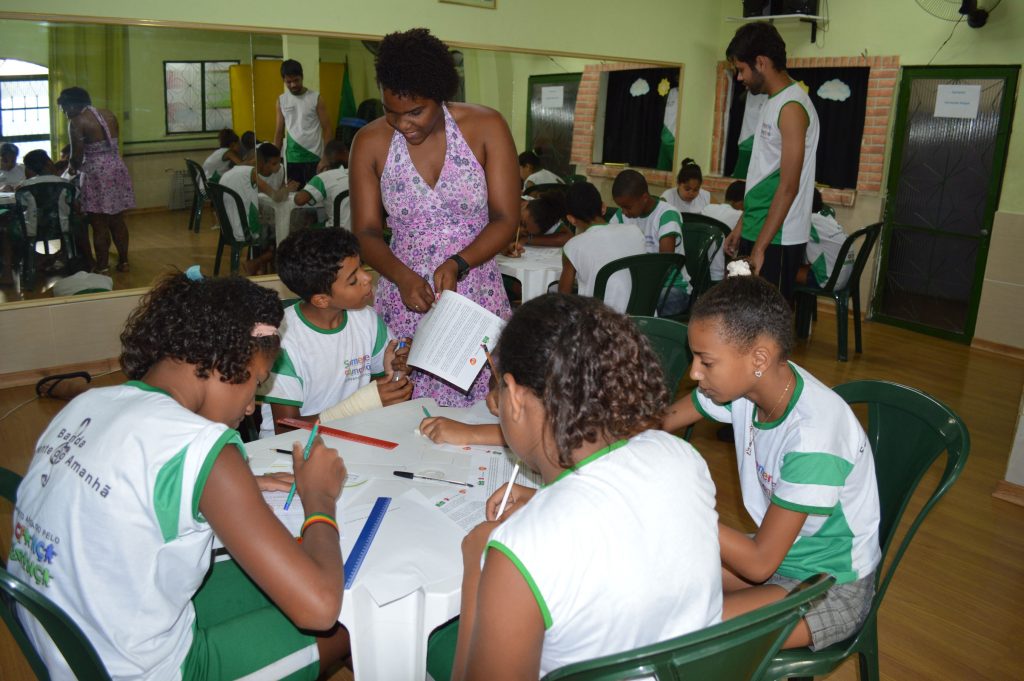 Selling cut-price clothing and furniture has traditionally been the NGO's main source of income, proving more lucrative than previous Internet campaigns. But violence has significantly increased in the area in the last year, and with shootouts between police and traffickers taking place almost every day, shoppers are no longer willing to risk visiting.
Selmina Nascimento, Semente do Amanhã's founder, feels the need to raise funds and move to a new building in a safer area is now paramount, as the routine conflicts force the NGO to suspend activities, and have left the walls of the building littered with bullet holes and children displaying signs of psychological trauma.
"We don't have any protection here and shots are frequent," said Selmina, pointing to holes in the windows and walls of the room used for drama lessons. "My fear is that one day one of the children will be hit while inside the building. We need to leave here before something worse happens."
Semente do Amanhã's positive legacy is emerging across multiple generations in Vila Aliança's community, with current pupils like eight-year-old Lídia and Ele aspiring to "change the world by being better citizens and treating others as we like to be treated." Similarly, parents such as Marcia Paula say the organization is "changing the neighborhood for the better by transforming the children."
Generations that have already reaped the benefits are also beginning to give back to their community. Alex, 22, is now a university graduate and project coordinator for the NGO, having started as a student there 11 years ago. "You can already see the change in the community," he said. "It would be a lot worse if Semente do Amanhã weren't here."
For Selmina, introducing children to cultural elements that they may not otherwise be exposed to is vital to their development. Some activities also come from donated resources, such as the instruments gifted to the NGO in 2015 that allowed children to form a marching band.
"The children here are only used to baile funk and pagode music, but the marching band brought them new rhythms and new types of music," Selmina explained. "It's incredibly gratifying to see how their self-esteem rises with their accomplishments, and to see how our work here allows them to find meaning and importance in their lives."
In addition to classes run directly in the favela, Semente do Amanhã organizes group excursions to museums and locations across the city for children whose parents are often unable to take them. Groups sometimes also perform in private schools, which staff members say is "a big surprise for students to see that favela children are capable of doing the same things as them."
"Our aim is to show children here that something exists beyond the favela, and that they can dream of being someone," said Selmina. "The construction of that identity, that future, begins today."
Semente do Amanhã is seeking donations to help them purchase and move to a new building in Vila Aliança. They accept donations through their website or support their other projects here. Follow them on Facebook here.
To donate to Semente do Amanhã and for more information (in Portuguese) click here. For those requiring an English interface, Catalytic Communities, the US 501[c][3] nonprofit that runs RioOnWatch, can also act as fiscal sponsor for those who would like to make a US tax-deductible donation in English here. You may follow up at donate@catcomm.org confirming your donation is earmarked for "Semente do Amanhã."