In early April 2016, Pica-Pau Neighborhood Association President Irenaldo Honorio da Silva was told the City would finally launch the community's long-awaited Morar Carioca favela upgrading projects on Sunday, April 3. But the plans were unclear. Irenaldo was worried the City would only upgrade neighboring Bras de Pina. Then more official news came through—he was told by officials that the launch would take place the following Saturday, April 9. But on Friday the event was canceled, with no new date, and no one would tell him why. One month later, the City has yet to present its Morar Carioca plans to the community for upgrading Pica-Pau or neighboring favelas. But Irenaldo and his neighbors are used to waiting: Pica-Pau was selected for Morar Carioca in 2011 and interventions began in 2012, only to be abandoned, even though it may be one of the areas most in need of urgent infrastructure upgrades in Rio.
Irenaldo sums up: "We were basically there but now, nothing. [There was going to be] a meeting with the mayor for the presentation of the project and it was canceled… and we're [still] waiting."
Pica-Pau
Beira Pica-Pau, also known as Favela de Cordovil, or simply as Pica-Pau, is a favela located in Rio de Janeiro's North Zone, in the Cordovil neighborhood, bordering the Avenida Brasil highway.
Pica-Pau has grown considerably since 1962, when the first families started to settle on what once used to be a small ranch. Today it is home to approximately 7,000 people and extends to an area of around 6,000 m².
The first residents of Pica-Pau were migrants from Brazil's Northeast. Most were rural workers fleeing their drought-ridden lands in search of work opportunities in a big city. Lacking formal education and work qualifications, they were a cheap labor force and had to submit to working long hours for extremely low wages in order to survive. Neglected by public authorities, and with very little means, Pica-Pau's residents had no option but to take matters into their own hands, building their homes under extremely precarious conditions. In the following years, just as so many other favelas, the number of residents increased, with no significant infrastructure improvements by the authorities.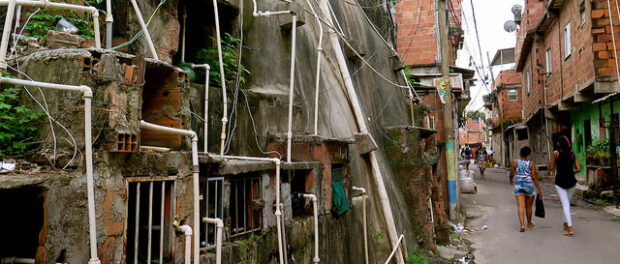 Still today, the pipes of the drinking water system provided by the state water utility CEDAE only reach a few houses located at the favela's boundaries. As the number of households increased over the years, residents, using their own limited means, built a system of pumps and pipes that connects and distributes drinking water throughout the whole community. Due to the non-existence of a formal network of sewers, all the neighborhood's sewage flows into the one underground stormwater drainage channel that runs across the favela's main road, streaming sewage through an outlet into a channeled river that ultimately flows to the Guanabara Bay, joining much of the city's sewage and contributing to degrade its waters.
And yet, with no proper drinking water supply nor sewerage infrastructure, all households are obliged to pay a monthly basic fee to CEDAE for services it does not provide. Outraged, many residents, led by Irenaldo, have filed lawsuits against CEDAE for this unacceptable situation. There has yet to be an outcome from these suits.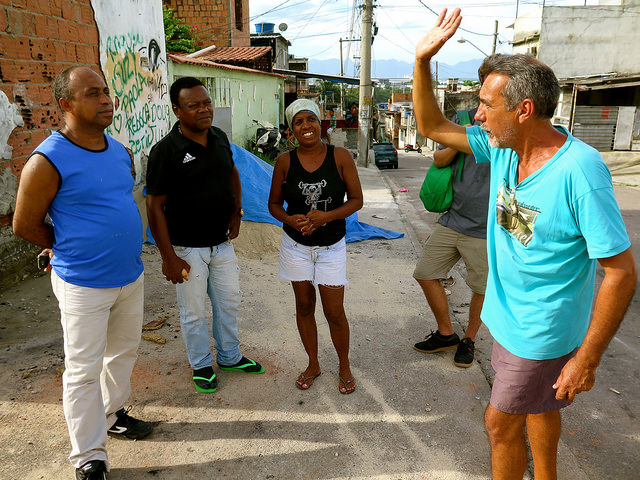 Due to the extremely precarious infrastructural conditions, on days of heavy rainfall, Pica-Pau's residents experience a true nightmare: sewage comes out their indoor floor drains, and even taps and showers. This takes place because the underground drainage channels are not built to bear both the volume of rainwater and sewage all together. They fill up with rainwater and literally overflow, causing the streets to flood up to a few feet high at times. As the improvised, poorly maintained drinking water supply network of pipes run within the rainwater/sewage channel, due to the high pressure of the underground "river" caused by the downpour, the contaminated water penetrates the pipes that distribute drinking water, delivering sewage-contaminated water to residents' homes.
Morar Carioca
After long years in a lonely struggle against these issues, trying to tackle them within their own restricted means, Morar Carioca seemed to offer new hope for Pica-Pau's residents. It consists of an award-winning billion dollar program run by the City government, and funded partially by the City, federal funds and the Inter-American Development Bank (IDB). This program was supposed to improve living conditions in 193 favelas in Rio de Janeiro, and Pica-Pau was one of them.
Irenaldo explains Pica-Pau needs Morar Carioca because it has "slopes with houses at risk, drinking water contaminated with sewage, and a lack of adequate sanitation, infrastructure, a green leisure area, a sports center, squares," among others.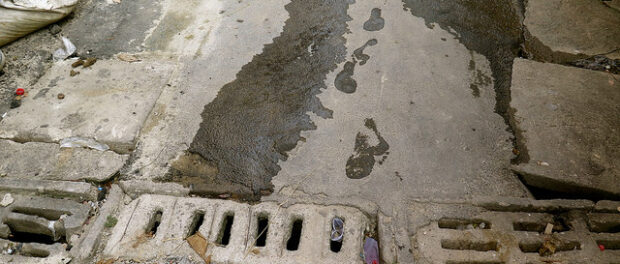 Since 2010, when the chosen Morar Carioca contractors were announced, very little has been done. Likewise, contrary to the program's formulation, little information is provided to supposed beneficiaries, like Pica-Pau's residents. The program is now widely considered to have been abandoned. Mayor Eduardo Paes emphasized it heavily in his 2012 re-election campaign, but the contract of iBase, the key NGO supporting qualitative diagnostics–engaging communities in participatory activities that guaranteed their input would be incorporated into project plans–was cut without warning in January 2013, just three months after Paes won his second Mayoral term.
Initially, the delay had allegedly something to do with the complex bureaucracy behind such a huge undertaking. Then, apparently, as the City ran out of funds, it depended on the federal government to make resources available. Most recently, the hurdle seems to be a political one: electoral disputes among the city's main political parties in power are argued to be the reason why the project is being once again put off. And then there are those who believe Mayor Eduardo Paes never planned to implement the program, but just to benefit from its image, since the program was already in the planning process by housing officials as he took office, and so would be difficult to ignore; yet upgrading favelas–particularly through highly participatory channels–increases their legitimacy and permanence, and thus implementing such a program would harm his real estate associates and impede the forced eviction crusades the mayor has become famous for.
Yet, slowly, things seemed to be moving forward again: last year, a City officer, engineers of the contractor in charge of Pica-Pau and finance department representatives of the IDB visited the community. The area was mapped and studied, and the mayor's representative assured Irenaldo that the upgrading plan is already done and that the works would start in April.
Residents of Pica-Pau may be used to waiting, but they're getting tired of it. "How long are we going to be waiting?" asks Irenaldo. "We, the residents, can't bear so much waiting."
The wait may be over soon. The mayor has called a meeting to launch Morar Carioca in Pica-Pau tomorrow, Saturday May 7, at 9am. Residents are hopeful, but skeptical, having experienced such promises for so long without action.