Students currently occupying public high schools across Rio de Janeiro, São Paulo and Ceará took to the streets on the morning of May 4 in an act of solidarity.
Street protests were staged outside occupied schools to refute government attempts to frame issues raised by students as belonging to individual schools, rather than being symptomatic of a wider problem.
From 8am, more than 200 students from Colégio Estadual Visconde de Cairú and Colégio Estadual Central do Brasil marched the length of Rua Dias de Cruz, in Méier, in Rio's North Zone. Other large protests took place in Tijuca, Bangu, Centro, Ilha do Governador, Niterói, Saquarema and Angra, with individual schools also protesting across Rio State at the same time.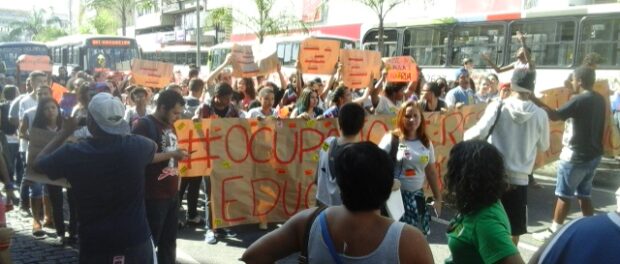 "Today is a unified act by the schools," said Sarah, 17, leader of Colégio Estadual Central do Brasil's occupation. "We organized this demonstration to show that we are all fighting for better education."
Protests in Rio also showed that public support for students is growing, with many bystanders congratulating students, shouting messages of support and joining in with the students' chants. Bus drivers and passengers recorded videos of the protests on their phones, smiling and waving to the students blocking the road.
"I think it's great," said Louisa, a young mother local to Méier who had come out to buy groceries. "They don't have the resources they need in schools, and they're really fighting to change that."
Ruth, a bystander in her seventies, said she had been moved to tears seeing the student protests on television. "Our youth have been completely abandoned. I support these demonstrations."
Teachers, who also protested on May 4 at Palácio Guanabara to mark the 2-month milestone of their strike, said that the students' protests could catalyze improvements to education in Rio State.
"For the first time this strike is different. The students have woken up and they are fighting for better conditions for all of us. It gives me hope," said Thiago*, a high school teacher from Baixada Fluminense.
Late the following day, May 5, students occupied the Rio State Education Secretariat (SEEDUC) building in the Port region in a further attempt to make their voices heard and renew negotiations.
SEEDUC has repeatedly tried to undermine the movement, calling it undemocratic and claiming that students behaved aggressively and were unwilling to negotiate.
"They never tried to negotiate with us," said Central do Brasil leader Sarah. "They refused to talk with a larger group of us and only wanted to talk with a designated leader. I was nervous in our meeting with them, but they only said we had to de-occupy and that what we are doing is disgusting."
SEEDUC has also restricted mobility of protesting students—blocking the bus cards that permit students free travel to and from schools—and encouraged other students to protest against the occupations.
The governing body has offered students against occupations the opportunity to move to different public schools to complete the academic year, although it is unclear how schools with only 20-30% of teachers not participating in the statewide strike will manage to accommodate even greater numbers of students.
Context
Students across Rio State are protesting against cuts to state school funding, which mean a decline in standards of learning and teaching environments. Under government proposals to counteract the education budget deficit, school infrastructure will further diminish, free lunches provided to students will be substituted by nutritionally deficient snacks, and school personnel including cleaning and security staff will face arbitrary firings.
Since occupations began, students have discovered school resources that had previously been restricted due to lack of funds, including science and computer laboratories and libraries.
Students report that in their individual schools, thousands of new mathematics, Portuguese, science, music and politics textbooks had been stored in classrooms.
"They didn't have the capacity to teach classes in the chemistry lab because it was being used to store those," said Alan, an 18-year old alum of Mendes de Moraes, in Ilha do Governador, gesturing to piles of books lining the school auditorium.
"If there are books, normally they are distributed but this time they didn't have the staff to give them out. Because of the cuts, we don't have doormen, inspectors, librarians…"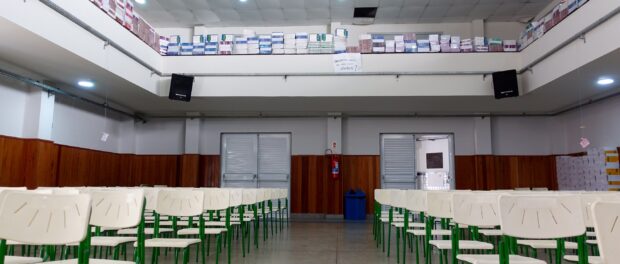 Many occupied schools are receiving support from local communities in the form of donated cleaning materials, food and other supplies, as well as academics volunteering to participate in student-led educational activities.
Pop culture figures have also been showing support for the occupations over the last month. Most recently, Brazilian pop legends Marisa Monte and Leoni visited Colégio Estadual André Maurois, in Gávea, and gave a free performance to occupying students. Tom Zé, Criolo and MC Carol have also voiced their support for the movement on separate occasions.
The 'student spring' is now spreading beyond São Paulo and Rio State's borders, with reports of students holding demonstrations in Bahia, Rio Grande do Sul, Pará, Distrito Federal and Goiás, though there are no currently occupied schools in these states.
With the number of school occupations growing rapidly over April, there are currently 75 public high schools occupied in Rio alone, according to activists, plus a number of technical colleges. There are also 5 schools that have been occupied in Ceará State and 15 schools that have re-occupied in São Paulo as of April 29.
Although São Paulo State agreed not to close public schools in early 2016, students there are now facing the same learning conditions as those in Rio State and say the state has violated its agreement with them.
Students in Rio and São Paulo states have faced aggression, violence and intimidation from individuals and Military Police on multiple occasions.
*Some names have been changed to protect the identities of sources afraid of repercussions.