Located in Rio's West Zone, around 7km west of the newly built Olympic Park, the community of César Maia is a 22-year-old social housing complex that's home to an incredible sociocultural project to provide quality education to the community's children. Founded by resident Débora Vieira, Bandeirantes Já is a complementary schooling program for kids and youth between 3 and 21 years old. Bandeirantes Já is fully self-sustained and run by its founder and young teachers who used to be students of the project themselves. However with the need to move to a new location, they have launched a crowdfunding campaign to raise funds and purchase a new building within the community.
The project was initially created in 2009 by eight students of an entrepreneurship class, including Débora Vieira, and began with various improvements throughout the community, such as creating a public playground and painting and clearing up public spaces.
Vieira says: "We wanted to show that there were good people here because when outsiders looked into this community, all they saw was crime… We wanted to highlight the human beings that live here, that there are many educated people. People who want to succeed in life."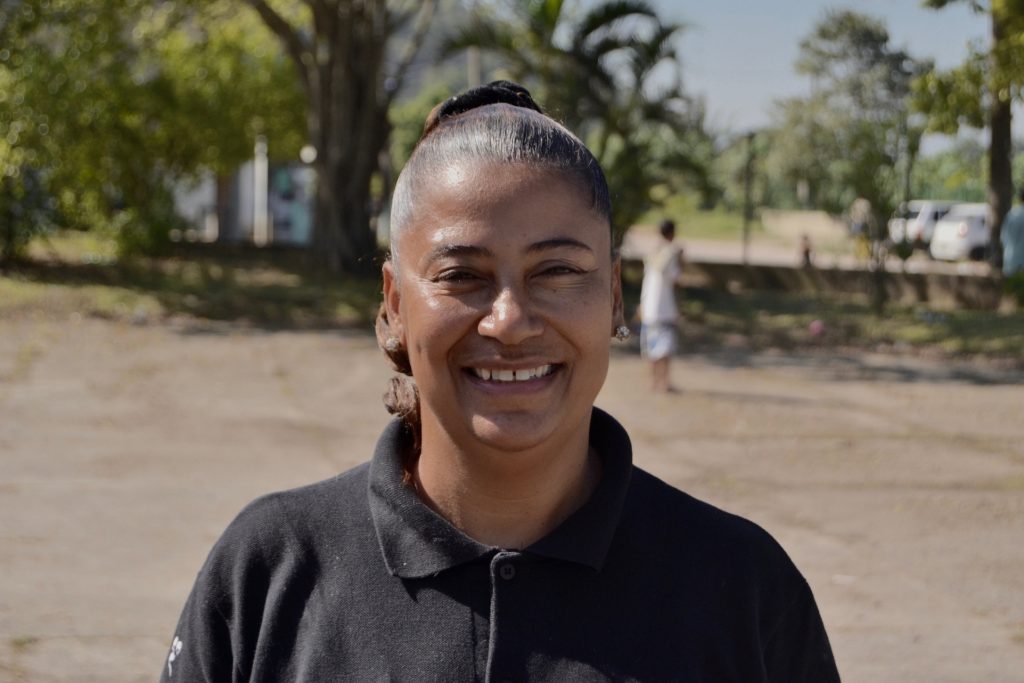 The project then shifted towards a focus on education and children. Débora began giving free sex education classes at a local public school. She met student Beatriz, who gave lessons to younger kids in her backyard at the time, and the idea of creating an "escolinha" (a complementary school) came about.
Today, the project provides free education for up to 140 students. They have trained around 20 former students to be the teen teachers and coordinators of the project. These students-turned-teachers wear red shirts. Another 22 students are currently training to become future monitors who will wear green shirts. The program thus teaches students, trains its teachers, and prepares its coordinators, all from within its ranks.
Children in the project are also able to attend classes at Escola SESC, a schooling project that offers multidisciplinary courses such as theater, gastronomy, and arts and crafts.
Within the Bandeirantes Já project, children receive classes in reading and writing, mathematics, Earth and life sciences, as well as cooking, hair-styling, and make-up classes. There are examples of students who entered the project at 12 years of age with hardly any literacy skills, and, one year later, are able to perform at their age group's academic level.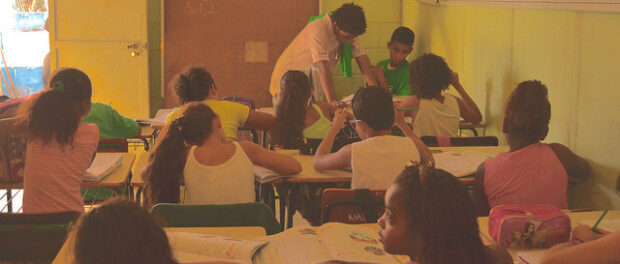 Apart from the obvious academic help the schooling project provides to the kids, it has had obvious impacts on their personal development as well.
Student coordinator Berenice, 17, says: "When I entered the project, I was a different person. I was very irritable and I wasn't patient. What I loved more than anything was sleeping. I got to school and slept. I didn't think about anyone else, just me. But after, I saw that everything could change… With the children, I learned to laugh. They weren't afraid of me…. They started calling me 'Tia' [aunt in Portuguese]. They started to hug me, kiss me, miss me. So I felt that things could change."
Other student monitors tell similar stories. Luis Leonardo, 14, speaks of his experience with Bandeirantes Já as one that has truly changed his life. Describing himself as a party-goer and somewhat of a troublemaker, he says: "It changed my behavior, changed my path and changed my social life because I made many friends… and now I know what friendship means… Before, I was a boy with low self-esteem. When I entered the project and started doing this work, my self-esteem was raised."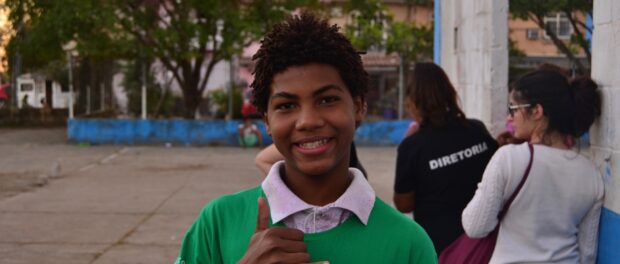 Gabriel, 17, says the project's made him more mature, less selfish, and taught him how to deal with responsibilities. When the project started, Gabriel was one of the first students. He is now entering his fourth year of teaching.
The process the coordinators in the project go through is similar to the one every teacher around the world has to master with one big difference: age. When Gabriel started teaching, he was 13 and his students around 11 years old. He says: "I got really nervous and the kids could feel this so they'd respond by causing chaos. I was talking and they started laughing. I said 'be quiet' and they'd laugh even louder. They did not respect me… Days and weeks passed and the kids started calling me 'tio' [uncle in Portuguese]… I started enjoying it and today everybody respects me and that feels very good." 
Gabriel emphasizes that the time spent in the project is everybody's free time–nobody is obliged to be there, whether it be teachers or students. He affirms that the project has become a big part of their lives.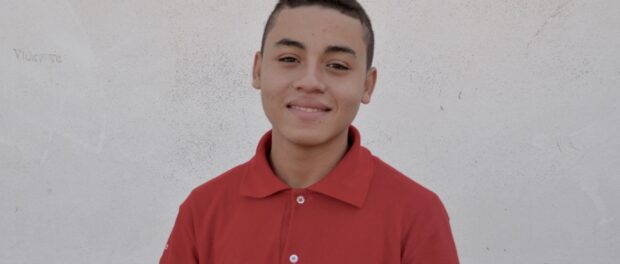 Within César Maia, this revolutionary idea has had a significant snowball effect: knowledge initially passed on to the young teachers is then spread to younger students, who can then become future coordinators themselves when sufficient maturity is reached. Thanks to the project, an atmosphere of bottom-up development has grown, and César Maia is better for it. This kind of grassroots education project, developed entirely from the inside-out, can grow further with support. It can also serve as a model for other communities with similar deficits in public education, particularly at a time when teachers in Rio are on strike and students have occupied schools to demand improvements. Débora hopes to spread her idea and is currently developing a detailed methodology which she hopes to communicate to other educational initiatives.
The César Maia community itself has benefited immensely from the project. When Bandeirantes Já was founded seven years ago, the community had been abandoned by authorities for years. Street lighting was not maintained, there were no public spaces, trash was not collected and there was no public health facility. The housing complex was built on a former landfill and gases from this waste are now trapped underground, putting the location at risk of explosion at any time.
Bandeirantes Já helped mobilize the community and as a result many of these issues have been resolved. Public lighting infrastructure is maintained. There is now a family clinic accessible for the residents. Public spaces have been built and organized. Thanks to education about how to deal with garbage and its health risks, coordinators of the project successfully campaigned for more waste receptacles in their community.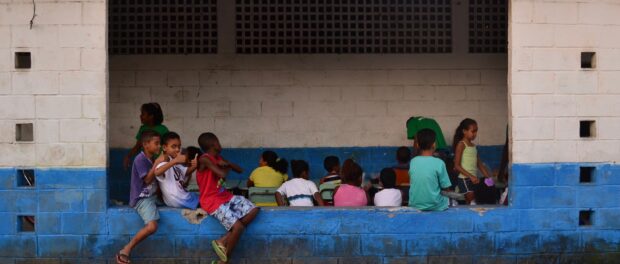 Today, however, Bandeirantes Já finds itself in a difficult situation. The building they currently use is a public building with no functioning bathrooms and the area often gets flooded, bringing in garbage and mosquitoes. Founder and director Débora Vieira has found an alternate space on the main street of the complex, where 90% of the students live. In this new larger building, she has dreams of welcoming more students. She also wants to build a dormitory, for kids to use on a temporary basis when they face difficult situations at home. Vieira is full of ideas on how to extend and improve the project. They are now holding their first ever fundraising campaign, a crowdfunding campaign through September 1. The goal to raise US$5495 to purchase the new building. To learn more about the project and donate, visit the crowdfunding page here.