A series of anti-Olympics protests have been held and are being organized in Rio de Janeiro as the Games approach.
On Tuesday night, July 5, hundreds of Brazilians gathered in front of the Rio de Janeiro State Legislative Assembly (Alerj) to protest against the human rights violations related to the Olympic Games. O Povo Sem Medo (The People without Fear) and Rio 2016 – Os Jogos da Exclusão (Rio 2016 – The Exclusion Games) organized the event called "Olympic Calamity – 30 Days until the Exclusion Games." The event description on Facebook says: "There's money to finance the mega-event, meanwhile the salaries of public sector workers are delayed and the public's basic services are cut. [The State] is in crisis, but will receive billions from [Interim President] Temer's government solely for repression."
"I would like the International Olympic Committee (IOC) to compensate and recognize all the human rights violations that have occurred within the framework of the Olympic Games," said Lara Martins, a 24-year-old international relations student at the Rio de Janeiro Federal University (UFRJ) who attended the protest.
Martins does not want the Games canceled but would like the IOC to create an international pact to restrict where future Olympic Games can be held: in areas where human rights are respected and where the Games would not worsen the lives of locals.
Forced evictions of Rio's favelas, poor labor conditions for workers, and police violence are some of the issues linked to the sporting event. After the peaceful protest there was an incident of police brutality at the Uruguaiana metro station where journalists and civilians were choke-held and thrown to the ground.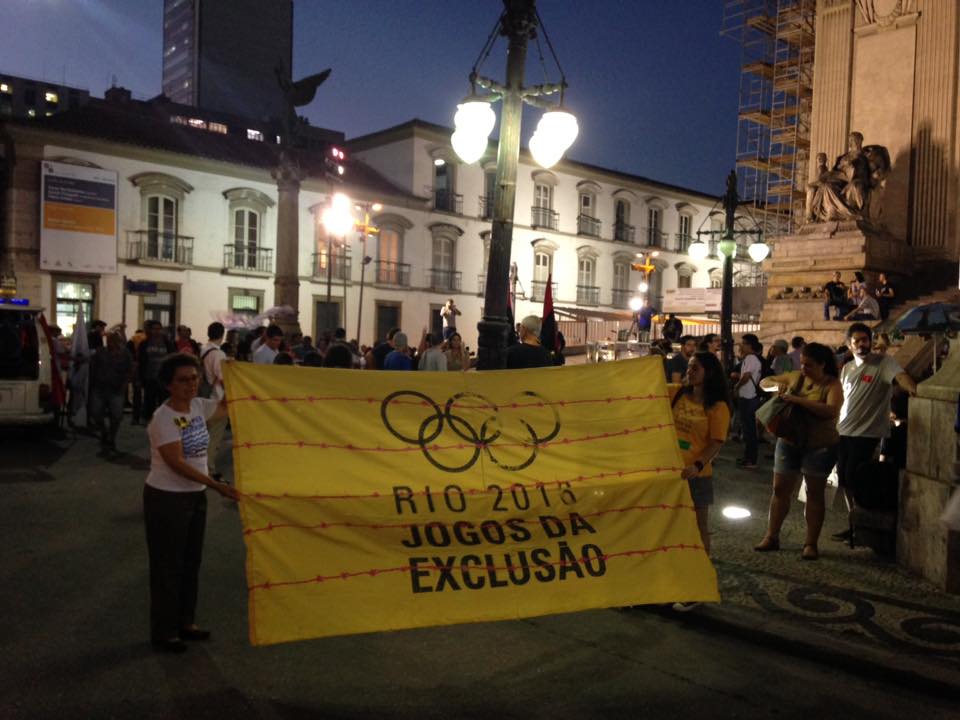 A second street demonstration was held in downtown Rio on Wednesday July 6 against issues related to the Olympics and cuts to health and education, and was attended by public sector workers including the teachers' union who are currently striking for better conditions and pay.
On Thursday July 7 there was a march and debate against the Olympics and related issues at the Rio de Janeiro State University (UERJ) next to the Maracanã Stadium in the North Zone of the city. Around 80 people marched and attended a debate on cuts to essential public services and Olympics-related violations. The panel included lawyer and professor Alexandre Ferreira Magalhães and Inalva Mendes, an evicted resident of Vila Autódromo and member of the Popular Committee on the World Cup and Olympics.
Further protests and events are being organized for the coming weeks, including centralized city demonstrations and community-organized protests in favelas that have been affected by the Games.
On Saturday July 16, Coletivo Papo Reto and community newspaper Jornal Voz das Comunidades will hold a protest event entitled "Our Olympic Torch" in Complexo do Alemão: "Due to the complex situation in Rio de Janeiro at the moment, caused by the Olympics, part of the city parties while another part–like our favela and many others–bleeds."
Demonstrations are already being organized for the week of the Olympic Games Opening Ceremony, with five days of activism planned from August 1 to 5. The Facebook event entitled "Let's Extinguish the Torch in Rio!" to be held on August 2 already expects over 14,000 attendees. A large demonstration is being organized for the day of the Opening Ceremony, with various Facebook events counting a potential attendance of thousands of protesters. The Rio 2016 – The Exclusion Games protest event description reads: "In a city where the chasm of inequality grows and grows, on the basis of tanks, gunshots and bombs, it's fundamental to advance and pursue the fight for the right to the city, democracy and social justice."