In the favelas of Rio de Janeiro, police do not need to claim that their victims had guns for them to justify extrajudicial killings of the mostly poor and Black. Jhonata Dalber Matos Alves, a 16 year old from the Borel favela in the North Zone of Rio was shot in the head by Military Police on June 30 for allegedly holding a bag of drugs. They did not claim he was armed, just that he was holding drugs. Family and friends dispute this claim, and at Jhonata's funeral his grandfather tossed a bag of popcorn on the casket in a poetic act of both defiance and mourning: "Here are the drugs my grandson used."
According to a famous, albeit perverse, saying in Brazil, "if you want to know who's black just ask a doorman or police officer." Racial mixing and a lack of explicit apartheid laws have allowed Brazilian elites to advance a myth of racial democracy. Affirmative action and anti-discrimination policies, despite being held up by the Brazilian Supreme Court, are often painted as US imports bent on inciting racial distrust and violence. Though the borders between black and white are not as clear as they are in the US, the Brazilian police kill more than 2,000 people a year, the majority of whom are poor and black. Due to high rates of what witnesses and residents believe are summary executions, many call the police violence against poor, black Brazilians a genocide. Human rights groups and activists are currently documenting that the Olympics, less than a month away, are spurring even more police violence in Rio's favelas as public security officials attempt to make the Games safe for tourists in a state that already boasts some of the highest rates of killings by police.
Police killings in Brazil far outnumber those in the US, though of the 990 killed by police in the US in 2015, unarmed black men accounted for roughly 40% of victims and, when accounting for population, were seven times more likely than unarmed white men to be fatally gunned down by police.
Brazilian and US police have much in common. Both are waging an increasingly militarized War on Drugs that, despite similar levels of drug use across races, largely imprisons and kills young black men. And in both countries, a culture of police impunity has led to high levels of distrust between police and predominately black communities. A recent Human Rights Watch report on Rio, Good Cops Are Afraid, found that of the 3,441 police killings recorded between 2010 to 2015, the Attorney General only filed charges in 15 cases. Similarly, since 2005 and as of January 2016, only 13 officers in the US have been convicted of murder or manslaughter in on duty shootings.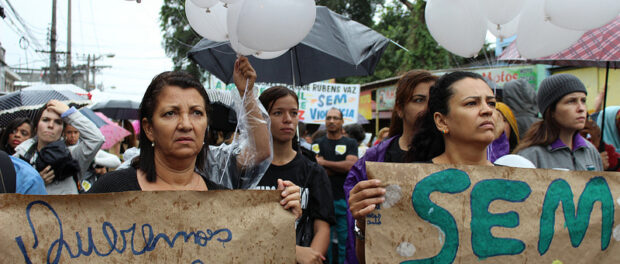 On July 10, Alva Braziel became the most recent black victim of police violence in the US. Houston police claim Braziel was waving a gun in the air and, when asked to lower it, Braziel was alleged to have pointed the gun directly at them. The police then shot at Braziel ten times. Though the details of the shooting are still unclear, a gas station surveillance video is circulating on social media that shows a man that many claim is Braziel being shot with his hands up.
If Braziel had a gun, the police certainly had a right to fear for their lives. The question is whether they needed to kill him, especially when other means of de-escalating the situation are available, as evident in the use of gas and SWAT team negotiators to arrest a white man who had shot at officers seven times during a standoff in another apart of Houston the day before. Why was a gun, unfired, so much more threatening in the hands of a black man?
The recent police killing of Philando Castile at a stop in a suburb of St. Paul, Minnesota, underscores this pervasive fear of black hands and their potential, imagined or otherwise, to be armed and more deadly than white hands. Castile had a license to carry his firearm and conveyed this to the officers, according to his girlfriend Diamond Reynolds who livestreamed the aftermath of the killing on Facebook, before reaching for his wallet and ID. Similarly, Alton Sterling was shot in the chest outside a convenience store in Baton Rouge, Louisiana, while pinned down by officers who feared he would still be able to reach a gun reportedly in his pocket. 
Many Rio-based Brazilian human rights organizations like Coletivo Papo Reto and Rio de Janeiro Youth Forum expressed solidarity for Castile, Sterling and movements like Black Lives Matter through social media.
Like Jhonatas, many young black men in both the US and Brazil have been shot for what police feared they might be holding. In November 2014, twelve year old Tamir Rice was killed within seconds by Cleveland police officers for allegedly reaching for a gun, that the 911 dispatcher was told was probably a toy, in his waist band. Nearly one year later, Rio Military Police fired 111 shots at a car in Costa Barros killing five young men: 16-year-old Roberto de Souza Penha, 16-year-old Carlos Eduardo da Silva, 18-year-old Cleiton Correa de Souza, 20-year-old Wilton Esteves Domingos Junior, and 25-year-old Wesley Castro Rodrigues. The police claimed shots were fired from the car, while family and friends maintain that the young men were simply out celebrating Roberto's first paycheck.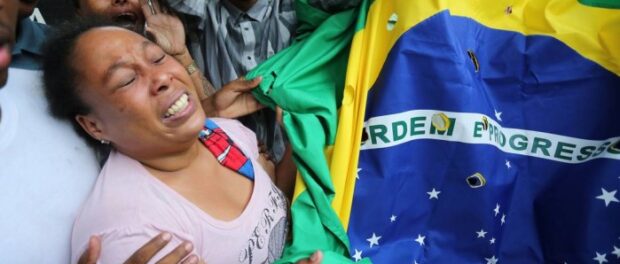 Because black women are often left mourning the loss of their sons, boyfriends, husbands, and brothers, in both countries they are the principal founders and sustainers of social movements fighting against police brutality so that others will not have to bear the pain of losing loved ones to the hands of the state.
Black, queer women Alicia Garza and Patrisse Cullors, along with black transnational feminist Opal Tometi, founded the Black Lives Matter movement and have helped it grow throughout cities in the US. Eric Garner's daughter Erica has become an outspoken activist following the death of her father after a New York City police officer placed him in a choke hold despite him repeatedly stating "I can't breathe."
Ana Paula Oliveira, who lost her son Jonatha when he was shot in the back while fleeing an altercation between residents of Manguinhos and local Pacifying Police Unit (UPP) officers, went to Geneva, Switzerland with Maria da Penha of Vila Autódromo to participate in the "Human Rights Legacy in Sporting Events" debate at the 32nd Human Rights Council of the United Nations. The Mães de Maio network was formed in 2006 by Débora Maria da Silva after she lost her son during a brutal month of police violence against members of the First Capital Command (PCC) gang in São Paulo that left 564 people dead.  But the lack of justice and systemic change can often be too much to bear, as in the case of Joselita de Souza, mother of Roberto de Souza Penha, who passed away on Thursday from "sadness" just months after the procedural release of several of the officers involved in the Costa Barros massacre.
From wallets to cell phones to popcorn, Brazilian and US police repeatedly mistake everyday objects for weapons or illicit drugs to justify killings, especially of young black men. Brazil has already promised to deploy 85,000 security personnel to Rio for the Olympics and a recent legislative change will see those who harm or kill civilians during the Games are tried in military rather than civilian courts, with critics claiming this will allow for more violence and impunity.
Both the July 7 mass shooting in Dallas that resulted in the death of five officers by black army veteran Micah Johnson and the high rates of death among Brazilian police will be used to justify this fear of potentially armed black men. However, activists like those affiliated with the Black Lives Matter movement in cities throughout the US and Network of Communities and Movements Against Violence in Rio and other Brazilian cities are recognizing and fighting against the parallels between both countries' histories and presents of slavery, racism and the over-policing of black spaces and bodies.
Strengthening these efforts is the communication and collaboration between the two countries' movements. From July 20 to 23 activists from the Black Lives Matter movement and Brazil Police Watch will be in Rio to stand in solidarity and meet with activists and victims of police violence. The US activists will meet with Coletivo Papo Reto, Mães de Maio, Network of Communities and Movements Against Violence and Rio de Janeiro Youth Forum to share experiences and ideas and "affirm that Black Lives Matter Everywhere."
Stephanie Reist is pursuing both a Masters in Public Policy and a PhD in Latin American Studies at Duke University. Her research looks at center-periphery dynamics, belonging and citizenship, and land rights in Rio's favelas and quilombos.