Wednesday, July 20 marked the first day of the Black Lives Matter movement's four-day visit to Rio de Janeiro, as part of Julho Negro or Black July.
The first day of the visit started with a press conference held at Casa Pública in Botafogo where leaders from the Black Lives Matter movement met with activists from Coletivo Papo Reto, Rio de Janeiro Youth Forum, Mães de Maio movement, Mães de Manguinhos, Network of Communities and Movements Against Violence, Global Justice, Manguinhos Social Forum, Amnesty International Brazil, and other local activism groups and students advocating for the rights of black youth in Brazil. The Black Live Matter delegation for the visit includes Elizabeth Martin, Daunasia Yancey, The Right Reverend Doctor John L. Selders, Jr., Pamela Selders, Reverend Waltrina N. Middleton, and Brittíni Gray.
At the press conference, leaders and activists shared their insight on the similarities between the United States and Brazil, comparing experiences of police violence, history, racism, forms of resistance, and the role of media.
Since 2009, when Rio de Janeiro won the bid to host the 2016 Olympic Games, more than 2,500 people have been killed by the police. During the year of the 2014 World Cup the number of police killings increased by 40% in the state of Rio. As Rio gets closer to hosting the Olympic Games the number of deaths caused by police violence continues to rise by an even higher rate than in 2014.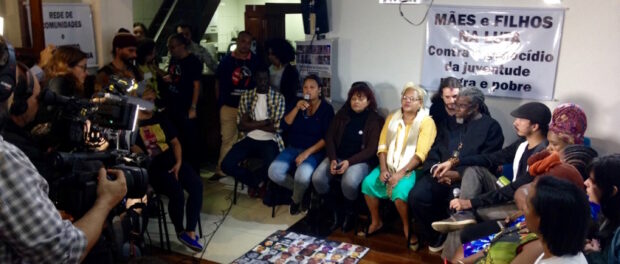 During the conference, Black Lives Matter representatives stated that so far in 2016, 600 people have been killed by the police in the United States. With the spike in police violence in Rio and the recent filmed killings of Philando Castile and Alton Sterling by police and heightened racial tension that followed in the US, these conversations had an intense urgency to them, although both the Black Lives Matter delegation and Rio's organizers agreed these problems are not new.
In Brazil "the police are essentially a racist institution that was created to control black people and extinguish black people. I don't have faith in a dialogue between the state; I don't believe in a dialogue with the Military Police. I believe in us for us," stated the founder of Mães de Maio (Mothers of May), Débora Maria da Silva, whose son Edson Rogério Silva dos Santos, 29, was shot dead by police in 2010. 
Brittíni Gray, a Black Lives Matter organizer, poet, and Masters student stated: "We have built these countries, but are pushed into economic despair, without opportunities to live our full lives. The racism might look different, but our ancestors are one. We come from resistance. It is in us to fight back."
Elizabeth Martin, who founded Brazil Police Watch after her nephew Joe was killed by Rio police in 2007, said: "When I read about the violence in Brazil it is always about the criminals, not about the police. We are learning about Olympic construction costs, dirty water, Zika and crime, but I want the world to know about the horror that is police killing citizens as part of Olympic preparations."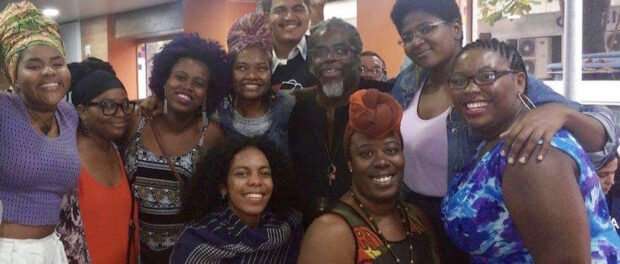 Both Black Lives Matter and Rio organizers agreed that the media plays an important role in criminalizing blackness and young black men or ignoring police violence altogether, giving it very little or no coverage. Débora Maria da Silva said that the media in Brazil only show negative images of their sons. Following their sons' deaths, the mainstream media doesn't give them opportunities to express themselves and explain the gravity of the violence that is occurring. She is hopeful that international media can bring greater visibility to the police violence that is happening in Brazil.
Despite the similarities between the two countries, issues in Brazil are complicated by the country's unique relationship to race, and the extreme nature of the Military Police force, which was created in the 19th century explicitly to repress black resistance and maintain white privilege. With all the differences in mind, however, there was a strong sense of unity and solidarity throughout Wednesday's event.
Daunasia Yancey, founder of Black Lives Matter's Boston Chapter and LGBT activist, said: "I'm so glad to be here standing in solidarity with you all. It is important that we stand with each other because we know that this violence is connected. Anti-black violence is global and our resistance is global. This is a long tradition of resistance that we continue together today. It is not one bad cop as we said earlier. This is a system of police and the way that the police work. We need the media to be honest, to tell the truth and to share all of these stories. Together we must refuse that any more killings happen. Being black is not a crime. Being poor is not a crime. The system creates the circumstances and then criminalizes us for living in them. And that is unacceptable. We will stop this together."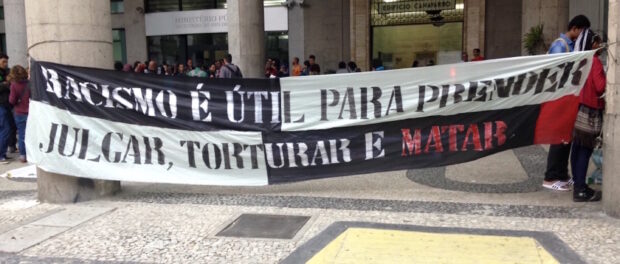 Following the press conference, leaders and activists traveled to the Rio de Janeiro State Public Ministry building to stand in solidarity with the mother of Rafael Braga at a vigil demonstration, against the unjust incarceration of her 26-year-old son since 2013.
Ana Paula Oliveira is an activist and member of Mães de Manguinhos (Mothers of Manguinhos), a group of mothers in the Manguinhos favela in the North Zone who have lost children to police violence. Ana Paula's son Jonatha was shot and killed by UPP officers while on his way to take a dessert to his grandmother's house in May 2014.
Ana Paula said: "I have a picture of Jonatha on my chest but I'm aware that his image does not represent just him; it represents the many, many youth that are assassinated every day. I'm aware that when I say the name Jonatha, I'm speaking not only of my son but for the many mothers whose sons were assassinated."