This past Friday, July 15, a group of around 70 community members and artists gathered at Arena Carioca Dicró in Penha, in Rio de Janeiro's North Zone to discuss and recognize the contributions of women in funk culture. The event, which featured a discussion panel and concert, was the second installment of a four-part "Funk Fridays" series hosted by Arena Carioca Dicró in partnership with Expo Passinho Carioca to promote a focus on the urban and independent culture of Rio.
The evening commenced with a debate on the role of women in funk with artists Taisa Machado, founding member of AfroFunk Rio from Complexo do Chapadão, Caroline Felix, also known as MC Carolzinha from Cidade Alta, Mayara Rodriques of Art Black, and dancer, singer and reality show star Yani de Simone, known popularly as Mulher Filé from Vila da Penha. The debate was moderated by Ana Paula Lisboa, coordinator for Agência de Redes Para Juventude, Globo columnist and DJ.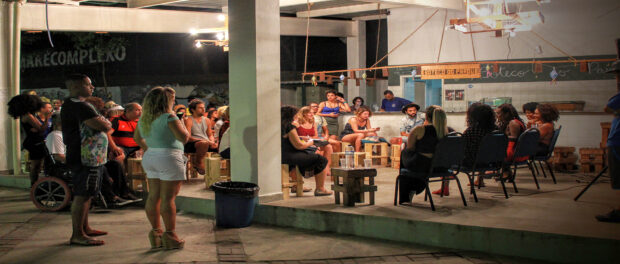 Since its conception in the 1980s, funk has passed through many phases from criminalization and prohibition to officially recognized 'musical and cultural movement' and international phenomenon. Throughout, funk remained a primarily male dominated industry. Now, more and more women are emerging in the funk scene, utilizing this genre of music to assert their own artistic individuality.
Lisboa was compelled to enter the funk scene after she attended a show in Complexo da Maré and realized that the music set was dominated almost entirely by male DJs.
"I thought, 'Man, there is something wrong here.' But I am one of those who does not bring forward a complaint, I bring forward a solution. And my solution was to become a DJ."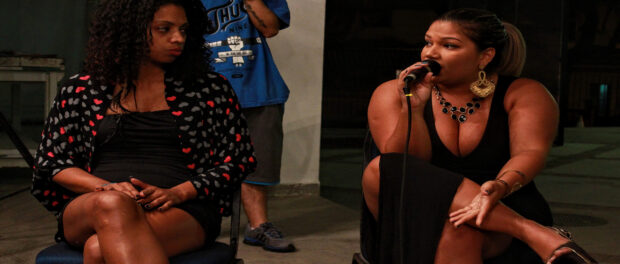 For Yani de Simone this struggle to gain representation in the world of funk is part of a bigger problem of inequality—a problem for which there are many creative solutions. She argues that when women use the same explicit language as men, they are demanding equality.
"The dirty words that we speak about sexuality, it helps us lift barriers. Because a guy can talk dirty, and we can't."
Taisa Machado empowers women through AfroFunk, but wants to be known for the quality of the work she does outside the label of 'feminist.'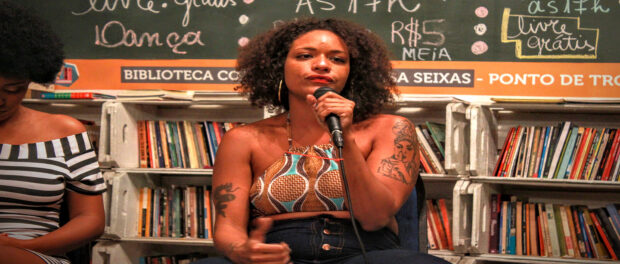 "I already am a woman, I do not have a way to escape it, so this is not what we want to be the first thing spoken about us," Machado said.
Caroline Felix reported that she experienced a lot of discrimination when she started dancing passinho. Women were not allowed into the roda of passinho and men could not lose to women in dance battles. She had to fight to gain recognition as a dancer, and later as an MC, all while also raising four children and getting a degree in journalism. Now she is proud of her role in the funk community.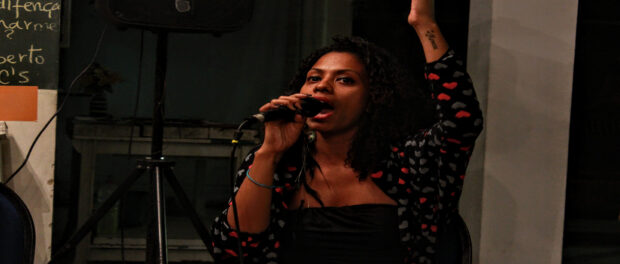 "Funk deserves eternal applause. My life is funk. I defend this flag automatically and subconsciously," Felix said.
Funk is empowering on many levels for Machado who initially was hesitant to tell people about her involvement in funk for fear of facing the stigma that exists against African art forms in Brazil.
"Funk is is a window, a doorway to being black and powerful," Machado said.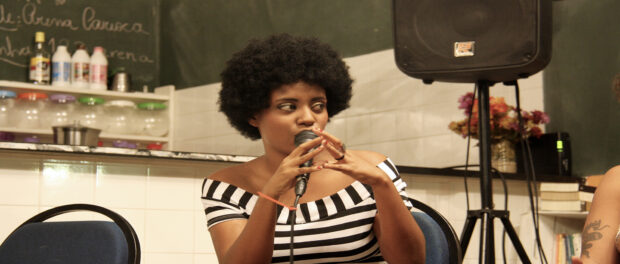 Still, as Mayara Rodrigues explained, there is much that needs to be done before funk can be considered a true equalizer. Many women on the panel had had experiences of male audience members verbally harassing them after a performance.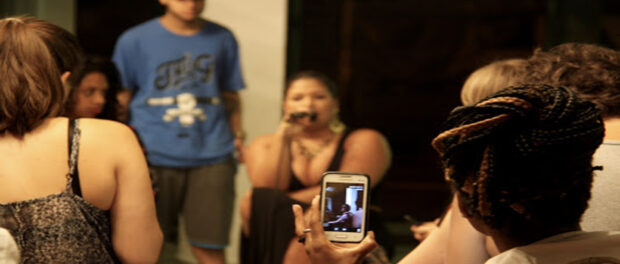 "I understand that a woman seen dancing funk, dancing Afro, dancing whatever, will always be seen [as a body]," Rodrigues said. "We have to fight hard to change this imposition of the male-dominated society."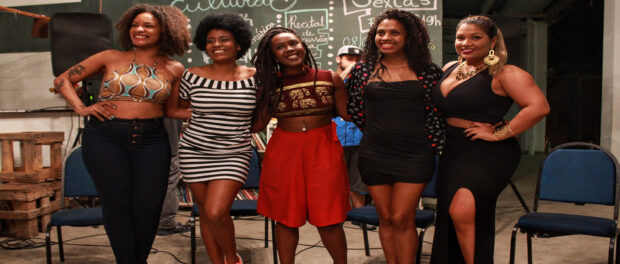 A recurring theme of the evening was the importance of uniting women within the funk community. Simone stressed it was necessary to suspend judgment of one another, to engage in "daily acts of conscientiousness" rather than rivalry.
Simone urged the audience to understand that funk artists, like actors, have 'many faces' and that what is presented on stage in terms of sexuality should not be taken as an indication of who the artist is.
"Women in funk do not necessarily have to wear short skirts to be successful. I think you have to feel good and show your personality. There are people who sell sexuality. I started selling sexuality because I started as a dancer. So when I became an MC and started playing certain songs, I had to know what it was that I wanted to sell. I sell music. I sell attitude."
"Let's make a difference," Simone implored. "The microphone is a very big weapon."
Following the debate, each artist took the stage and presented their art to the audience.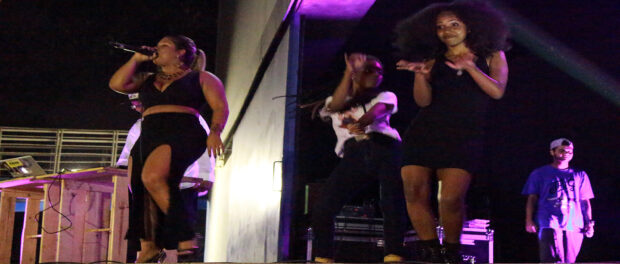 MC Carolzinha was the last to perform, closing the evening with an original song that spoke to the optimism for funk these women shared:
"The movement is growing everywhere
On display around the world to show
With humility, discipline I'm going to tell you
Carioca passinho is here to demonstrate."
"O movimento está crescendo em todo lugar
Exposicão correndo o mundo para retratar
Com humildade disciplina eu vou te falar
O passinho carioca veio para demonstrar."
The next "Sextas de Funk" event will take place Friday, July 22 from 7pm to 11pm at Arena Carioca Dicró. See the event information here.