On Friday, August 5, several hundred protesters gathered in the Saens Peña square in Tijuca just hours before the Olympics opening ceremony was due to take place in nearby Maracanã stadium. Hundreds more joined throughout the afternoon as the protest proceeded towards Afonso Pena, reaching nearly 1,000 attendees. The protest was the culmination of a week-long series of events organized by the Popular Committee on the World Cup and Olympics.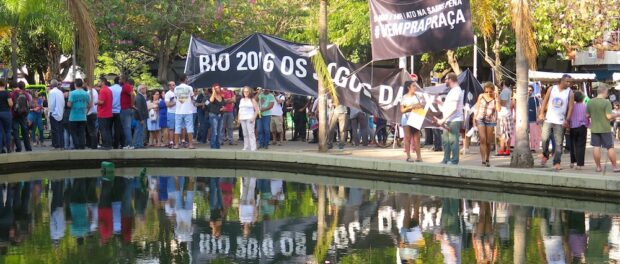 The Military Police presence was intense from the beginning of the event, with heavily armed personnel, helicopters, cavalry and police cars present. Initial proceedings were calm, with the Popular Committee and police cooperating to negotiate and agree on changes to the protest's planned route. However, on two occasions before marchers even left the square, dozens of police formed tight circles around two or three protesters, without evidence of any clear provocation or providing explanation to a tense crowd. One protester said he was using spray paint to make banners, as he had already been doing for about 15 minutes prior to the police response. A second protester, standing on a platform, threw his backpack down to his girlfriend who then found herself surrounded by officers.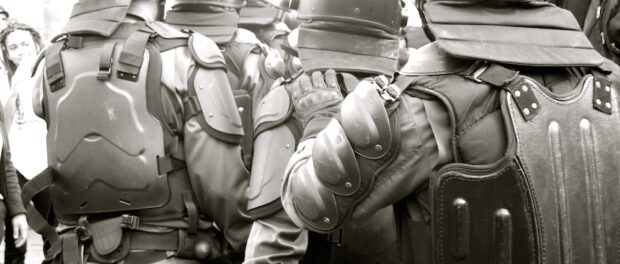 Protesters demonstrated against a range of negative impacts felt by Rio residents due to hosting the Olympics, from forced evictions to police brutality, the Games' disastrous environmental legacy, and generalized misplaced public priorities in spending billions on the Games when the city doesn't meet its citizens' basic needs. "The Exclusion Games" protest highlighted how Rio residents have been systematically excluded and have suffered rights violations both directly and through cuts to public spending on healthcare, education and sanitation while billions have been spent on Olympic venues.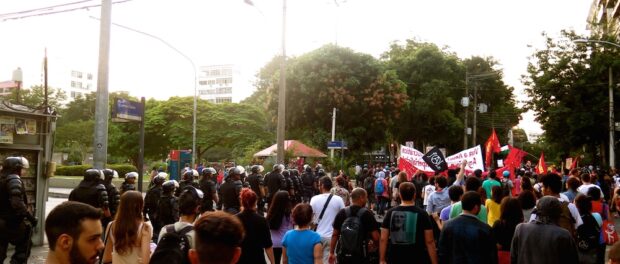 Jurema Gomes da Silva, a 72-year-old teacher, said that once Rio committed to hosting the Pan-American Games in 2007 and won its bids for the 2014 World Cup and the 2016 Olympics, she felt it was inevitable the city would follow through despite residents' dissatisfaction. "It was always going to happen," she said, "but right now, I am here because I am against the permanent halting of our public services. Our government has completely abandoned the poor, blacks, the general public."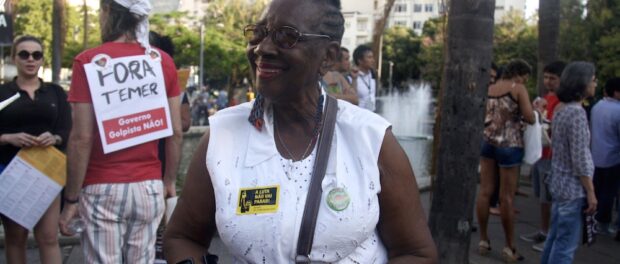 Nina, a 17-year-old student, said she was attending the protest because "the Olympic Games are not for people who live here." She also criticized Rio's spending and developmental policies ahead of the Games, saying: "None of the city's residents gain anything from this new tourist-oriented transport. I'm not happy to say this, but I'm happy to be here today to demonstrate my dissatisfaction."
During the march, a few clashes broke out between the Military Police and members of the Black Bloc, a black-clad anarchist group that first emerged in Brazil during the 2013 protests. The group takes its name and inspiration from the 1980s-era movement in East Germany that encouraged protesters to defend themselves against police repression. The movement's 21st-century incarnation in Brazil explicitly aims to "cause damage to oppressive institutions" and is frequently accused of being "urban guerrillas," "excessively violent" and guilty of "police provocation" by Brazilian media.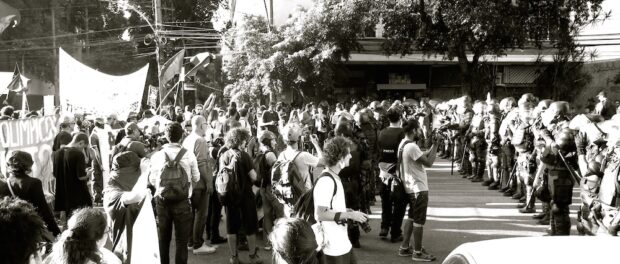 The event's organizers were satisfied with the diverse and mostly peaceful participation of protesters of all backgrounds and ages. "It's been really great," said Larissa Lacerda, a member of the Popular Committee attending the protest. "Of course, there were moments of tension, but that happens at any protest."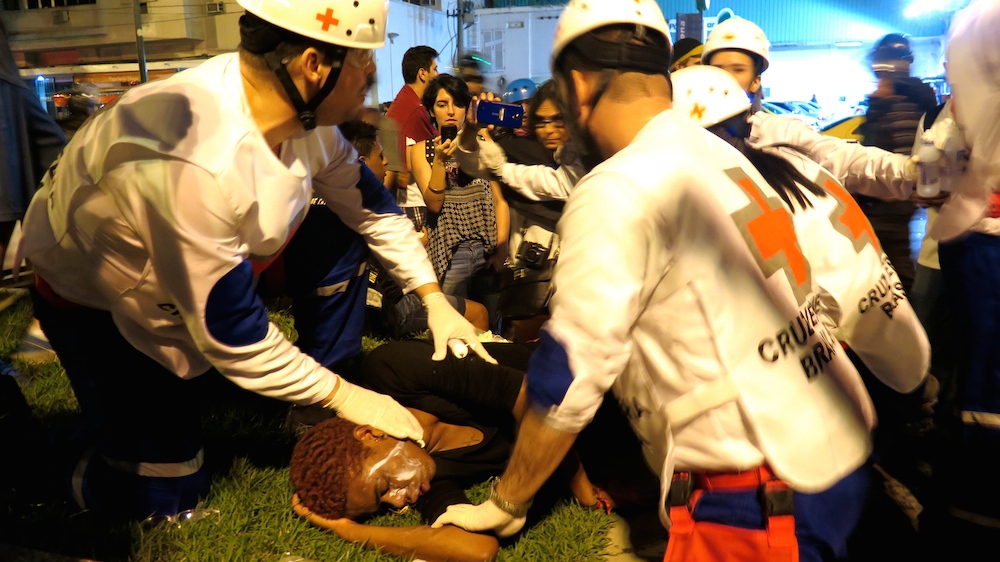 The protest ended just after 6pm. In the Afonso Pena square, demonstrators had formed an informal gathering and were discussing how it had gone when, with no provocation, the Military Police threw a flashbang grenade and tear gas canisters at those who were still present on site, others were pepper sprayed and had to receive help from the Red Cross. Using such tactics "to disperse protesters" is common among Rio's Military Police. In this case the protest had already been dispersing. The effect was the closing down of public space, with fearful people, protesters and non-protesters, running away. The square's playgrounds had been in use by local families at the time. Two hours later the Olympics opening ceremony festivities began a fifteen minute walk away at Maracanã stadium.
Watch our Video of the Protest here: