For the original article by Adriano Wilkson in Portuguese published by UOL, click here.
In the last few days, dozens of journalists from countries participating in Rio de Janeiro's Olympic Games have sought out the resident of the last original intact house in Vila Autódromo. The favela that once housed almost 3,000 people today has just 21 houses alongside the modern buildings constructed for the Games.
In the span of just three hours, UOL Esporte saw reporters and documentary filmmakers from countries as varied as Canada, Switzerland, and Estonia, asking the 51-year-old former fisherman Delmo de Oliveira to tell his story of resistance against the pressure from government officials to demolish his home.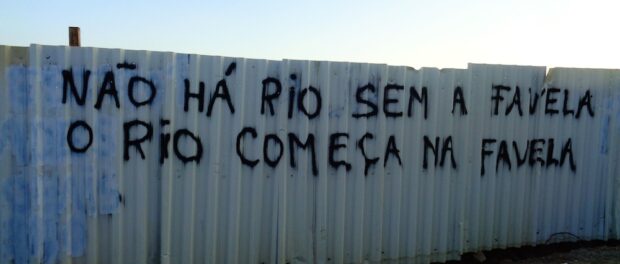 On Wednesday, August 3, his neighbor Rudney's house was demolished by a tractor. Delmo's house, three storeys with a kind of metal frame, was due to be knocked down the day after but an injunction prevented the action.
"It appears the mayor and governor have carried out a systematic approach of intense physical and psychological terrorism because they've really been efficient in ejecting people from here," Delmo repeats in every interview. "But I will not leave here. We've been on this land for 30 years, 30 years fighting to stay, and it won't be now that I leave."
He tells each reporter that in the last two years the government has pressured the community to make way for Olympic construction by cutting the electricity and water, making verbal threats, and using force. Most people relented and either received apartments built by the City or received compensation.
A few people resisted and moved to a small paved street on the community's original site. Now they live in small houses with two bedrooms, a bathroom, and a tiny patio. Delmo's house is the only one to still maintain its original structure.
This setting is just a few meters from the Olympic Park media center, the site that brings together journalists from all over the world with accreditation to cover the Games.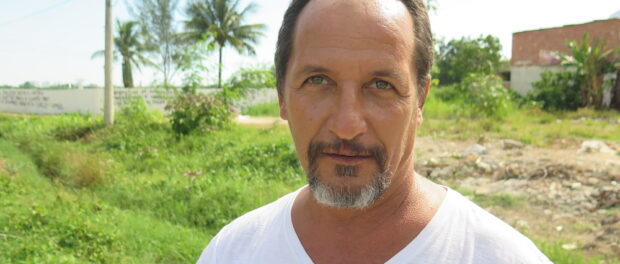 On Thursday, August 4, Yves Boisvert from the newspaper, La Presse, in Montreal, Canada learned Delmo's story through the help of an interpreter. This is the fourth Olympic Games the journalist has covered. "These removals for mega-events always happen, but not in the dramatic way we see here in Brazil," he said.
"In a way, public opinion in Canada and in the West in general is one of adoration for the Games, but these stories of removals, these tragedies they generate, make people question whether it's all worth it in the name of a party."
Swiss documentary filmmaker Samuel Chalard has been following the story of Vila Autódromo for the last two years and aims to finalize a film about those who have been removed and those who are resisting next year. On the same Thursday, he took more images and did more interviews with the residents who continue as neighbors to the Games.
"The people who remain are true heroes," said the Swiss, who has managed to film occasions when the government tried to tear down the houses. "If it wasn't for the foreign, white press filming everything, maybe I would not be here," Delmo suggested.
A group of French and Italian journalists were invited to watch Friday's opening ceremony on TV at Delmo's house.
Other foreign media outlets spent the afternoon filming and interviewing residents such as Maria da Penha, a leader in the region who now lives in one of the newly built houses. "I'm not against the Olympics, no," she told an American journalist, "but I think it's something that's not for everyone and is just for a minority.'
Another resident, who had just moved, said she has faith that things will get better with time. "We will get used to it and continue living day by day," she said as she swept in front of her home. "I will listen to the Olympics on a small radio because my TV hasn't yet arrived."
According to the City of Rio, the removal of houses in Vila Autódromo was necessary for roadworks in the vicinity of the Olympic Park.
Mayor Eduardo Paes had promised to deliver the new homes before the Games began to those who had not agreed to leaving, which has happened.