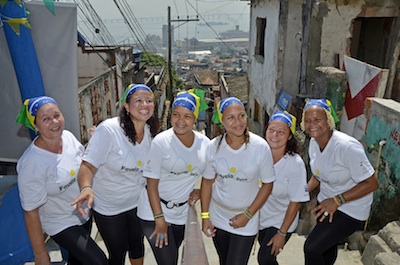 At the top of the Morro de Providência´s yellow and green stairway, a newly bright blue building – completing the Brazil flag color scheme – houses Favela Point, a brand new restaurant, bar and snack joint. Opened last week, Favela Point is already a victory for the seven women who developed the enterprise through Elas Social Foundation´s ´Elas em Movimento´ program to service residents and tourists alike.
As one of the partners, 20 year old Ana Carla de Silva Chagas explains, "We´re operating to serve the community and tourists, because here at the top there´s nothing like this."
With support from the Elas em Movimento program, an initiative that trains then provides financial investment for women in pacified communities to open their own businesses, the women did research within the community to identify the market and need. "We interviewed people asking what they thought about us opening this business and found out what was needed – somewhere for snacks, lunch, a bar. So we created [Favela Point] to function as a café, restaurant and bar, and we also do delivery," says Ana Carla.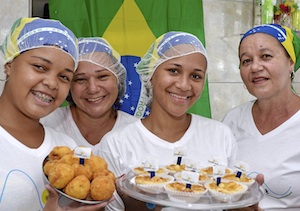 Opening at 6am for fresh bread and breakfasts, offering Brazilian meals at lunchtime such as barbequed meat with rice, beans and salad and a range of pies, savoury snacks and açai sundaes throughout the day until closing at 11.30pm, the women offer a one stop refreshment space with homecooking and big smiles. The menu is largely traditional Brazilian fare with some fun twists, such the ´Favela Mixes´ cocktail menu with chocolate cachaça milkshakes, bacardi and juice and the baile classic: whisky and red bull.
With menus in Portuguese and English, the women are looking to benefit from the increase in tourists to Brazil´s first favela. "There are a lot of tourists who come to walk around and take photos," says Ana Carla. "There are people practically every day."
The restaurant ideally located at the final stop of the gondola development as part of the government´s Porto Maravilha project, a Public-Private-Partnership to revitalize Rio´s Port Region. For the community of Providência the project is at once bringing development and infrastructure to the favela, while at the same time fracturing the community with forced evictions as residents' houses are destroyed with little participation and for questionable projects. Favela Point partner Janice dos Santos, 27, who has lived in Providência since she was a few months old, says "It´s difficult. A lot of our friends are leaving because their houses are going being destroyed. It´s hard, but we´re trying to put the ball forward."
Ela´s coordinator for entrepreneurship Eliana Maria Custodio who has been working with the group of women for over a year notes the women´s determination in the face of such developments. She says, ´This is a community that´s going through a process of transformation that´s accompanied by exclusion. They´re destroying houses and removing families that have lived here for more than fifty years. This affects the community and people´s self-esteem and identity. It´s something that´s strengthened the women because they say "No, let´s create our own business and all work toward the same goal."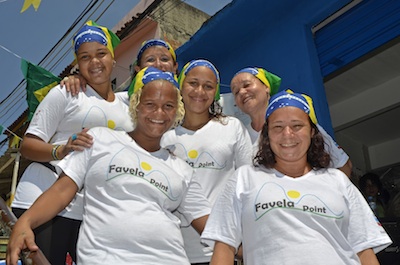 Eliana also highlights the importance of the investment in women to strengthen the community, saying "Women are agents of transformation in society. When you strengthen a woman inside her own community and family, the return she gives to her family is automatic. She offers healthier conditions for her family, she manages to break the cycle of domestic violence, she can better raise her children." She goes on, "When you give women strength you transform the community. Working with and investing in a woman combats poverty, racism and sexism, especially here in Brazil."
Janice, who bubbles over with excitement and steely determination in equal measure, supports Eliana´s view: "We think that women are nothing. I understand that we have a woman President and senators, but here in the community people didn´t think we´d manage to go forward, just because we´re women from a community. [This project] has raised our self-esteem and the fight now is for us to stay here."
With plans for weekly Saturday night entertainment, a customer suggestion box and varied daily specials, the feisty group of women are looking to and indeed establishing a future, showing strength in a moment of uncertainty for Brazil´s oldest favela.
Address: Favela Point, Ladeira de Barroso, 220, Morro de Providência