On Friday, December 2 the project Maré Sem Fronteiras (Maré Without Borders), hosted a community event featuring bicycle repair workshops, serigraphy t-shirt printing, photo and video exhibition, and a theater performance. The event was organized to showcase the various activities of Maré Sem Fronteiras, and took place in the Herbert Vianna Cultural Center in Complexo da Maré, in Rio's North Zone.
Maré Sem Fronteiras is a project founded in partnership with internationally-recognized community NGO Redes de Desenvolvimento da Maré with the aim of breaking both symbolic and geographic borders within the Maré favela, stimulating autonomy and creativity of adolescents and children, and preserving community memory. The project offers workshops for children aged 7 to 16 in audiovisual production, writing, and theater, and encourages mobility and greater access within the community through biweekly communal bike rides for youth. The hope is to connect the various communities of Maré by means of an affordable, sustainable and environmentally friendly mode of transportation. Maré is on flat terrain, and therefore lends itself easily to biking. Indeed, in contrast to Rio's first favelas born on hills, early inhabitants of Maré built their homes on stilts above the tide of the sea. Maré and neighboring areas were eventually landfilled, allowing the complex to develop and become practically a city of its own made up of 16 different favelas and a total population of over 140,000 residents.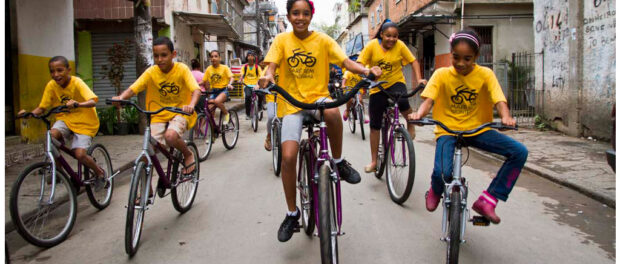 Friday's event was yet another testament to the vibrancy and richness of civil society in Complexo da Maré, bringing together a web of long-standing projects and actors in the community. Redes da Maré is a community-based human rights organization that serves as a network for sustainable and resident-driven development initiatives. Its predecessor, CEASM (Maré Center of Solidarity Studies and Actions), first started in 1997 as a collective of community members responding to the lack of access to university education in the community. These community leaders came together to organize a course for students to prepare for the entrance exam for public universities. Since then, Maré has seen a significant rise in young students pursuing higher education. Redes was then formally founded in 2007, with a focus on assisting the community in implementing grassroots initiatives.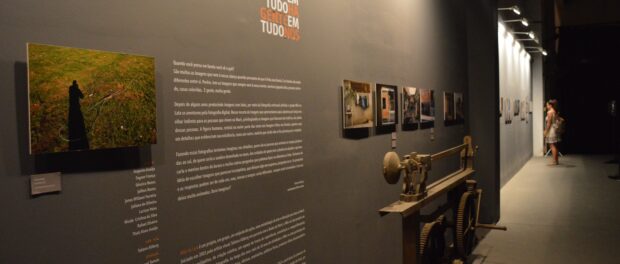 The photo exhibition featured works from the project Mão na Lata, which partnered with Maré Sem Fronteiras in providing photography workshops for youth. Mão na Lata was founded in 2003 and was born of a partnership between photographer Tatiana Alberg and Redes da Maré. The project offers photography and literature courses for youth between the ages of 11 and 17, including workshops on making cameras out of recycled cans and developing photographs.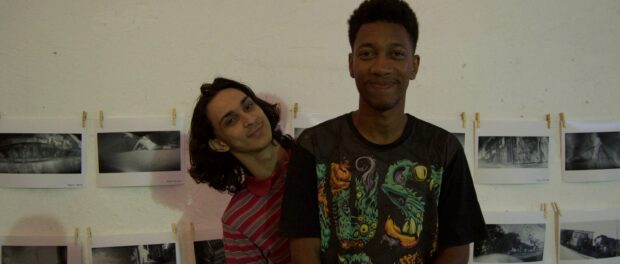 Fagner França, 25 years, resides in the favela Baixa do Sapateiro in Complexo da Maré. As a teen he participated in the photography workshops of Mão na Lata. Today he is a professional photographer and teaches workshops to youth in the community. As one of the participants of the project, Fagner reflects on the impact and significance of photography in the favela:
"My photography is a photography of resistance, it is a photography directed toward the people in the community where I live, it's a photography that empowers people who live here, a photography that shows daily life and is therefore different from what is shown in the media… A long time ago in the early days of photography people were afraid of being photographed because they would say that the soul would be robbed. But even more than the soul, when you are being photographed you are giving yourself. When a person opens a smile for us to photograph, that person is permitting, is opening the heart, the face, for us to be able to reproduce an image, and this is an act of solidarity. To photograph is as if you were taking the person but also holding them and it's a great responsibility. I feel that my photography empowers because it shows the beauty in people."
The exhibition on Friday night also featured tiles made from children of Maré, a result of a partnership between Redes and the social project Azulejeira, a collective of artists and specialized artisans who provide educational workshops and combine artistic production with social, cultural and urban action. The tiles created by youth from the community reflected on the prompt: "Maré is?" Friday's event also featured a screening of films created by youth in the audiovisual workshops of Maré Sem Fronteiras. These films document the activities of youth and serve as a way of preserving favela community memory.
Friday's event culminated in a theater performance, which was the result of the theater workshops for youth provided by Maré sem Fronteiras. The theater group premiered their self-authored work "Agora Sei o Chão Que Piso," or Now I Know the Ground On Which I Walk. The piece addresses the theme of human animality, and is split into four independent segments that approach the topic from separate vantage points: work, family, sexuality, and dreams.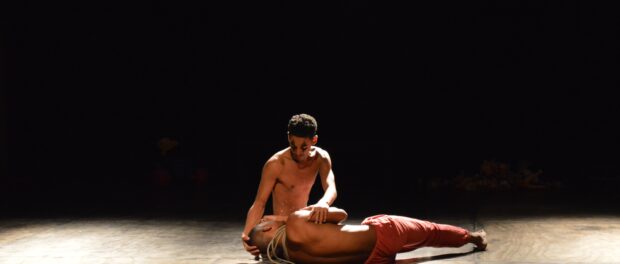 These theater workshops for youth first began seven years ago, a result of a partnership between Redes da Maré and the favela-based theater group Cia Marginal. Maré Sem Fronteiras then became a partner more recently in 2013. Under the direction of Maré resident and actor Wallace Lino, the theater workshops brought together youth from the community, and from these workshops a theater group emerged called ATiro. Given that the majority of the youth who participated in the workshops had origins from Brazil's Northeast (as is the case for the majority of Maré residents), the first work the group created was a piece about Northeastern oral history and cultural memory of Maré. The actors collected stories from parents and grandparents about their family's migration to Rio, and from this created a play entitled "Vai" ("Go"). In 2014 the group was awarded the "Prêmio Ações Locais," or Local Actions Prize, a city government grant that funds local cultural initiatives. This allowed the group to perform the piece throughout Complexo da Maré. Shortly after this series of performances, Wallace received an e-mail from one of his students proposing a text for a new play: "I thought the text was fantastic, and when I asked the student what brought him to write this story, he said it was his own. At this point in time I was reading a work of Eduardo Galeano, 'The Theatre of Good and Evil.' That was when I asked the group what they thought of working with animality in human relations as a starting point for research. The students loved the idea and started to write about their lived experiences of animality," explains Wallace. From the collection of writings of the participating actors, four mini dramaturgical works emerged to form their newest work "Agora Sei O Chão Que Eu Piso."
With the neighborhood of Nova Holanda recovering from a recent military police operation events like Friday's remind us of the resilience and wealth of creativity, resourcefulness and cultural production that make up the fabric of favela communities like Maré.