For the original article by Raull Santiago* in Portuguese published by Coletivo Papo Reto click here.
Operation "Cancellation of Back to School"
This was the name given by residents to yet another operation of the so-called "War on Drugs" undertaken by the Military Police, with the support of BOPE (Special Operations Battalion) in the Complexo do Alemão.
The controversial police operation generated a lot of disgust since today was the official first day of a new school year, and it was precisely this day the police chose to start the operation. At exactly the time when thousands of children and young people were going to school and residents were leaving for work.
Around 6:30am, we at Coletivo Papo Reto started to get notifications on social media and in WhatsApp groups, talking about the large concentration of Military Police in an area of the favela, which was soon confirmed as an operation.
Around 7am an intense exchange of gunfire was already happening and anger was widespread, after all, it had been awhile since these kinds of intense police operations had taken place and they started to happen again just at the moment when kids were returning to classes.
The difference with today's confrontations, as opposed to the day-to-day kind, is that today there was a large police reinforcement, besides those that were already in the favela and besides the presence of BOPE and armored cars, which made the situation a lot more intense.
Well, the police attitude reinforces what is many times vented by those that live here and who can't handle this situation any longer: "The police use us, and even our children, like a shield."
Police teams arriving in the favela spread out into different areas and the confrontations got more intense. Just past 8am there were already two CAVEIRÕES in the favela, heavily armored vehicles, with holes all around them, which allow the police to shoot from all sides of their war machine. A real tool for killing the poor, when we think about the extremely serious results that come from the gunshots from assault rifles used by the police.
It's really strange to have this type of vehicle being used in favela operations.
In addition, because of its weight and size, the CAVEIRÃO is also known by residents because of the destruction it causes, such as flattening cars, motorcycles, street commerce, knocking down walls, etc.
BOPE was also in the favela and the shooting was nonstop in different locations, causing real despair among many people.
After six hours of the police operation, it left loads of damage and no progress, as always.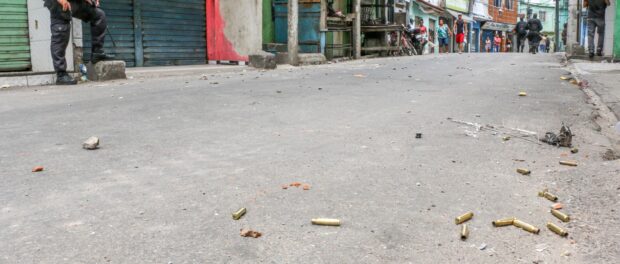 Here's the summary of today's OPERATION – CANCELLATION OF BACK TO SHOOL, as carried out by the Rio de Janeiro Military Police:
On the day that children and young people return to school, police start an operation that puts thousands of students at risk and leaves them unable to get to school.
As a result of this operation, some businesses did not open at the time they normally start their activities, as well as alternative transportation (kombis and moto-taxis) not circulating in several areas of the favela, generating direct financial losses for these workers and also impacting the lives of those who use their services.
The endless hours of war left hundreds of homes shot up, water containers full of holes, broken wiring from electrical power boxes, many homes without electricity and several areas of people's lives financially and socially impacted.
A policeman and a young man were shot. Several people were injured at home, trying to hide from the shoot-outs.
Many desperate adults and children in the middle of the war sent us audios. People crying, begging for help, and desperate due to the intensity of war today. PSYCHOLOGICALLY DESTROYED!
Nothing was seized, no one was arrested and even if they were arrested or there were seizures, the effectiveness of the operation would be deemed minimal, because this is not how change will occur.
For real advances to happen, I invite you to reflect and realize that we need to assume our prejudices, our guilt in the way this system works and start building other ways of acting, for example:
We have to put an end to this logic of WAR on DRUGS, because this does not exist. It is a War on the Poor and this needs to be seen, because from there we can build other forms of dialogue and not assault rifle gunfire.
Regarding drugs, we must discuss current drug policies and build a new line of thought and action that is not governed by the logic of war but by health, respect for people, by a broad discussion and understanding about drugs.
To talk about regularization, possible legalization and all forms of drug treatment by means other than imprisonment or death, as this is what happens due to the racist and biased social divide that fuels daily violence in the favelas. ENOUGH of this!
We need to fight to ensure education, health, quality sanitation, and the valuing of people's rights… This is a smart way and with important medium- and long-term impacts that would work much more than the spending rift on this violent war.
We need to do the opposite and realize that favelas are not the focal point of the problem. The nucleus of this whole situation is not here where retail takes place. This is simply a place of humble people. Prejudice and alienation make society believe that we are the root of the chaos, labeling us as dangerous and rendering us "killable." stamping everyone and everyone as criminals.
It's necessary to understand the path of drugs and weapons and realize the powerful market that exists behind this war. I'm not speaking of the traffickers or police, but of those who profit from any of the blood that flows. Of those who feed this hypocritical machine that seems like a fool's dance, who for years accept repeating the same "war on drugs" actions knowing the poor results these have, without solutions and still replicating statements that bring the idiot's medal, speaking the same nonsense as always, to justify these illogical operations.
And believe me!
The official name of this police operation was: OPERATION TO REMOVE BARRIERS….
We are feeding a chaotic and violent society by not creating discussions about prejudice, racism, drug policy and realizing our blame for this whole dreadful situation.