On Thursday May 4, demonstrators gathered outside the Rio de Janeiro State Justice Tribunal to protest the conviction of Rafael Braga, who on April 20 was sentenced to 11 years in prison for drug trafficking. This was the latest development in a sequence of abusive treatment by police and other members of the Brazilian justice system that goes back to June of 2013 when Braga, a black man who was homeless at the time, was falsely accused of possessing explosive materials following a massive protest in downtown Rio.
Braga, who had not participated in the protests, was arrested by police for carrying a bottle of Pinho Sol cleaning product, which was later determined to have little chance of being used as an explosive. Regardless, he was found guilty of carrying an "explosive or incendiary device, without authorization or in breach of legal or regulatory determination" and sentenced to five years and 10 months in prison.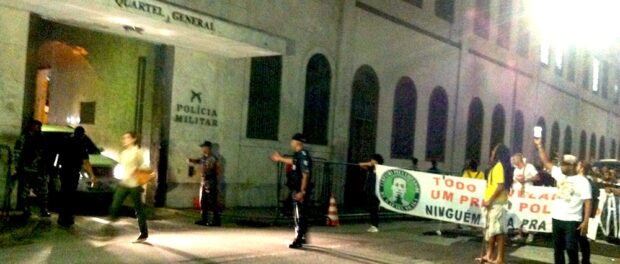 With representation provided by the Institute for Human Rights Defenders, his sentence was eventually reduced and in October of 2014 Rafael was allowed "semi open" privileges, which allowed him to begin work at a local law firm. However, after an image was posted on social media showing him next to a graffiti piece reading, "You only look from the left to the right, while the State crushes you from top to bottom," Braga's semi open status was revoked and he was placed in solitary confinement for one month. After being released with an electronic ankle monitor in December of 2015 the police approached him again while walking to a bakery near his home and this time accused him of drug trafficking. The officers are believed to have forced him to confess and fabricated his possession of cocaine and marijuana to verify their claim. It was on April 20 that Rafael Braga was sentenced to 11 years in prison, a decision that his lawyers are planning to appeal.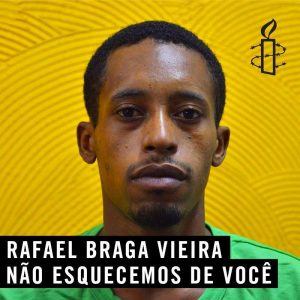 Tensions were high last Thursday as protestors marched from the Justice Tribunal to the Lapa Arches chanting cheers such as "it hasn't stopped, it has to stop, I want an end to the Military Police," while heavily armored officers followed on the sidelines. Leaders of the Movement to Free Rafael Braga, who organized the event, condemned the actions of police over a loud speaker: "Rafael Braga, he is a symbol, he and various others who are prisoners, who were framed, who are innocent. How long will this continue? How long can we permit this?" Brenner, a member of the movement, reaffirmed the group's commitment to freeing Braga: "We will not allow more people to be imprisoned or killed. This is a national movement, an international movement for the freedom of Rafael Braga."
The current flood of corruption charges in the Brazilian government as well as high rates of extrajudicial killing in Rio over the last several years has eroded confidence in the integrity of security forces. "Simply for the fact that he was collecting recyclable material, this is why he was arrested, this is why he was approached by the police, this is why they forged what happened," commented João, another member of the Movement to Free Rafael Braga and volunteer at the protest. He continued to explain the regularity of oppressive behavior by police: "The police kill black people every day. The police of Rio de Janeiro kill more than anyone in the world. They don't have the right to terrorize the public."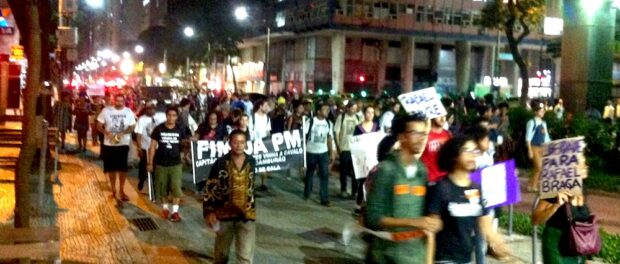 Residents of favelas are often those most affected by these oppressive actions especially by the Pacifying Police Units. Laya, a member of a local education network, commented on this relationship: "I am a black woman who lives in a community that is assaulted every day by the Military Police here in Rio de Janeiro where we have the UPP who make our situation worse and confront us daily."
While tensions were high with what appears to be a long struggle ahead, the protest served to show the resilience and solidarity of local residents who are committed to the pursuit of justice in their city. One women who came to the protest as a member of the United Black Movement had this to say, "We Brazilians, black and white, who believe it is possible to transform these things, we will march in the streets until justice is done."