The Maré Arts Center was packed this past Thursday as the Theater of the Oppressed LGBT Lab hosted the First Favela LGBT Culture and Citizenship Exhibition. Attendees, ranging from high school students to activists and university researchers participated in a wide range of activities including theater and capoeira performances, book presentations, and a roundtable discussion. The event was the first of hopefully many more such events that will be hosted in Maré, in the North Zone of Rio de Janeiro.
Rio is often seen to outsiders as a gay paradise with its sprawling beaches and infamous Carnival celebration, but for many LGBT individuals living in the city the reality is far from the painted pictures. This is one reason why the organizers decided to host Thursday's event. While LGBT issues are nothing new to Brazilians or Rio residents, "The movement is still based on a white, European worldview," explained Wallace Lino, an actor in the group. Many attendees felt current discussions surrounding LGBT issues didn't encompass their experience, which could be drastically different even within one community. Whereas many times conversations center around a singular injustice–gay rights for example–attendees spoke of the fact that favela residents don't have the privilege to ignore multiple discussions at once.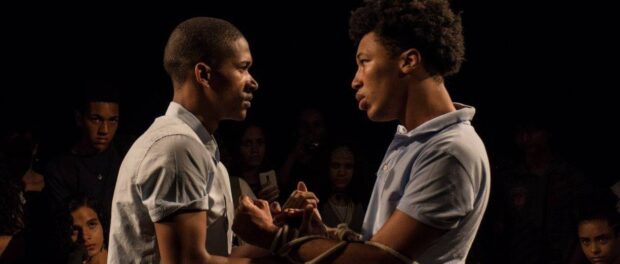 This is why the space to gather is so important. Attendees brought up issues they and others were facing in their communities including discrimination by school administrators, lack of access to quality education, diminished visibility, ignorance of health workers, and the absence of support. Actress Dandara Vital recalled, "After I transitioned and was kicked out of the house, the favela community was who opened their arms to me." Além do Arco-Íris Project Coordinator, Laura Mendes, empathized stating that as an adolescent she was forced to do sex work on the streets, facing harassment and discrimination at a young age. "The life expectancy of a trans-woman is 35 years. I am a survivor." She went on to explain that since many trans people end up being kicked out of their homes, it's hard for them to finish school or get a well-paying job, and many end up spending time in jail. "When education isn't sufficient, the dream of the oppressed is to be the oppressor."
Cultural producer Alessandra Ramos introduced the idea of intersectionality and how these spaces are important to discuss differences within the LGBT community. "They are extremely organized to run us over," she said of the conservative political block within the city government led by evangelical Mayor Marcelo Crivella who is trying to cancel this year's Gay Pride Parade. She went on to comment on how important it is to keep a united front in the fight for rights, but how that is difficult without spaces to deconstruct ignorance that exists within the community itself. Roundtable contributor Dayana Gusmão mentioned that everyone suffers from ignorance, and that at times it is necessary to self-deconstruct.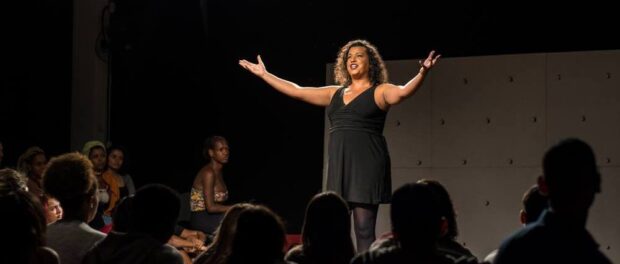 In Brazil, an LGBT person is murdered every 25 hours, a black youth is killed every 23 minutes, and a woman is assaulted every 15 seconds. These facts converge for favela residents across Rio. In Maré, the issue is compounded with an ongoing police occupation that has cost the government on average R$1.6 million (US$490,000) a day (R$600 million or US$183 million in 15 months) and resulted in 13 deaths in 2017 already, while the government has spent only R$303.6 million (US$92 million) on social investments there in six years. As Gusmão remarked, "We were created from pain. Nothing for us comes for free." If you are a resident of Maré and would like to get involved, or a reader who would simply like to donate, you can reach out to the LGBT group Conexão G.