Rarely are rights and obligations emphasized as two sides of the same coin as is systematically done by Associação da Conscientizção dos Direitos e Deveres das Comunidades do Estado no Rio de Janeiro (ACONDEC), an association dedicated to youth inclusion and community development.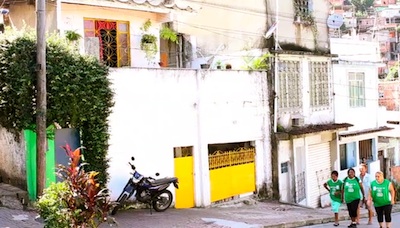 Founded by Cristina Costa in 2005, ACONDEC aims to improve the lives of residents in Complexo da Penha through community development. Complexo da Penha, referred to simply as Penha, is located in Rio's dramatically underserved North Zone. Like many communities in Rio, Penha faces challenges of access, government support and equal opportunity. But, as Cristina puts it, in Penha one of the biggest challenges is that most government support, or social programs, invested in that area of the city are going towards Complexo do Alemão: Penha's bigger and more infamous neighbor. Alemão was notorious for drug trafficking and therefore has been in the limelight, both locally and internationally, for the past few years. This has brought a Pacifying Police Unit (UPP) to Alemão, along with other investments. But neighboring communities, Penha being a prime example, have been overlooked.
Keeping this in mind, Cristina has made a home for ACONDEC and its various projects in Complexo da Penha. Currently the grassroots organization is working to establish the idea of rights and obligations in the mindset of residents. ACONDEC offers classes in mathematics, health, formal portuguese, and most recently, recycling. Through these Cristina and her organization have empowered community members, not only by educating them about their rights, but also how their actions and responsibilities as citizens can affect and help transform Penha into a cleaner and more sustainable community.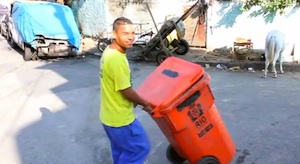 Today ACONDEC is focusing attention on tackling waste. Like most favelas in Rio, trash collection is a recurring and central issue, mainly due to lack of regular government collection services. In Penha however, ACONDEC has taken to the streets with their Caminhada Ecologica, or Eco-walk, and used this project as an initiative to educate residents about the importance of recycling and trash collection. The organization is motivating community members to be more conscious about how they separate their trash and to reduce the quantity overall, as well as use recyclable materials. This new emphasis on sustainability is being taught in a way that emphasizes the obligations residents have, as part of the community of Penha, to care for it and improve it together for future generations.
Cristina notes she already sees change in the community, like young people picking garbage off the street and putting it in the proper container, even when they think no one is looking. This new sense of pride is what ACONDEC hopes to continue building.
Thanks to ACONDEC, Penha is one of eight communities to be featured in Catalytic Communities' film, "Favelas as a Sustainable Model," to be launched during the Rio+20's People's Summit in June.