Last Thursday afternoon, minutes before the meeting of Cantagalo/Pavão-Pavãozinho residents and Sub-prosecutor general at the Court of Human Rights Leonardo Chaves regarding violence and abuses by UPP police officers, a loud dispute broke out on the street below the Alegria da Zona Sul samba school quad. Residents, journalists and Public Ministry representatives looked out to see a man arguing with two UPP police officers. Leading the man away in the direction of the UPP station, one of the policemen pushed him aggressively. "See how they treat us," cried Deize Carvalho, a mother from Cantagalo.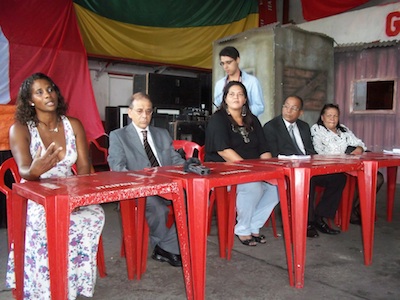 Cantagalo and Pavão-Pavãozinho, communities that make up the favela overlooking famous beachside neighborhoods Copacabana and Ipanema, received the fifth Pacifying Police Unit (UPP), inaugurated on December 23rd, 2009. With pacification the authorities have entered the favela, installing elevator access, social programs and attracting investment. However reports of police brutality and violence have been increasing.
The meeting on May 15th – the first of its kind in a UPP community – came in response to a call by residents for an investigation into UPP police behavior in the community. Residents delivered 22 reports of police abuse, 19 recorded this year, mostly reporting disobedience, contempt of authority, resisting arrest and threatening behavior. The event also provided a forum for residents to relay such incidences.
The meeting was opened by Deize who told of how she and her sons have been persecuted by UPP police officers, relaying one incident when her fifteen year old son was stopped by police because he was singing a funk song: "They pointed a gun at him and told him to come closer, then hit him with the rifle on his legs and back."
She went on to say: "Before I was afraid of stray bullets. Now I'm afraid of the pacification itself."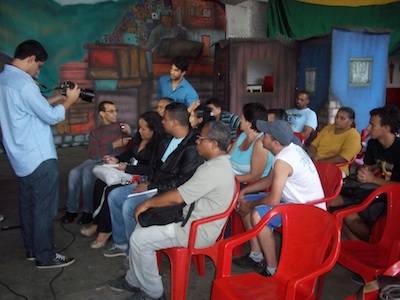 Other community members also relayed stories of abuses. Thais, a young mother, told how police chased her boyfriend into their home, then used pepper spray which was breathed in by her two month old baby in the room. An older woman Ivane whose son was stopped by police, ordered to lie on the floor and hit with a rifle on his way home from work said, "They can't go around judging everyone. It's wrong."
The residents of Cantagalo and Pavão-Pavãozinho at the meeting also spoke of repression of parties and events. Marcelo talked of the difficulties of getting authorization to hold parties, saying "I can't get authorization to have my own birthday party." An older women told how her birthday barbecue was forcibly shut down by police at 8pm.
Allegations were made about UPP police officers restricting transport access to the top of the favela. Pavão-Pavãozinho Residents Association President Alzira Amarel told of how Kombi vans aren't allowed to the top making it difficult for residents living at the upper heights of the favela to get home.
Complaints against UPP police officers in the community have been mounting since the tragic death of 19 year old André de Lima Cardoso Ferreira on June 12th, 2011. Ferreira was killed by two UPP officers as he went out to buy a hot dog for his girlfriend, 9 months pregnant at the time.
Despite the gravity and number of reports received by Network Against Violence (Rede Contra Violência), the NGO that organized Thursday's meeting, the event was only attended by twenty-five members of the communities. Organizers say that posters advertising the event were systematically torn down and that people have been intimidated from attending. Residents Association President Alzira Amarel lamented the poor attendance, saying "A lot of people are scared to talk. If the community remains scared, it´ll continue being wronged."
Sub-prosecutor general Leonardo Chaves concluded the event with a call for more meetings and affirming the need for further investigation of UPP police behavior. He said: "We need to evaluate the UPPs. I'm going to inform the authorities about what is happening in Cantagalo/Pavão-Pavãozinho, requesting supervision of UPP police officers' performance."