This is the final article in a four-part series on Crime Prevention Through Environmental Design.
Founded in 1986, the favela of Asa Branca is situated in the region of Barra da Tijuca in Rio de Janeiro's West Zone, within walking distance to the main site of the 2016 Olympic Games. The community has gained a reputation for the effective leadership of its Neighborhood Association, it's welcoming nature, collective work with neighboring favelas, community-led planning and problem solving within the neighborhood, and the sustainability of the favela.
While the security situation in Rio deteriorates, Asa Branca has managed to maintain its customary peace and is free of police interventions. This is not due to sheer luck, but rather to the implementation of creative solutions by residents for the past twenty or so years. Neighbors have together built an environment which they themselves protect.
Through a combination of physical interventions and social programming, Asa Branca has made itself a prime example of a favela community implementing Crime Prevention Through Environmental Design (CPTED). The case of Asa Branca is unique not only because of the success it has had in keeping crime out, but also because it was envisioned and implemented by the community.
Here are ten valuable lessons from Asa Branca:
1. Don't wait for the government to step in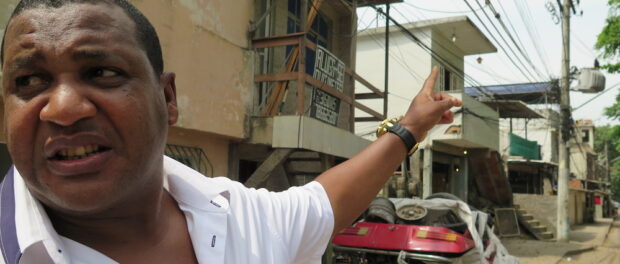 "The government spends money on combating crime and taking stopgap actions to combat traffickers, but preventing crime isn't a big part of its work," says Carlos Alberto Costa, known in his community as "Bezerra." Bezerra is the former president of the Neighborhood Association and while his term has ended he continues to display a tremendous passion for his community. He was one of the first occupants of Asa Branca, and since its inception the community has taken charge of its security needs. "The plazas here, the streets here, they were all badly lit," he reflects. Knowing that government help wasn't going to come, the residents, led by Bezerra, took action to make it a more livable community. The leader argues that when the government does step in, its projects are often ineffective: "The government comes with its own projects and ways, and doesn't always accept what the residents need or want." For Asa Branca, it's the community-led nature of its projects that have made them especially effective.
2. Incorporate social programming for children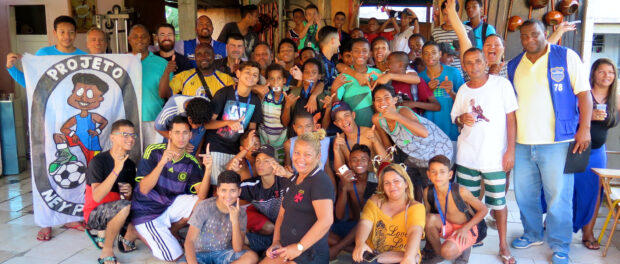 The Neighborhood Association has provided children with a variety of activities—capoeira, zumba, theater, and soccer among many others. Although he admits to being a theater neophyte, Bezerra himself led a class on the subject and even wrote a piece for the children to perform. As he tells RioOnWatch about the theater projects, Ney, the vice-president of the Neighborhood Association arrives, talking enthusiastically about his soccer camp. "It's not just for playing, but to train the kids to become really good. We want to provide that structure for them," Bezerra says. These programs and classes are run entirely by volunteers, including the vice-president, who is a moto-taxi driver during the day. The point is to give children something productive to do while developing their social skills, keeping them out of any activities that might harm them or the community.
3. Encourage trust and conviviality among neighbors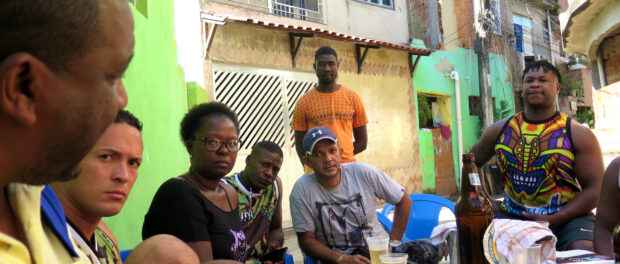 One quality the neighborhood has in abundance is solidarity. The community is described by residents as a "big family." Everyone in the street knows Bezerra and he approaches everyone he sees with a smile and a greeting. Asked how such relationships come about, he replies that he creates spaces for respect and discussion, hosting debates on various topics such as racism, security, and any problems that affect the community. He points to the streets and says, "When Flamengo and Botafogo [two Rio-based soccer teams] played a few nights ago, the streets were full of people watching the game together, yelling, walking, and talking."
4. Ensure the visibility of outside public spaces from inside houses
In Asa Branca, there are almost no large windowless walls. There are windows looking into the street from every direction, and the mostly narrow streets are so straight that one can see up and down the entire street from a single window. The neighborhood vegetation is almost entirely potted, and plants are not big enough to block views. Committing a crime in these streets is difficult, especially when the windows are occupied by residents who watch out for one another.
5. Control access to the neighborhood
Asa Branca is divided into three sections, and residents have actively worked to prevent crime from day one by building each of these sections around one pedestrian-oriented street perpendicular to the neighboring thoroughfare, but without any alleyways or cross streets, so there is nowhere to hide or flee through. More recently, two of the sections have been gated. Given the single entry point, the gates can be monitored by volunteers from the community. They open at 6am and close at 8pm daily. Only residents can enter when the gates are closed, creating a sense of control over who has access and complicating any outsider's intent to commit a crime. This control is reinforced by cameras installed at the entry points, which residents decided to install in 2016 due to insecurity surrounding the Olympic Games. Serving as an unintended control group in the community's experiment with CPTED, the third section of the neighborhood has multiple unsecured entry points, which Bezerra believes contributes to higher rates of crime and feelings of insecurity. The community did not have enough funds to install gates and cameras in the third section, but he believes these additions would improve the security situation there significantly.
6. Incorporate mixed-use buildings into the community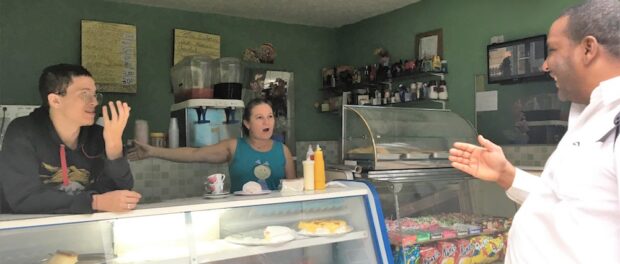 The gates of Asa Branca are not only monitored by cameras, but by the shopkeepers whose stores front the streets past the gate. Although Asa Branca is primarily a residential community, there are luncheonettes, supply stores, and a range of other resident-run businesses dispersed throughout the neighborhood, often run out of the ground floor of people's mixed-use homes. All of the stores have open designs facing the street with no door or wall to block the view during open hours. People mingle at these quasi public spaces, building relationships with other residents while shopkeepers often act as facilitators of neighborhood conviviality. These activities put into practice the CPTED concept of 'natural surveillance,' through which residents prevent crime through their presence. This is most effective in a place like Asa Branca where bonds among residents are especially strong.
7. Encourage a vibrant street life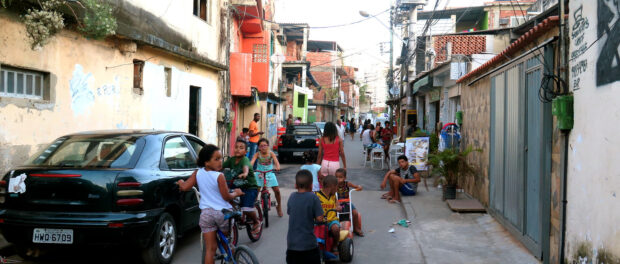 Just as the streets were filled with excited residents during the soccer match Bezerra describes, the streets in Asa Branca are always filled with children running and men and women chatting and laughing. These scenes are a result of thoughtful planning and facilitation, whether it be the programs that encourage neighborhood children to socialize and play, street parties that bring the community together, or neighborhood bars and eateries where acquaintances become friends. "Children playing in the streets is a sign that things here are good," Bezerra says, adding: "Children are the life of the community." And with increased street activity is an increase in the number of eyes on the streets to protect the community. 
8. Plan and engage the neighborhood at a local scale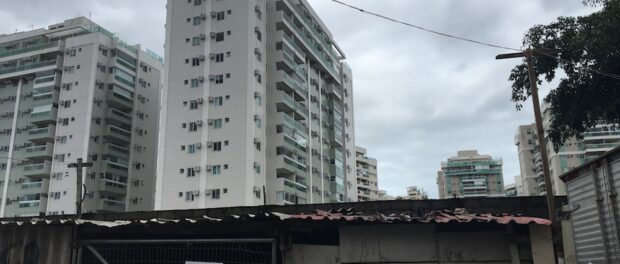 One of the assets of Asa Branca is its size. Confined to three small sections, there are no complex alleyways zig-zagging across the community as there are in many other favelas. And unlike its neighboring large-scale apartment complexes where residents have little facility or incentive to mingle with their neighbors, Asa Branca has made it easy for residents to establish connections. Rather than being crammed into narrow elevators or hallways, residents pass each other on well-lit streets where cars drive but pedestrians and kids on bikes are the primary users. The decision to divide the community into three parts also allowed for the development of three sub-communities, making each section a more intimate residential area.
9. Facilitate resident-led design and implementation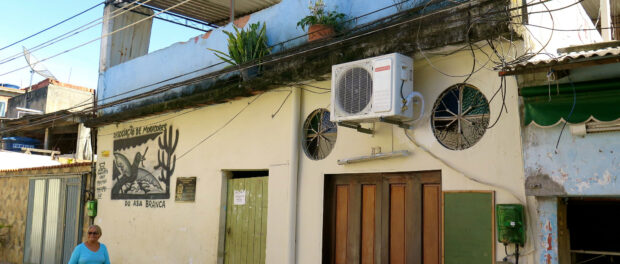 Asa Branca has been planned by residents since its inception, and through their collective knowledge and effort, those residents planned a safe community. But as important as the design itself, community participatory planning, such as working together to build their own sewerage system in the early 2000s, has generated a strong sense of community. Because the ideas and the designs for the neighborhood are theirs, locals feel pride and a sense of ownership over the space. Because Asa Branca is the home occupied by their "big family," residents take care of the space and the people in it. For planning interventions to be effective, residents must be an integral part of developing them.
10. Keep pushing for needed services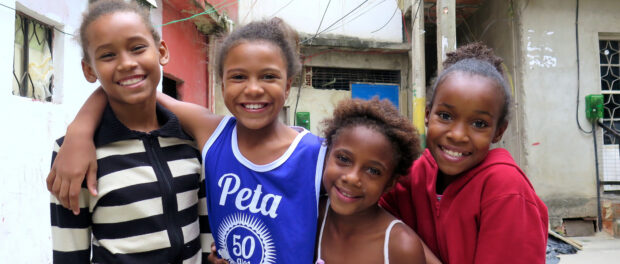 Of course, not everything can be resolved though community-level planning. The community needs better access to education, as there are no schools in Asa Branca and the closest school is 2 kilometers away. With children as young as four needing to access public transportation to get to school, adults have to choose to commute with them or to send their children on private vans, both expensive options for a low-income community. Bezerra is adamant that education is a crucial part of preventing crime and violence in the community: "Education is key to teaching children about respect, especially respect for family." Better access to public education and transportation will require better government policies and programs that serve favelas like Asa Branca. For now, that sense of respect which permeates the community is what keeps the big family of Asa Branca together and safer.
This is the final article in a four-part series on CPTED. Don't miss the rest of the series here.
Mayu Takeda is studying for her Master's in Urban Planning at the Harvard Graduate School of Design.