Initiatives: Community Library, Memories of Cerro Corá, and Cerro Corá College Prep
Contact: Facebook: Residents in Motion, Memories of Cerro Corá, College Prep | Email
Year Founded: 2013
Community: Cerro Corá
Mission: To preserve the memory of this favela, carry out actions and struggles related to our human rights and popular culture, guarantee rights, stimulate public debate among residents, and mobilize the favela around the collective objectives of residents.
Public Events: The college preparatory Pré-Vestibular course has 30 spots open each year for residents of all ages from Cerro Corá and the surrounding communities.
Cerro Corá is a small favela, perched above the colorful South Zone neighborhood of Cosme Velho and below the Corcovado mountain where Christ the Redeemer watches over Rio. The 2010 census recorded just 708 people and 200 homes there. But Cerro Corá's size has not prevented residents from successfully advocating for the improvement of their community. With this goal in mind, a group of residents and allies from other parts of the city came together and formed Cerro Corá Residents in Motion.
In 2013, they started a museum project called "Memories of Cerro Corá," following a trend in favelas across Rio. 2014 saw the group occupy the underutilized Residents Association building and establish a community library in the space. That year, Agência de Notícias das Favelas profiled these initiatives, and RioOnWatch translated that article to English. But three years have passed since then, and the Residents in Motion organizers have been busy. In 2016, they created the Cerro Corá Popular Pré-Vestibular. Vestibulares are high-pressure Brazilian college entrance exams, and Pré-Vestibulares are short revision courses that prepare students. They are especially critical to favela residents, who often only have access to low quality or irregular public education and find themselves excluded from universities as a result.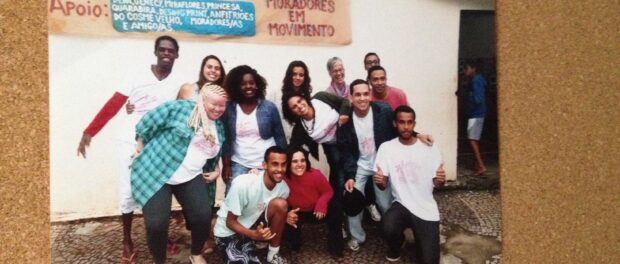 RioOnWatch visited Cerro Corá to speak with Ricardo Rodrigues, a founding member of Residents in Motion, and learn more about the group's projects. After passing a crowd of tourists waiting to take the train up to Christ the Redeemer and climbing the steep road up to Cerro Corá on a moto-taxi, Rodrigues led the way to the Residents' Association building.
"I was born and raised in Vidigal, but I've lived here since 2001," he said, explaining that he had always had family in Cerro Corá. For the past five years, Rodrigues has worked for SESI/SENAI, a Brazilian industrial training and social services network, recruiting favela residents for their courses. "My office is on the hill," declared Rodrigues, referring to the popular distinction in Brazilian Portuguese between the hill (morro), meaning favela, and the asphalt (asfalto), or formal city.
Rodrigues recounted how Residents in Motion came together. A group of mainly young people would meet in the alleys of Cerro Corá to discuss solutions to the community's problems. The group saw that as heavily stigmatized communities, favelas needed to actively claim their "right to memory" and have pride in their origins.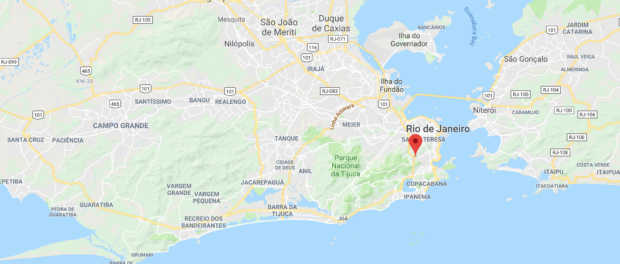 "The fact of knowing our history, I think that it's very important, knowing where you are, who our heroes were. That feeling of patriotism that Brazilians have, of defending the flag, all that ridiculousness… We aren't able to identify with the names of the streets [down in the formal city]: Delfim Moreira, Vargas," explained Rodrigues, referring to roads named for former Brazilian presidents. These white icons of Brazilian history mean little to predominately Afro-Brazilian favelas like Cerro Corá, often neglected by politicians and vilified in popular discourse.
Digging into their past, Residents in Motion members found that during the 19th century Cerro Corá had been a farm run by former slaves still working for no pay and living in a senzala, or slave quarters. In 1909, the farm buildings were torn down and the wood was used to build houses for several of these Afro-Brazilian laborers and their families.
Sharing this history meant affirming the community's roots in blackness and African slavery. "The 'rescue' of memory doesn't exist because memory isn't kidnapped," said Rodrigues, "But the affirmation of it exists. Of the power that it has. Like when you tell a black child that Africa is super important, that the favela is super important."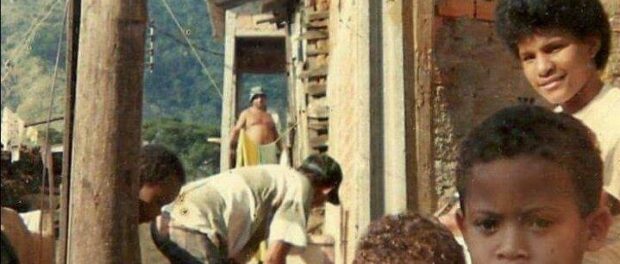 In the tradition of 'social' or 'new' museology, the group's museum, "Memories of Cerro-Corá," is not a physical building with fixed exhibits. Instead, it takes the form of many different actions of historical research, valorization, and sharing.
Much of the present-day settlement of Cerro Corá happened after 1964, when workers came to build the Rebouças Tunnel, one of Rio's main arteries, which runs directly underneath the favela. Uniquely, many residents have title for their homes thanks to a local Catholic Church buying the land during this period. This was meant to protect Cerro Corá from the wave of eviction threats that endangered favelas under Brazil's dictatorship.
Residents in Motion collected and scanned residents' photos for an exhibit in 2013. Rodrigues explained that digital tools have meant the privilege of historical memory has finally been extended to favelas, excluded from official histories and hitorically lacking access to cameras and recording equipment.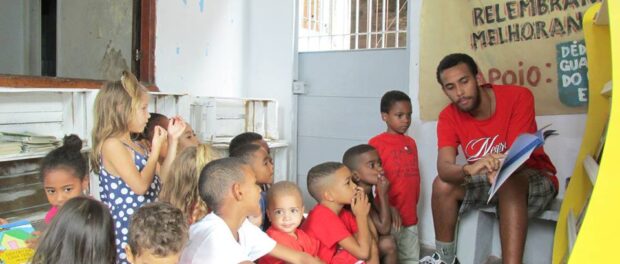 As Residents in Motion organizers looked to the past, they also worried about the future. Their conversations often revolved around providing opportunities for children. "The idea for the [community] library came up because we saw the power of the drug traffic evolving, the seduction of the traffic becoming bigger than any good, like school. It was a way to try to slow this," said Rodrigues.
The group partnered with Conexão Leitura, an NGO that assists with setting up community libraries. They collected donations of books, developed a cataloging system, and opened a space of "literary leisure" in the Residents' Association building.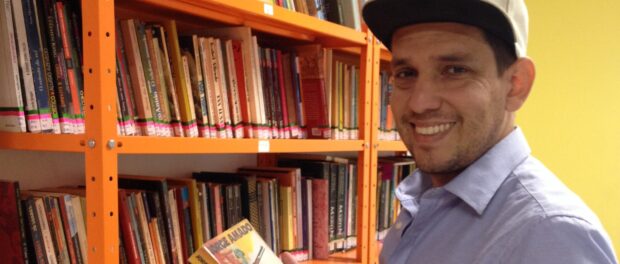 The Pré-Vestibular was a logical next step in expanding educational opportunity in Cerro Corá, which does not have schools of its own because of its small size. The course's teachers volunteer their time, some coming from the Residents in Motion group and others from outside the community. To pay for exam fees, the group uses a variety of fundraising techniques. They have raffled a market basket of food, organized online crowdfunding, and started to sell 'favela carioca' t-shirts featuring a design by Rodrigues.
Jeferson Dias, also part of Residents in Motion and a student in the course during its first year in 2016, was admitted to UERJ, the State University of Rio de Janeiro. He told Brasil de Fato, "The reality of a public school student who is poor and a favela resident, is very different than that of those who have access to better high schools. Because of this, the course also does the work of awareness-raising. The participants feel more independent with the classes."
As of 2017, six Cerro Corá residents were set to enter university at UERJ because of the course. Rodrigues is one of them. He intends to study visual arts, following an interest in graffiti and painting.
Unfortunately, UERJ shut its doors in July 2017 and professors went on strike in October. The Rio state's financial crisis left the university's professors without salaries and 30,000 students without class. The closure hit poor and favela students hardest since UERJ is a low-cost public institution attended by many working-class students. The university is only now resuming courses with the strike having come to an end in January, but questions remain over the impact of this closure on current and incoming students.
This setback aside, the Cerro Corá Popular Pré-Vestibular forges ahead. "The fact of us having students with half a foot in UERJ is great because in the future we could have teachers living here. We could have children modeling themselves on the teachers who are their neighbors. I think this is already a solid plan for our future. There's a difference between children modeling themselves on their neighbor who is a bricklayer, who is a night guard… versus a kid with a neighbor who is a judge, who is a professor, who is a doctor, who is an engineer."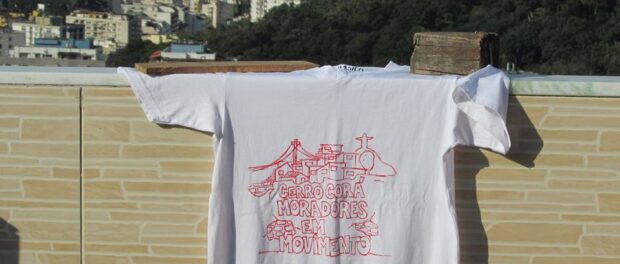 Rodrigues reports that Cerro Corá Residents in Motion currently consists of just nine regular members, himself included. But if their past success is any indication of what the future holds, this small group will continue to have a significant impact on their community.
"We are favela residents," he stated, "As favela residents we live in community. So the bad things that happen to you, happen to me. If you don't have water, I don't have water. So this can be a good commonality, or a bad commonality. But you can't be a resident of a favela and undervalue yourself." Self-affirmation, pride, and progress mark the achievements of Cerro Corá Residents in Motion.
*Cerro Corá Residents in Motion is one of over 100 community projects mapped by Catalytic Communities (CatComm), the organization that publishes RioOnWatch, as part of our parallel 'Sustainable Favela Network' program launched in 2017 to recognize, support, strengthen and expand on the sustainable qualities and community movements inherent to Rio de Janeiro's favela communities.