On the evening of Monday, November 13, the Rio de Janeiro City Council building hosted a Black Awareness Month 'rolezinho' tour of the building and a panel discussion on "The Right to the Favela: Racism and Resistance." The event was organized by Marielle Franco, a favela-born city councilor whose election campaign last year emphasized the importance of black favela representation in city government.
Rolezinho, which translates literally as "little stroll," refers to a group of people occupying a public space that was not initially created for them—usually brown or black youth—and demonstrating that it is now their space too. It is a movement intended to show the continued effects of oppression and unequal treatment of people based on race and class. The series of rolezinhos in shopping malls in wealthy neighborhoods that swept across Brazilian cities in late 2013 and early 2014, for example, drew the attention of other shoppers, sometimes provoked security guards into action, and garnered media coverage. By showing up to malls in large numbers and provoking a reaction simply by being there, demonstrators force questions around why their presence provokes discomfort, highlighting the usual absence of conversation around these dynamics.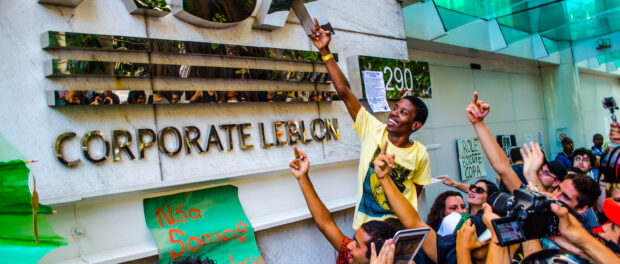 Rolezinhos can be seen as acts of civil disobedience and share features with civil rights sit-ins in the United States during the 1960s when people were determined to integrate restaurants, libraries, and other public spaces. In a more modern twist, rolezinhos bring to life the notion among people of color in the United States and Brazil as well as around the world that 'existence is resistance.' Both ideas highlight the need to break barriers, make people uncomfortable, and challenge people's notions of normality in order for them to question why they are uncomfortable and to recognize their privilege. The recognition of existence as resistance empowers disenfranchised groups to keep reaching for new heights in new places, making the 'invisible' visible, and striving for equal rights, in face of so many forms of continued discrimination.
Last Monday's rolezinho in a space of power and governance invited people to get to know the City Council building, the place where officials vote on laws that directly affect favela residents, among all other city residents. The Facebook event page explained: "Let us occupy the people's house with our black bodies and discuss the resistance in the quilombos, in the favelas, in the asphalt [formal city], and in the government!" As one audience member noted, "I never once entered this building. I never had a reason to and now we are here."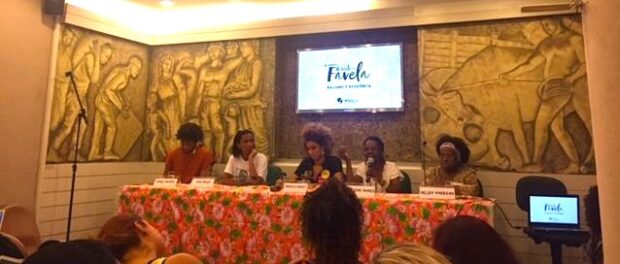 The panel included Ana Paula Oliveira from Manguinhos, who co-founded Mothers of Manguinhos after losing her son Jonatha at the hands of the Military Police in 2014. She and other mothers formed the group as a support system for those who have lost children to such violence. "I only started to understand why my son was murdered after meeting with other mothers and simply noticing that we're [all] black and live in favelas," she shared, before adding: "Our children have families, they can't just be numbers in statistics about violence."
Marilene Nunes is a storyteller and coordinator of the library at the Maré Museum in Complexo da Maré, as well as a chain of libraries across several favelas. She emphasized the importance of the museum's wide range of events for the community, which continue despite facing eviction threats since 2014. Nunes also shared that she is working to make more literature by black authors available in the libraries in Maré and seven other neighborhoods. On the rolezinho and panel event itself, she reflected: "It took a favela resident to be elected to get us here, but we are here with our foot in the door."
Diego Santos Francisco, a journalist and resident of Borel, stressed the importance of representation and recognition of favela residents' narratives: "We have mothers who live without their children and you have to think, what experience is that, that of a young, black, poor kid living in a favela? People cannot ignore or forget that we are being exterminated."
Hellen Andrews from the Bosque das Caboclas community in Campo Grande, in the West Zone, shared her story of struggle as a black woman, activist, and community leader, having served as the president of Bosque das Caboclas' Residents' Association. Female leadership has been a key feature of Bosque das Caboclas, which grew out of an urban occupation in the 1990s, but Andrews recounted that she has still had to fight to be heard as a woman over her years of activism. (It is worth noting that Councilwoman Marielle Franco is one of only six women out of the total 51 seats on Rio's City Council.) Having moved to Brazil from Uganda as a child, Andrews performed a traditional Ugandan song for Monday's audience, further contributing to the event's message that black culture and resistance has a place in Rio's City Council.
Throughout the conversation, speakers highlighted the right to the favela, and specifically the "right to have their favelas back" in the context of military occupation, endless police operations, and threats of eviction. Franco has previously described the "right to the favela" as encompassing a wide range of issues from housing, sanitation, health, education, and culture to public security and drug policy. At this event, she presented a booklet titled "Right to the Favela," which includes an explanation of favelas, the methods of the Right to the Favela movement, summaries of previous panel discussions on the topic, and a call to action. But as the event's emphasis on the rolezinho occupation of the seat of municipal legislative power underscored, the right to the favela is not just about activity in the favelas themselves, but also requires a movement to normalize favela residents' existence elsewhere. As Ana Paula Oliveira summed up, there must be a movement for "the right to the favela and not just the favela, but all spaces."