On December 4, the community of Complexo da Maré hosted over one hundred community residents, public officials, and civil society representatives for a public debate on how to reduce violence.
The debate, held in Maré's Vila do João favela in Rio's North Zone, marks the second major event organized by the "Basta de Violência! Outra Maré é Possível!" (Enough Violence! Another Maré is Possible!) Forum to pressure officials to improve public security and police operations in Maré. The Forum is an initiative of civil society organizations Redes de Desenvolvimento da Maré (Maré Development Networks), Observatório de Favelas (Favelas Observatory), and Luta pela Paz (Fight for Peace) in conjunction with other Maré associations and residents. It began activities this year, drawing more than 5,000 people to a march against violence in May.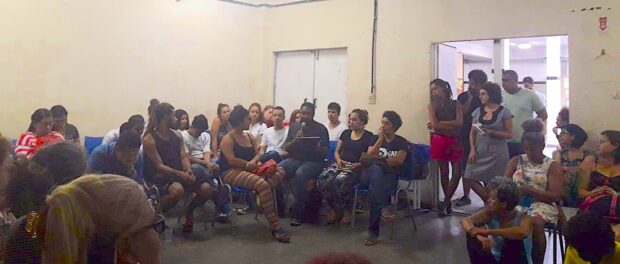 Debate participants pointed to state security forces as key sources of Maré's violence, condemning the state's "war on drugs" policing strategy. According to a report from Redes da Maré, in 2016 alone Maré saw 33 police operations, resulting in 20 working days (one month) of health clinic and school closures. In the same year, 17 people were killed in confrontations with the police, resulting in a rate of 12.8 police-related deaths per 100,000 residents—more than double the average of 5.6 across the state of Rio de Janeiro.
A Favelas Observatory representative informed the debate participants that Maré has already seen more police operations in 2017 than in 2016. On the Monday of the debate, schools and health clinics closed as police conducted an operation in Maré's Nova Holanda and Parque União favelas. The following morning, an operation involving a shootout between armed groups and a police helicopter forced children at a local daycare center to take cover.
These operations, according to the Forum, reflect that "the State uses armed confrontation as the principal means to combat the issue of drugs and criminality… treating the favela and its residents like the enemy to be fought in a context of war." A representative of the Public Defender's Office at the event added that "often the courts end up legitimizing the attacks," although organized Maré residents have won some legal battles in recent years.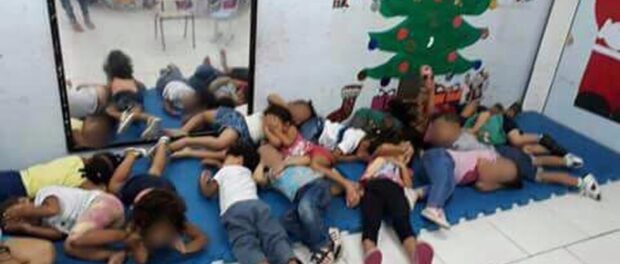 The Forum has sought to advance public security via a democratic and transparent process, uniting the neighborhood's residents and civil society organizations in regular discussions and advocacy planning, as well as mapping police operations and publishing impact assessments. The group has denounced police-inflicted violence and deaths in Maré, urging the Public Ministry, the Secretary for Public Security, and Public Defender's Office to work together to design an effective plan for public security in the favela complex.
In June, the Forum and the Public Defender's Office successfully brought a Civil Public Action Suit against the State Public Security Secretariat, giving the state a maximum of six months to design a comprehensive plan to reduce the violence inflicted on Maré residents during police operations.
The Forum has remained active since then, setting a positive example for participatory organizing by holding monthly public meetings in Maré, publishing online questionnaires, and conducting street surveys with more than 300 Maré residents. The information collected from the community, along with feedback gained from the the debate, will inform the Forum's official plan to combat violence in Maré. With the six months since the court decision almost up, the Forum plans to place additional pressure on the state by designing its own security plan and submitting it to the Secretary of Public Security in January. The Forum's Facebook page explains this will be "a plan with popular participation, but also with the participation of state organs responsible for guaranteeing rights. A plan that reflects the hopes and wishes of the residents of Maré."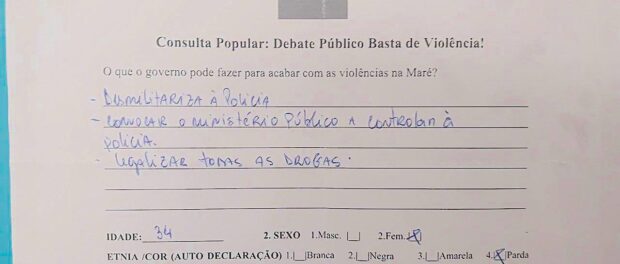 Survey and debate participants have highlighted the need for greater transparency, calling for body and vehicle cameras to be required in police operations, increased institutional presence within Maré, and speedier investigations into reports of police violence. Others have emphasized the need for better police training, for education campaigns to make Maré residents aware of their rights, and for strengthening existing channels for denouncing police violence.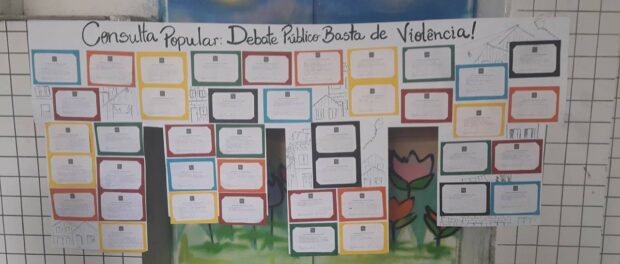 So far, the Public Security Secretary has refused requests to hold a public audience in Maré. With time running out to comply with the Forum's Civil Public Action suit, it is unclear what, if anything, the state will do in response to mounting pressure from Maré's civil society. If this week's police operations reveal anything, it is that in the absence of active engagement and meaningful reform, violence will continue.
Maré, however, will not be ignored. "We will show the city that we exist," said one debate participant.