Hugo José Camarate was born and raised in Horto Florestal and founded the street carnival group, or bloco, Vagalume O Verde (The Green Firefly) in 2005. He sought to resurrect his childhood memories of Horto when carnival blocos united his community with magic and fantasy every year. Vagalume O Verde is not your usual carnival bloco, because it celebrates sustainability. The bloco makes its banners and costumes out of recycled materials and plants trees to neutralize its CO2 emissions. Vagalume O Verde celebrates the Horto community: its famous characters, its values, and its resistance.
Camarate left his job as a TV cultural producer in 2011 to dedicate himself exclusively to the bloco, the corresponding NGO—The Vagalume O Verde Sociocultural and Environmental Organization—and the carnival league of which it is part, Amigos do Zé Pereira. For Camarate, the bloco has an important unifying role in the community, in the face of continuous threats of forced evictions over decades due to real estate speculation. The threats have intensified in recent years, culminating in the removal of four families.
RioOnWatch: How long have you lived in Horto Florestal?
Camarate: I'm forty years old. I was born and raised in Horto and have spent most of my life here. This life history predates even me, you could say. My mother was also born and raised here. We arrived with my grandparents who passed [the legacy] down to my parents and today it is with our generation.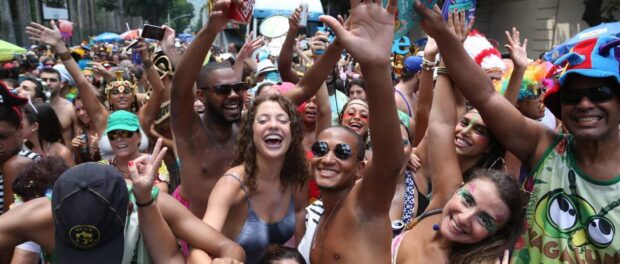 RioOnWatch: Can you tell us about the history of the project? How did the Vagalume O Verde street bloco and NGO start?
Camarate: Here in Horto, we've been accustomed to this type of cultural event since a young age. Over the years we have watched a variety of carnival blocos, the religious clubs that would end up transforming into large events, the June Festival celebrations. Here in Horto, we got used to these types of events in childhood because our ancestors were very involved in the cultural community movement. So this has always been very important to us. I remember carnival with everyone in the streets. However, over a certain period, during our adult years, this cultural movement totally disappeared. It was practically extinguished.
We began to question this disappearance in our day-to-day lives, chatting at the door of the dance hall or at bars: 'Man, where has everything we had here gone? Where is our cultural heritage, all that we lived through?' From this came the idea of creating a cultural movement that could be in dialogue with the community and rescue the potential of the past, of these events. That would bring everyone together to have important discussions, especially the horror we've lived through for decades as a result of the housing issue and the question of whether Horto's inhabitants will be able to remain in the area.
This was also a period when Rio de Janeiro began to bring back the street bloco movement. In Rio it was quite widespread, especially here in the South Zone.
Beyond these initial points, we also thought about being able to pass on Horto residents' experiences, our close connection with nature. Nature has a significant presence here and we could be at the forefront of joining the carnival movement with the environment, to preserve it and to understand it in light of the totally different context of carnival.
And the idea worked. We started to define our identity, in the simplest of ways, for example, by using recycled materials to construct a mobile installation, a prop, or a costume. We immersed ourselves in the implementation of ISO Standard 20121, an international standard for sustainable event management. This was great because we started already making an impact. The bloco began in its first year, in 2005, with two thousand people even though we hadn't publicized it, and we ended up going out again and the number went up to 3,000, 4,000, and then 5,000 another year. Before long there were 10,000 people on Pacheco Leão Street. The city government was desperate when it saw the growing numbers. The bloco was already a [fundamental] part of the cultural calendar of the city of Rio de Janeiro. It was then that we were invited to hold it at the Botanical Gardens. And today here we are. In 2007, we paraded with 50,000 people in the streets.
And we bet on this characteristic of the bloco—giving a voice to this community so that, through carnival, the community can speak of its desires, its aspirations, its victories, and its defeats. On top of this, there is a new characteristic which provides a different type of education, the elements of environmental education. This is nothing more than what the people here already knew how to do. How do we speak to children about environmental education? 'Let's try it like the older generation. How did they speak to us? How did Uncle Pedro talk to us about the environment and environmental education?'
We also wanted to show people that we are here to embrace this city. We're here to talk about what makes us who we are. We're here to talk about our ancestors, about the fact that this community is two hundred years old, about our values, about the close connection we have with nature, and about the people who came before us, who began this, preserving nature, working in the Botanical Gardens, maintaining the park.
I think it was just a question of us realizing who we were.
RioOnWatch: How does the street bloco emphasize the issue of sustainability?
Camarate: Since the very beginning we have been concerned with the environment and how we can build our identity at carnival. So, because of the financial difficulties we experienced at the beginning—because at that time in 2005, putting a bloco on the street was not at all easy—we started to reuse materials and we realized that this was a feature we could take forward. Our greatest desire would be to establish this approach so future generations can improve it, make it known, more beautiful, more attractive, and more cool.
And so we returned to the issue of aesthetics. We threw ourselves into this world of recycling and reusing material—the banner is made out of trash together with the bamboo a cousin had fetched from his backyard in order to make a kind of scenography, and all the hallmarks are borne out of this dynamic. We began as amateurs, amateurs driven by love, doing it all with love.
As an illustration, the bloco's focus on design though reusing materials led to a partnership in 2015 with the Galpão das Artes Urbanas, a project run by Comlurb (the municipal waste management utility) and the Rio de Janeiro city government, which is made up of artists in Rio who work with this aesthetic of recycling and reusing materials.
We then saw that we could contribute to the environment even more by planting seedlings. We formed a partnership with the Botanical Gardens whereby they donate seedlings to us and in return we nurture them. In fact, even those who produced the seedlings inside the Botanical Gardens were the people involved in the Vagalume o Verde street bloco project. So we started to plan: 'Let's work with our seeds, with our seedlings.'
This also started to grow in a really cool way and today, we believe that this could become an enormous project through which we can involve more communities in Rio, impacting more lives and more people through this feature of the bloco. Since its inception, the bloco was concerned with offsetting its environmental impact, but we have our feet firmly on the ground because we know we can never reach full sustainability. But what moves us, what animates us, what stimulates us, is that we follow this guiding principle, in terms of preserving and maintaining the environment and giving back to it.
RioOnWatch: How do you fund the project?
Camarate: From the beginning, from 2005 until 2009, the project was entirely funded by our own money. This has always been a challenge for us.
In 2009, a friend of mine called to speak to me about the opportunity of applying for funding for the Vagalume O Verde project from the State Secretariat for Culture through the Lei de Incentivo (Incentives Law), through the Secretariat's call for proposals for special projects. It was then, in 2009, that Vagalume became the first bloco in Rio de Janeiro to obtain funding via the Incentives Law.
In 2011, I talked to this same friend about the idea of founding a carnival league, a carnival league that could draw more blocos into our world so that we could engage the government as a strong group in order to bring improvements to the street carnival. Today we are nine or ten blocos in total.
The bloco is our most powerful communication tool. It's what we know how to do, what we have learned to do.
It was very difficult for us to get the bloco to where it is today. Nowadays to put a bloco on the street you really need financial resources. And I think (there is a problem) when you have a party (carnival) where you see benefits go to the government, go to private companies, to the hotel network and the breweries, yet the blocos themselves (the engine of the party) are suffocating. We do not receive the resources needed for us to contribute to this great party. If you stop to see the scene at the Sambadrome, the big carnival party inside the Sapucaí parade area, there are around 80,000 people in the Sambadrome on a given parade night. We put up to 50,000 here (in the streets). For four hours, in one day. There's another bloco that draws 500,000 people to the street. So you see that the real party is the street carnival. It's the power that is in the street.
As bloco organizers, we need to consider the issue of funding more and more and bring it to the forefront of our discussions, because otherwise we run the medium or long-term risk that these movements could disappear in certain parts of Rio de Janeiro.
RioOnWatch: How does the bloco address Horto's housing struggles?
Camarate: How are we going to pass on who we were, our history, our ancestors, and the issue of our territorial struggle? The idea of ​​creating a carnival bloco took this question of communication into account from the start. Because from our previous experience of carnival blocos we already knew that they can transmit something. Then, in considering the history of carnival we started thinking, 'Hang on a minute, it's carnival, so we have to sing, right?' So if we're going to sing, let's sing the samba classics, let's bring back the old samba songs, revisit Haroldo Lobo, who was a great composer of this genre, but as well as this, let's talk about the community's history—the problem our people have been facing for more than 30 years, even 40 years, stuck in this uncertainty and the terror it has caused. So let's start bringing this story, transformed into samba, into carnival. Why not?
Then, we began to include the community in this plan, to gather our friends and groups of people to understand the context of each year. We were thinking specifically of this fight, this question of housing, and how we could translate that into samba music. The idea was always that through the sambas we would be sharing the community's history. So much so that in 2012, we composed a samba song in honor of Uncle Pedro and also for Folha Seca, who recently passed away at ninety-something years old. They are two stalwarts of the history of the Botanical Gardens Research Institute who were Horto residents. So, we thought, 'Look how awesome, we are going to talk about two very important characters in the history of the Horto community, who were protagonists in this conflict, but we'll tell this story in a different way, through our eyes, through our feelings, through our reality.'
And so we created the samba, the lyrics, and the melody and it was wonderful. I know I may be biased, but I have reports and recordings and I saw with my own eyes the emotions when people wept in the Botanical Gardens on parade day when we started to sing.
RioOnWatch: Would you like to say anything else?
Camarate: It has been very important to us to have had the reception we've had. This support has been a really powerful factor in helping us put the bloco on the street, literally. An example of this was that we were given an old club space in the community, which enabled us to develop and communicate our ideas. It was the recreational club for the former employees of the Botanical Gardens, Caxinguelê, which was a historic club not only for the Horto community, but for the entire city of Rio de Janeiro.
We saw that in the first attempt to retake possession of our territory here, Caxinguelê became part of the Botanical Gardens' territory. We're worried about this because it feels like our umbilical cord has been cut.
Today, this is one of Vagalume's driving purposes, to take back the community of Horto, to live in this place, and to make these projects accessible again for the entire community and society as a whole.