Military Intervention in Rio Sparks Multiple Events, All Agree Favela Residents At Greatest Risk
Rio de Janeiro made global headlines last Friday when President Michel Temer issued a decree declaring federal military intervention, handing over all matters of Rio de Janeiro's state public security to General Walter Braga Netto. The unanticipated decree—attributed to concern over rising violent crime or to political maneuvering, depending on your source—shocked community activists and local academics alike. Organizers scrambled to address the intervention, holding at least three separate events on Monday and Tuesday evenings.
Rio's Museum of Tomorrow had organized its panel on public security months ago as part of its "Brazil of Tomorrow" series. The event followed Temer's decree only by coincidence.
It was unclear how or why the decision was made to invite General Marco Aurélio Costa Vieira, the executive director of operations during the Rio 2016 Olympics, who was not listed among panelists prior to the event, and opened Monday evening's panel by offering a justification for the military's federal intervention, calling it "completely supported by the constitution."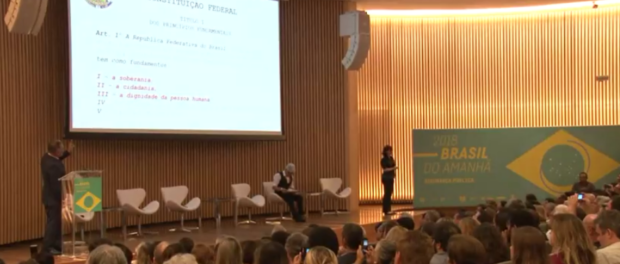 Ilona Szabó of the Igarapé Institute, a think-tank on public security, and museum curator Luiz Alberto Oliveira hosted the event. Oliveira stated that the Museum of Tomorrow would conduct a 30 day evaluation of the intervention via the museum's "Observatory of Tomorrow," over the course of the following month.
Panelist MV Bill, a celebrity rapper born and raised in City of God, told the audience he had witnessed the ups and downs of Rio security politics firsthand. "I saw firsthand the creation of the UPPs (Pacifying Police Units). From the get-go I knew that feeling of security was going to be momentary." As for military intervention, he said, "I'm reluctant. We have seen few practical results [from past military operations]."
While the Museum of Tomorrow event only passingly addressed the topic of military intervention, two events the following evening sought to address it head on.
The first was the Federation of Favelas of the State of Rio de Janeiro's (FAFERJ) debate on military intervention. The roundtable discussion gathered more than 100 favela residents and allies, with over 50 different favelas represented.
FAFERJ, an entity that traces its history back to early 1960s opposition to favela removals under the administration of Governor Carlos Lacerda and the implantation of Brazil's most recent military dictatorship, published a note on Saturday condemning the military intervention. The note highlights the failure and ultra-high costs of the military's 14 month occupation of Complexo da Maré in 2014 and 2015, but notes that the armed forces could potentially play a part in a "social intervention" to serve favelas' need for "schools, daycare centers, hospitals, income and job support projects, and policies directed at youth."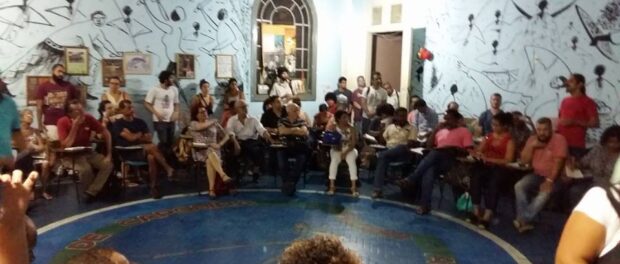 The event's guests were less keen on the idea of any kind of military presence in the favelas, however. Historian and civil rights activist Fransérgio Goulart, himself from the Manguinhos favela, called attention to the military's recent actions–not even waiting for congressional authorization, but having conducted two operations already since Temer's decree on Friday. The most dangerous element, he warned, "is the question of collective search warrants. That needs to be an important point for FAFERJ."
Lawyer Ana Paula Longa told the event's audience that such collective search warrants—which Temer is expected to pursue with Brazil's judiciary—are illegal. Longa went further, declaring "the [presidential] decree is unconstitutional. The intervention is unconstitutional." She reminded the audience that the last time there was an "intervention," the military remained in power for 21 years.
The evening's guests admitted that they had witnessed widespread support for intervention in their respective favelas. Goulart noted that many in the favelas "today are in favor of this intervention… and are looking to try something new." He urged favela leaders to build community awareness of the intervention's potential consequences.
Santa Marta long-time organizer Itamar Silva stated: "In Santa Marta, I open my window and see a ton of people defending and supporting this intervention… But it is a Trojan Horse. We cannot fall into the illusion that this will work."
A few kilometers away that same evening, favela NGOs and community organizations held a similar event. The Civic Forum on Security was organized by the NGO Favelas Observatory in collaboration with Redes da Maré, Casa Fluminense, Agência de Notícias de Favelas, Instituto Onikoja, Festa Literária das Periferias (FLUP), Agência de Redes para Juventude, and Cine & Rock na Praça.
The forum gathered with the intention of "defending public security policies as social rights based on the preservation of life," and kicked off with the reading and revision of an official document written collectively by the events' organizing team. Organizers hoped the document would consolidate the group's official stance of creating a "Monitoring Network" to track and denounce human rights abuses committed under the military intervention.
The document quickly came under fire, however, for not denouncing the military intervention as strongly as participants felt necessary. "The way that it's written, it seems like it's dictating how the intervention is going to take place," said activist Renam Brandão. "It needs to have a clearer position of repudiation of military intervention," agreed a representative from the LGBT NGO ArcoIris.
Jailson de Souza e Silva, founder and director the Favelas Observatory attempted to clarify, stating "this document cannot have winners… We need to have a minimum consensus… Our fundamental challenge is to build the monitoring [network]. We lived the experience of military intervention in Mare, we lived the 14 months, and we know the risk it poses to human rights. This document here is very clear… We are not trying to defend [the military intervention], we are only trying to work with it as a reality, and from that point create a mechanism with which to face it."
Debate pervaded the event from that moment on, until anthropologist and public security expert Luiz Eduardo Soares convinced the crowd that "we are divided only in words. I personally don't like the document [either]… the word 'monitor' implies cooperating, recognizing…" Soares proposed that the group, rather than create a Monitoring Network, create a "Network of Resistance."
Shortly afterward, the group voted almost unanimously in favor of dismissing the original document and instead working towards "resistance to the violation of human rights."
What participants and panelists at all three events agreed on was that favela residents will bear the worst of this intervention. At the Museum of Tomorrow, Fiocruz's Silva Ramos shouted, "If the military is coming to shoot up the favelas, then that's it. We already have the police shooting up the favelas." At FAFERJ's debate, favela resident João Ricardo quipped, "For the rich, everything. For the poor, the law." And as one Maré resident summed up at the Civic Forum on Security, "The ones who will suffer through this are favela residents… You won't see rifles and tanks up and down Presidente Vargas Avenue [downtown]."