Maxwell Alexandre is a 27-year-old painter born and raised in Rocinha, Rio de Janeiro's biggest favela. His solo exhibition—titled 'Pardo é Papel' ('Brown is Paper') due to both the surface color he paints on and the racial themes he explores—took place last weekend at the favela's Complexo Esportivo (Sports Complex). The artist is part of a small collective that has started its own church—albeit a church of an unusual sort. Alexandre puts it very simply: "It's a church of art. Just that." Alternatively referred to as the Church of the Kingdom of Art, or sometimes A Noiva (The Bride), it is a kind of symbolic offering to the divinity of art.
Alexandre's exhibit was part of a series organized every other month by A Noiva artists and designers to show their work, always open to the public. They name the exhibition series, "Dízimo" (Tenth), as 10 percent of the donations are reinvested in the church. Each exhibition is in a space of the artist's choice and presents works of his or her choice. "Pardo é Papel" was Alexandre's second Dízimo, lasting only one day. Designer and founding member of A Noiva, Raoni Azevedo, extends the 'Church of Art' analogy with a biblical reference that emphasizes the collective nature of the work: "A Noiva only exists when we get together. Like in the Bible, Matthew 18:20. For where two or more gather in my name, there am I in the midst of them."
Alexandre has been painting for three years, but his trajectory was quite different before becoming an artist. He was 18 when he enrolled in the army as required by law and after a year of service he became a professional inline skater. Interested in art, he tried to combine both disciplines: "I started with abstract painting because it was a transition of my career in rollerblading to art." He explains that he "would put paint on the floor" and land a rollerblade trick on the canvas, creating rapid abstract lines such that he "wouldn't have a lot of control of the drawing or the painting." It was about trying to mimic the movements of rollerblading in paint form. "My question to answer was how could I put the same feeling in my painting," he explains.
Nowadays Alexandre's style has blossomed. He exhibits his work in spaces like the downtown gallery A Gentil Carioca and in the prestigious Carpintaria gallery in the Jardim Botânico neighborhood. Regina Casé, a Brazilian actress and television host who was present at the exhibition voiced her appreciation for the work and said on an Instagram story that Alexandre "is the most important thing happening in Rio at the moment."
While he generally exhibits his art in spaces reminiscent of the white cube theory—minimalistic white space often preferred for presenting abstract and contemporary art—Alexandre chose to hold this exhibition in his old studio at the Rocinha Sports Complex. "My first studio was in the Complex, so I am finishing my cycle there. It started two years ago, it was my first experience in a studio. It was my most intense time as an artist." He continues: "My decision to do my [show] there was to give a chance to people that know me and my practice to know my place [in Rocinha]. It was a chance to honor and finish the cycle."
Indeed, the choice of space is unusual. Among the boxing rings, the skateboarders landing tricks, and the lingering smell of sewage, Alexandre exhibited 11 of his biggest pieces yet, all 4.75 by 3.60 meters. The exhibition took close to nine hours to mount and only 30 minutes to dismount.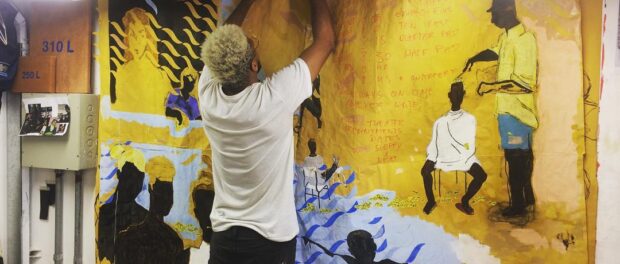 The pieces were nothing short of impressive, if not for their size then for their content. The pieces depicted scenes of everyday life in Rocinha, taking codes like police presence and public schools and mixing them with empowering imagery. Alexandre believes "this series is so important because it is about a really contemporary question, about the empowerment of black people." Would he join the movement of protests such as, for example, the recent march for peace held by residents of Rocinha and Vidigal? "I think it's important for sure, but because I'm shy and solitary, I don't feel comfortable being part of that fight." He continues: "We need to have both kinds to go to war. When you go to the protest to scream, it's so immediate. My painting is more long-lasting. I believe sometimes you have to punch racism in the face, but I don't have courage to [actually] punch someone in the face, so my painting is a punch in the face." That's how he views the Pardo é Papel exhibit. "I prefer painting, because painting is not immediate," he reflects.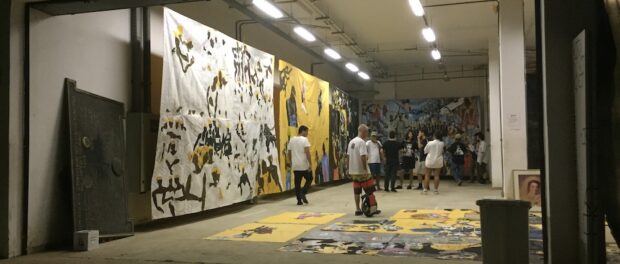 Although his paintings tackle local themes, the artist feels the kind of contemporary art he does is not very present or appreciated in favelas. He says with a half smile: "People look at me as if I'm crazy, they don't respect my work." Does he get affected by this? "Of course it affects me… it affects my practice, my behavior."
"Art is a privilege," he explains. He is critical of the art market in Rio de Janeiro as a field that seems only accessible to the privileged upper class residents of the South Zone and is potentially even deliberately maintained that way. "It's said that art is for everyone, art is going to save the world, but it's not true… If you think about it, it's very important for the art market to keep art as a privilege. I think this is the biggest problem about the art world because the creative process gets lost in this struggle."
For example, attendees at his art show included some visitors from Rocinha, but more gallery curators, collectors, and art agents from the asfalto, or formal city. Alexandre suspects "there were few people from the community that came because it's painting and the codes of paintings are in a privileged area."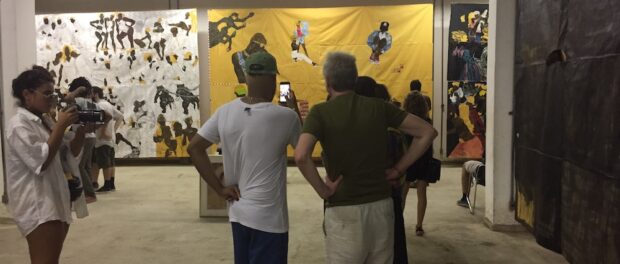 This is where the church A Noiva comes in. The collective of artists and designers—which includes residents of favelas and the asfalto—are concurrently bending the boundaries of the art market and toying with questions of church and religion. "I think A Noiva is important because you have a chance to do things you don't have a chance to do in an institutional system of art. For example, in A Noiva we create an area where you can present unfinished work," Alexandre explains. A Noiva co-founder Azevedo echoes Alexandre when he reflects: "Since most artistic gatherings are held by well-established art institutions, A Noiva tries to create an alternative, more accessible scene where anyone can showcase their work and all are welcome."
So how does one become part of this church, this kingdom of artistic freedom? As Alexandre says, "It's like any other church, you just need to turn up."
Maxwell Alexandre's work will be on display at the A Gentil Carioca gallery until March 10, and will feature in a collective show at the Carpintaria gallery in April. Check out his work on Instagram and learn more about A Noiva by emailing a.noiva.igreja@gmail.com.