In colorful, glittering style, Favela de Acari hosted its first Parada GLS de Acari (Gay, Lesbian and Gay-Friendly Parade) last Sunday with an estimated 8-10,000 people united in a carnivalesque celebration of diversity and tolerance.
With three rainbow balloon-adorned floats blasting funk, electronic dance and pop music, glamorous drag queens circulating the crowd and a special appearance by TV presenter David Brazil, the street party dominated the street opposite Acari/Fazenda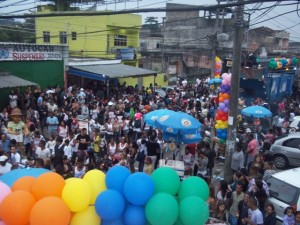 Botafogo metro station from 2pm onwards. A festive atmosphere akin to the more raucous Carnival blocos prevailed as men, women and children in 'No More Homophobia!' t-shirts and LGBT residents from the community and beyond danced alongside the floats in a parade to the favela quad where the celebrations continued into the night.
Organized by the Favela de Acari Samba School, the event is the first gay parade held in the North Zone neighborhood. According to organizer and Favo de Acari founder and president Antônio Carlos Fogueira, the event is a display of tolerance in the favela. He says: "We're showing everyone that there isn't prejudice in our community. We've brought together all kinds of people today."
Alberto Araujo Duarte, an organizer of the Gay Parade in Maré, another North Zone favela complex, assisted in the coordination of Sunday's event. He says "The parade in Bonsucesso and Maré started as a piece of fun and has been going for four years. [The organizers in Acari] contacted us to ask for some support so we came to put on this entertainment and it's been a wonderful success. The community has received us without prejudice and with love."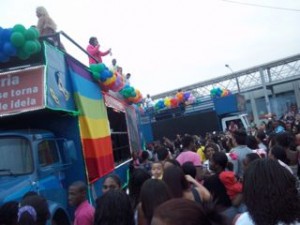 The resounding positivity and success of Sunday's parade could be considered surprising in light of conservative religious values common in the favela. Deley da Cunha, a resident of Acari for 37 years and founder of the Learning to Live Social Center, says "The favela population is very conservative in relation to many things… With the growth of the evangelical church, this conservatism has become stricter and more intolerant. Evangelical dogmas become cultural values of the society, this micro-society of Acari and other favelas too."
Located 35km north of Copacabana beach, the favela of Acari was founded in the 1940s and currently has 45,000 residents. Still very much under drug gang control, Acari has been called the most violent in Rio and the neighborhood has the lowest human development index ranking and income in the city. Like in other poor areas in Rio, the evangelical church has grown in popularity and influence with 75-80 churches in the community today, several of which offer courses on how to stop being homosexual.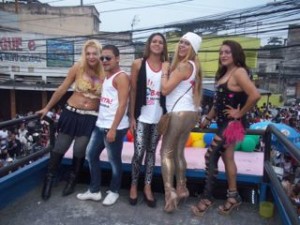 Despite this influence, Deley argues that there's a spirit of acceptance as demonstrated by the success of Sunday's event. "This gay parade in Acari is important for us because it disrupts the image of the favela as conservative. There is the parallel (drug faction) power that represses homosexuality. People continue being sexist and macho-ist; those born and raised in the favela have a collective way of thinking. However, tolerance is also quite marked. This [tolerance], and the gay parade, reflect the spirit that the favela receives people well."
That thousands of people, including many families with young children, gathered to celebrate diversity peacefully without any police or armed presence whatsoever is a testament to this spirit. Children queued to take photos with drag queens, vendors weaved through the crowd selling rainbow carnival accessories and men and women attached free distributed condoms to their earrings. The overall sentiment can be summed up by the smiling little girl who approached a statuesque, pouting drag queen with her thumbs up and said "You're fantastic!"