Tinguá is a rather bucolic region of Nova Iguaçu, in Greater Rio de Janeiro, surrounded by hills with dense vegetation and areas of environmental protection. What breaks with this vision of green abundance are the surrounding communities and the stretch of the Metropolitan Arch Highway, an imposing construction that is completely at odds with the much simpler dwellings. The highway is a tangible souvenir of what leads us to discuss Tinguá: along with a criminal organization composed of nine people, Rio's ex-governor Sérgio Cabral was accused of pocketing about R$47 million (around US$12.6 million) in bribes from Carioca Engenharia, a company that benefited from fraudulent bidding processes and overcharging on public infrastructure construction for various contracts with the state government, including on the aforementioned Metropolitan Arch highway.
This charge brought the ex-governor to the José Frederico Marques Public Prison in Benfica, in Rio's North Zone. Since the length of his stay was indefinite, Cabral and his gang began transforming the prison into a sort of unofficial republic. Fine food and drink, free movement among the premises, and security made up of prison staff—an improvised motel. A true parallel state showered with pomp within the prison system. When the luxuries became public, the ex-governor's house of cards was slowly dismantled.
One of the privileges taken away was the home theater equipment, consisting of a 65-inch television, two 1.5 meter speaker towers with dolby surround sound equalizers (estimated to be worth R$7,500, or US$2,000), and a DVD player with 160 movies. On November 1, 2017, the State Secretary of Penitentiary Administration (SEAP) decided to donate the equipment to the São Miguel Arcanjo Home for Minors, an institution in Nova Iguaçu that works with at-risk youth from vulnerable backgrounds, and which is also part of the activities coordinated by Fórum Grita Baixada. Having served as entertainment and leisure for many of those condemned in the Operation Car Wash corruption investigation in Rio, "Cabral's little cinema," as it is known, will now be used towards the social and cognitive development of about 30 adolescents between the ages of 13 and 17.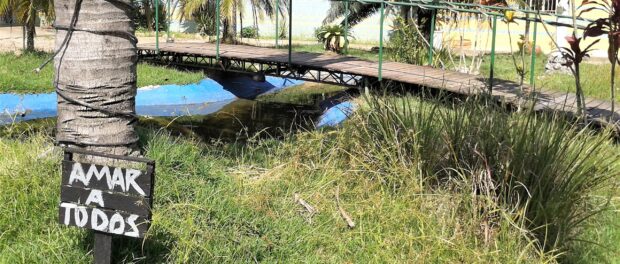 Returning to Tinguá, the Home for Minors offers us its first impressions. Inside it reminds one of a ranch, if not for its dorm rooms. In addition to legal infractions, there are many other reasons a young person might end up at the house, explains Carlos André Santos, one of the institution's coordinators. "Here we have people with disabilities, autism, youth with neurological or psychological issues. Some use diapers, others fled from domestic violence or drug use. Many people think we only shelter youth who've had issues with law enforcement here. Which is not true, although 99% are from poor communities," Santos states.
According to Santos, the home theater made a new view of the world possible for the kids. They had never before been to a movie theater and this change in their reality has enriched some pedagogical exercises. "We always choose a film that relates to their background and afterwards we have a group conversation about what they thought." I asked what the last movie they'd done this with was and he responded "Creed," which is about Apollo Creed, Rocky Balboa's rival in the Rocky franchise. "Apollo came from a difficult family and he overcame violence through sport. For many of those that are here, if they'd had sports or recreational areas in their communities, perhaps they wouldn't be here," Santos assesses.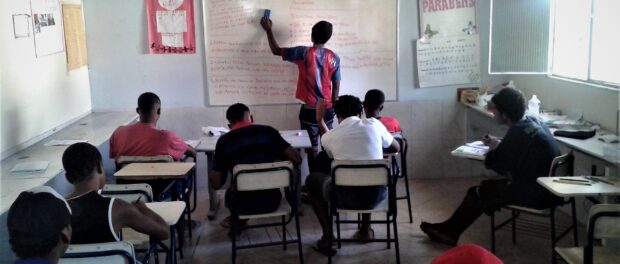 Lucas (pseudonym) could be one of those. Lucas is 16 years old and comes from Complexo de Manguinhos in Rio. He used to commit petty theft in the vicinity of the community, "just to have fun and make some money," he says. Although it seems an exaggeration to attribute a possible resocialization to the mere acquisition of a TV as a therapeutic and behavioral tool, the youth guarantees that the group conversations about the movies, after the arrival of the home theater, left him feeling more comfortable. "I was silent, very quiet. Now I am learning how to live better with other people," he says a bit shyly.
Coincidence or not, in minutes his shyness gave way to a more spontaneous conversation. He says he had gone to a Baptist church for a month "to see if it worked out," at the request of an aunt who had taken him out of Manguinhos and brought him to live in Jardim do Ipê, in Belford Roxo. But he continued to steal. It was a harsh reality that eventually halted his progress down a path that he might not have survived. "It was when I discovered that the militia was after me. A few men went to my aunt asking for me, but she always lied, saying I wasn't there. She knew what was happening. The third time I robbed someone, a black corsa came by, pulled up at my aunt's house, and one of them actually said 'if I see [him], I'll kill him.' And then she put me here," Lucas explains.
Gabriel (also a pseudonym) is the same age as Lucas but has a slightly different story that includes drug use and petty theft. He lived in a crackland in Bonsucesso, on the edge of the Avenida Brasil highway near the entrance to the Nova Holanda community in Complexo da Maré. Before coming to the Home for Minors, he went through the region's Child Protective Services program, which decided it would be good to take him to a shelter in the area. He ended up being sent into the provisional custody of the Bonsucesso General Hospital and from there to Del Castilho. "But I wasn't recuperating in any of these places because there was a lot of crack moving through there too. If I'd stayed more time there I was going to die," Gabriel recounts.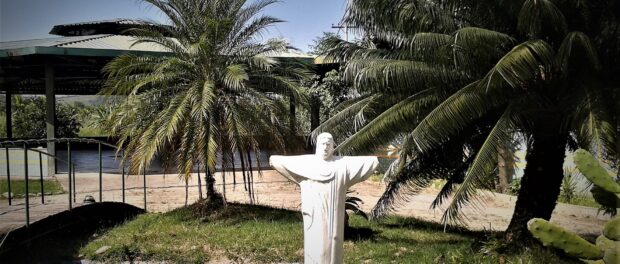 Although it is an institution that offers refuge and rehabilitation for children and adolescents, and although many of the youth do not present signs of danger in their day-to-day life, the Home for Minors is not unanimously supported. It faces distrust from local neighbors, and isolated incidents have been more than enough for certain neighbors to form an armed vigilance commission in the area. At any sign of supposed disorder, the general coordinator of the Home for Minors, Renata Barros, is called to provide clarification about whatever has alerted the neighbors' suspicions.
"At least once or twice a month they invite me to 'condominium meetings.' It's all a matter of inquiry, because when some teen starts to commit robberies and thefts around here, they are quick to ask me if it is 'one of my kids,'" Barros explains. I ask if she is afraid to speak with members of the commission. She smirks and calmly responds: "I managed to establish a pact of trust. The moment this is broken, I won't know what to do," she says.
She remembers a situation that occurred a few years ago that would be comical if it hadn't been so tense. "There was a power outage here at night and it was very hot. It would have been cruel to leave them locked up in their rooms so I asked them to stay outside. The problem is that with the restlessness and energy of these boys, they began to make a racket. Not even half an hour passed before there were numerous police cars outside, the Shock Battalion, and they even threw a stun grenade over the building's wall. With all the noise the residents thought that it was a riot," she explains. A script almost as fantastical as the events that aligned to bring a home theater worth R$7,500 into the Home for Minors.
This article was written by Fabio Leon and produced by a partnership between RioOnWatch and Fórum Grita Baixada. Fabio Leon is a journalist and human rights activist who works as communications officer for Fórum Grita Baixada. Fórum Grita Baixada is a forum of people and organizations working in and around the Baixada Fluminense, focusing on developing strategies and initiatives in the area of public security, which is considered a necessary requirement for citizenship and realizing the right to the city. Follow the Forum Grita Baixada on Facebook here.