Initiative: Permaculture Space at Central Station (Espaço de Permacultura da Central do Brasil—EpiCentral)
Contact: Facebook | Email
Year Founded: 2015
Community: Providência
Mission: To offer the community a collaborative space for social development initiatives, gathering engaged people for the purpose of organizing events, meetings, and cultural exchanges for sustainability.
Public Events: CineClube Epicentral movie sessions and environmental education workshops for children run by Horta Inteligente every Thursday. Check out EpiCentral's events calendar on Facebook here.
How to Contribute: EpiCentral is looking for partners to run workshops, activities and daily events in its space. Donations of construction materials, cleaning products, teaching/school materials for children, and money are welcome. EpiCentral also needs help spreading the word that the space is open, not only to community residents but outsiders as well.
To profile EpiCentral, RioOnWatch spoke with Isabel de Meiroz Dias, founder and manager of EpiCentral, through which she coordinates social projects and organizes activities in Providência.
Today, the space is an important hub for social projects. EpiCentral embraces and unites groups that are engaged in the community in dialogue with one another. The participants share the management of the space. According to the EpiCentral website: "All the projects that currently occupy the house–Entre o Céu e a Favela (Between Heaven and the Favela), Horta Inteligente (Intelligent Garden), Providenciando a Favor da Vida (Providing in Favor of Life), Efeito Urbano (Urban Effect), and Favela Cineclube (Favela Cinema Club)–view Providência residents as protagonists: they are the leaders and the target audience of these initiatives."
History and motivation
In 2015, Isabel de Meiroz Dias, who was born in Brasília, and her husband Barney Lankester-Owen bought a home in Providência after falling in love with the house and the area, and they came to notice the potential it had to be a collaborative community space. From that moment of realization, they began renovation works with the aim to create a space open to partners who wanted to use it for their work, courses, workshops and experiences related to the themes of social, economic, and environmental sustainability. Thus, EpiCentral was born.
The couple bought the house before the Olympics. Reflecting on when she arrived in the community and the changes that took place between then and now, Dias says: "It was still during Eduardo Paes's mandate, a lot of construction was happening in the surrounding area. Since then, the Olympic Boulevard has been inaugurated, Rio's light rail has begun to operate, these are positive things for the area. On the other hand, in 2015, when we started working here, the cable car was working, today it has stopped. There have also been some changes in our own community and in the people that pass through here. For example, when we came here, the UPP was still very active, it had a presence in the favela, but it's been disbanded now, it lost its strength, and we have several conflict situations. But I also notice a change in the relationships among the people here. When I arrived, I didn't know the number of projects, of people who were active. And I didn't know that many of them didn't know each other or were not in contact. Today this has changed. Fortunately, today we're mapped, we know who we are, we meet, we speak and we're on a path of strengthening ourselves."
Purchasing the house in Providência led the couple to engage with the neighborhood's social issues, as they wanted to be involved with the community. Dias explains, "We didn't want to be another example of predatory gentrification without respect for the culture and local residents. We wanted to be a part of the community and so we decided to transform EpiCentral into a collaborative house that could be appropriated by social and cultural projects in the community."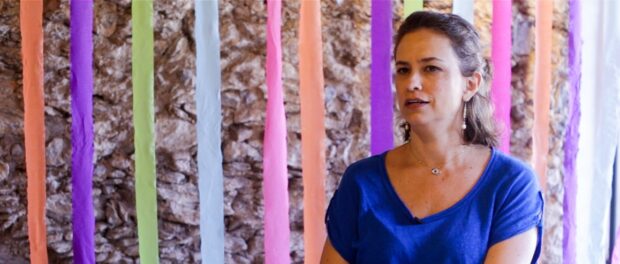 The project
EpiCentral's first project is structuring itself. According to Dias, "the very dynamic in which we make decisions is already a project," because in the creation of rules, the decisions are made collectively.
"EpiCentral works to strengthen a management and collaboration model and this is dynamic. EpiCentral is a space, as if it were the hardware, and the projects are the software." – Isabel de Meiroz Dias
EpiCentral meets its mission by hosting the activities of various projects, such as the Favela Cinema Club (Favela CineClube); workshops by Intelligent Garden (Horta Inteligente); meetings of the Between Heaven and the Favela collective (Entre o Céu e a Favela); workshops by LACCOPS Audiovisual, a laboratory of the Federal Fluminense University (UFF); participation in the Virada Sustentável event with a permaculture workshop; and woodworking workshops for women. The house is open and depends on the demand and interest of participants.
"Today, the continuously participating projects are the Favela CineClube, which happens monthly and has strengthened itself greatly. There is Horta Inteligente, which has a weekly workshop with children and is currently being embraced by local children and going through a very good period. We have been working to gain financial sustainability, which we still have not achieved, and we have the collective meetings of Entre o Céu e a Favela that take place monthly, a dynamic project that does not have a beginning, middle, or end." – Isabel de Meiroz Dias
EpiCentral's dynamic
The methodology of collective planning is inherent to EpiCentral. Dias relays that she "had been reading the Dream Circle"—a management activity they did collectively in June 2016 that is part of the Dragon Dreaming methodology of collective planning—and felt very happy because she realized that EpiCentral had already achieved many of its dreams. Two of these dreams were finishing the restoration of the house—which is an old house—with a very limited budget, and integrating EpiCentral into the community and seeing the community take over the space, which for her "is the main dream that has been realized."
In 2016, it took a lot of manual labor to build the flowerbeds and restore the walls. "A lot of time was dedicated to the meetings with local projects. Every week we had a set time to discuss the projects, the area, the joint activities. Today EpiCentral has entered another phase, as the occupants are taking more responsibility for the house's day-to-day," she tells us.

Challenges and dreams
Dias confirms that the main challenge is generating income. "We operate in the black because we have residential tenants, which allows us to be continuously open, but it is a challenge that becomes more complex because of the conflicts and violence between the police and the drug dealers in Providência. This is not a unique circumstance here, but it has impacted our ability to generate income."
The organization sustains itself financially thanks to three couples who live in the four independent building installations at EpiCentral. The rents allow the space to remain open while the finishing touches of the restoration continue. In addition, there was a successful crowdfunding campaign in 2016. There have also been some events that charge for participation, such as the woodworking classes for women aimed at an external audience (although Providência residents receive scholarships to participate). When a project is unable to pay for the space, as is the case for the local projects that run non-profit events, no financial resources are requested. Instead, the space accepts contributions in the form of work or in-kind donations, such as management support, participation in clean-ups, or donations of cleaning supplies.
Dias describes her dream for the organization:
"Today I see EpiCentral as a success that is not only mine but a success of Providência. It's an open space for cultural and social events and a necessity and need here. My wish is for this to grow, for our calendar to be full of events, and to see the local community using the house more and more. I would like it a lot if people outside the community could visit. My dream, for Providência and for EpiCentral, is for this location to be a peaceful space, and for people to come and do cultural and social development projects here and all over the community."
Residents and the public
EpiCentral has four target publics: members of the projects that use the space, Providência residents, those who do not have a project but want to use the space in some way, and also the broader public that comes to take part in the events.
Dias highlights that "it's the residents themselves who are occupying the space. What's more, it's interesting to see the impact on the parts of the neighborhood that are not directly involved but still have an eye on everything that is happening. In the beginning they had many doubts about this space and what happened here, they thought we were crazy. But nowadays it's clearer what the space represents."
She highlights some events that have had a positive impact on the community: "Through its activism, Favela CineClube raises themes that are difficult to discuss in the community, such as the visibility of lesbianism, the legalization and/or decriminalization of drugs, the question of evictions… Difficult themes that are discussed and have gained an interested audience. I would highlight Entre o Céu e a Favela for its collaboration with local projects. And also Horta Inteligente, because the children have embraced the project and have a voracious appetite for learning about sustainability."

Sustainability and environmental challenges
Epicentral's focus is sustainability as the project sees itself as a reflection of permaculture principles, as is clear from its name, short for Permaculture Space at Central Station. The project aims for social, financial, and environmental sustainability. As Dias describes: "We use [these pillars] as a guide for our actions, be it in the form of reusing materials, restoration, or through the culture of collaboration and fair sharing among occupants and those responsible for the house. In environmental terms, we collect rainwater, we have plants here—we plant edible plants, including non conventional edible plants–as well as the Horta Inteligente workshops that are planting tiny seeds in the children. They have incredible interest and motivation to learn about sustainability."
Dias also highlights the environmental challenges facing the community. "Providência's bottleneck is the violence that affects everything else; in second place, I would say basic sanitation: we have a problem with sewage, with water supply, problems when it rains, not having appropriate drainage; and in third place, the trash collection. Although there is a system of garbage collection, it is not enough or adequate, so we have a lot of trash just in the open," she says. However, she also shares some good news:
"There are projects by residents focused on sustainability—it's not something that has come from outside. Projects by local people who had this idea, this sensitivity, who rolled up their sleeves and are doing something in this respect. Although it is not a predominant awareness here, as I don't believe it is anywhere, I see that there are people doing very important and authentic work. I would say the fact that we are here is an antidote for me in times of crisis and so much bad news, which relates to the question of resilience, for we are resisting and moving forward, despite the economy, politics, and security situation."
Resilience
For Dias, the social resilience of Providência and its projects is represented by their resistance. "The mere fact that we are here and continue doing the projects, despite so many heavy challenges, is a very strong sign of resilience. That's what we've done, really believing that our unity is what strengthens us, it's our network that is going to make us resilient."
Dias cites an event that took place last October as an example of what she considers social resilience. She explains that "one of the Providência projects, the agroecology project Naturalê, invited other projects: Efeito Urbano, Entre o Céu e a Favela, and I was there representing EpiCentral. We were working and helping to harvest the food, prepare the earth, lay down fertilizer… The projects helping each other is an excellent example of social resilience, it means we can turn things around with very few financial resources. EpiCentral does not exist without the collaboration of its occupants and projects. We offer the house. What's going to be done depends on what the people envision. Without social resilience EpiCentral does not exist."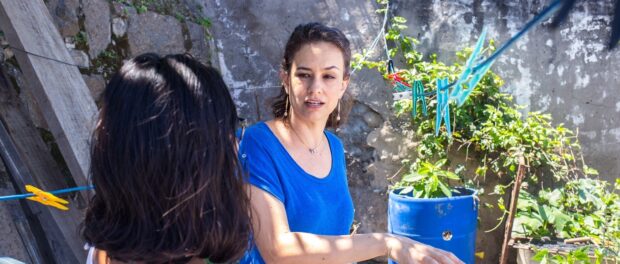 She reflects that EpiCentral's aim to be a collaborative house is difficult for everyone, "because we have to collaborate in a horizontal way without having anyone dictating rules and saying what must be done. It is a very important lesson for me, and I think for everyone involved, in our city and country. Working horizontally is the key for a lot of our challenges."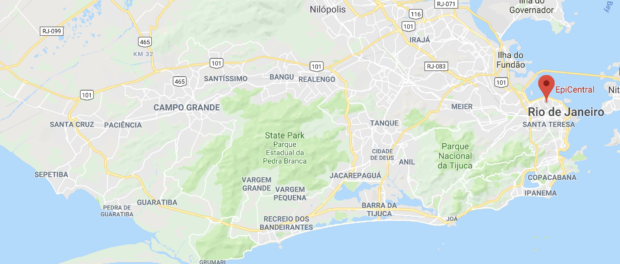 *EpiCentral is one of over 100 community projects mapped by Catalytic Communities (CatComm), the organization that publishes RioOnWatch, as part of our parallel 'Sustainable Favela Network' program launched in 2017 to recognize, support, strengthen, and expand on the sustainable qualities and community movements inherent to Rio de Janeiro's favela communities. Check out all the profiles of mapped projects here.