Initiative: Sustainable Brazil ECCO Point (ECCO Ponto Brasil Sustentável)
Contact: Facebook | Website | Email
Year Founded: 1999
Community: Headquarters in Honório Gurgel, North Zone, with activities in neighborhoods around metropolitan Rio
Mission: To contribute to the construction of a sustainable society, identifying, proposing, and implementing integrated solutions for social, economic, and environmental problems.
Public Events: ECCO Ponto hosts discussions, school and community tours, and events such as the International Day of Recycling.
How to Contribute: Donate recycling materials, participate in ECCO Ponto events, and help to create more collection points.
Brazil loses billions of reais each year by not properly recycling. But for Edson Freitas, founder and project coordinator of the NGO EccoVida, trash does not exist.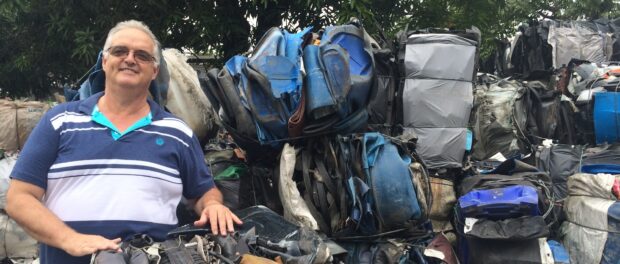 "It's not trash, it's raw material," Freitas says. "It's natural resources and non-renewable resources. So I have to take care of it."
EccoVida puts this mindset into practice through its project, ECCO Ponto Brasil Sustentável, a cooperative of collectors of recyclable materials that seeks to preserve the environment through recycling. ECCO, in the names of both the organization and the project, stands for "Education, Culture, Conscientization, and Orientation."
In 1999 after a sewage canal flooded due to excess trash, Freitas started collecting plastic bottles in his own community, Morro Jorge Turco, and in nearby North Zone neighborhoods including Hónorio Gurgel and Morro Faz Quem Quer. Inspired by the 1990s funk hit, 'Rap Das Armas,' Freitas wrote his own version of the song to show the community the importance of recycling. Without former training or work in recycling, he used his car and trailer to construct his own "AutoPET" cart to hold a large quantity of plastic bottles and drove through favelas collecting materials and playing his song:
"All of the residents can collaborate, separating trash to recycle. So I'll teach you how to recycle, separating in each bag, what I tell you. There is plastic, glass and metal, paper and cardboard, the AutoPET will pass, and collect it at your door. With this attitude we will all help to reduce the trash and to end the flooding. Recycle this idea, my friend and my brother, hear this message that comes from the heart, help preserve the environment. Together we will live a happier future. Collect, collect, collect to preserve."
The project also established designated collection points and, as the weeks passed, residents kept filling them with plastic bottles. "The residents understood from the simple message of a funk song," Freitas recalled.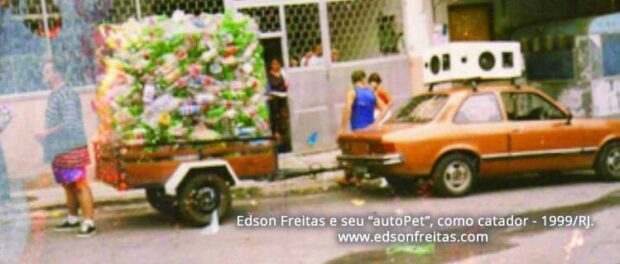 Playing on two similar-sounding Portuguese phrases, Freitas explained he did not originally think about the natural environment (meio ambiente, in Portuguese) but was thinking of his own environment (meu ambiente, in Portuguese) and the wellbeing of his own family. Over time he realized they were intertwined. The project evolved from just waste collection to involve a range of environmental initiatives including sorting recyclables in mobile collection bins, an accelerated compost system, environmental education, and environmental consulting and licensing.
In the beginning, Freitas worked in the morning to collect materials and, after he picked up his children from school, his wife and children would help sort the materials. The ECCO Ponto project grew to employ 70 people at its peak; however, the organization faced difficulties in getting raw materials and struggled to turn a profit given high taxes. Today, the project employs 32 workers from the communities where it's active, providing people with employment and salaries.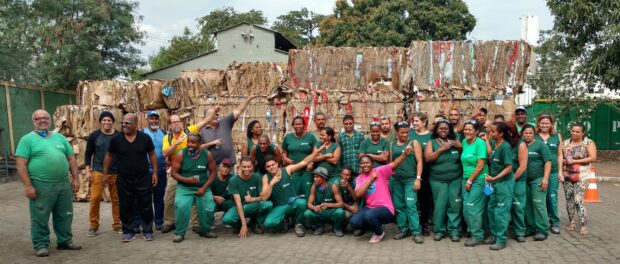 Currently, those communities include Honório Gurgel, Rocha Miranda, Colégio, Turiaçu, Bento Ribeiro, Marechal Hermes, Madureira, Cascadura, and Manguinhos in the North Zone and Mesquita in the Baixada Fluminense, among other neighborhoods in Rio. While the organization has implemented some permanent collection points (ecopontos), it also has mobile collection equipment that staff take once a week to each neighborhood for people to drop off and sort their materials. Freitas hopes one day to put a permanent collection point in each neighborhood. The bulk of materials received by the cooperative is plastic bottles, which can be sold to industries and turned into new products.
Although it has grown and changed a lot over the years, Freitas emphasizes that ECCO Ponto remains a family. "There are people here that we built a house for, people who formed families, a person who got their first refrigerator," he said. "Here it's not a business. It's not simply a cooperative. Here we're a family. It's a life project. God gave us this to help people."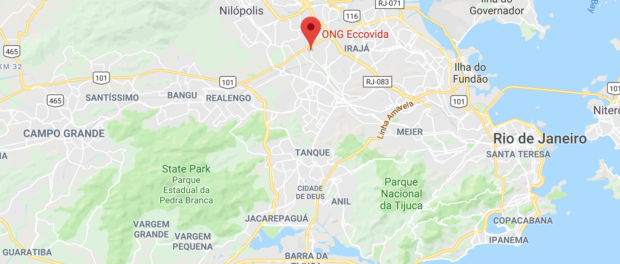 Beyond its positive impacts on the environment, public sanitation, and the workers involved, Freitas said recycling is also important because it does not make sense to pay for improper waste disposal: "You pay to pollute the environment, generate slurry, cause environmental damages, and probably afterwards you have to exploit the environment to take raw materials again when you could have been reusing this material and recycling."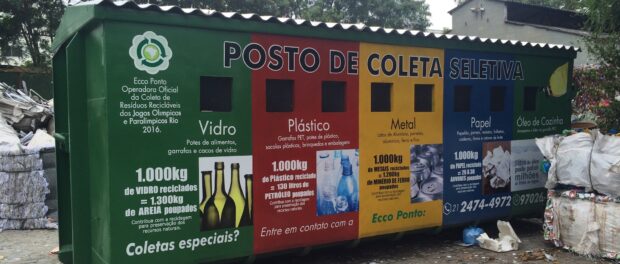 In addition to working on the ground to collect recyclable material, ECCO Ponto organizes various environmental education events and tours to expose people to sustainable practices and ideas. With a meeting room and several displays about recyclable materials inside its headquarters building in Honório Gurgel, ECCO Ponto often hosts school visits. "I'm working to see if I can make 20 communities and 50 schools 'zero waste.' When I talk about sustainability, it seems like a thing for big businesses," Freitas said. "I want to show that sustainability is a practical thing. Everyone can be sustainable."
Setting a further example, ECCO Ponto uses some recycled materials for sustainable crafts, fixing broken dolls and other toys and returning them to children in the communities. The project also encourages people to make a daily habit out of recycling vegetable oil and converting it into biodiesel.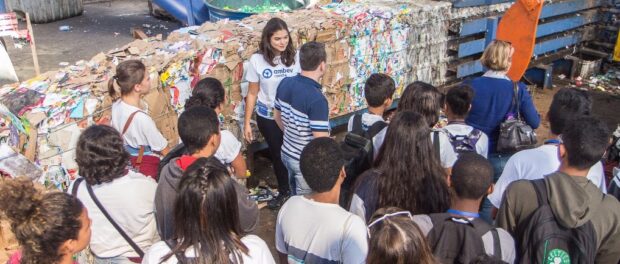 In 2016, the ECCO Ponto project was selected to be the official recycling operator for Rio's Olympic Games, a major recognition of its service to the city. In the future, Freitas hopes that people come to value sustainability and the positive benefits of recycling on both an economic and a social level. "I hope the government recognizes the importance of the worker, the trash collector, the favela resident," he said. "When recycled, trash creates employment and salaries. When it's thrown in the landfill, it creates waste and pollution."
*ECCO Ponto is one of over 100 community projects mapped by Catalytic Communities (CatComm), the organization that publishes RioOnWatch, as part of our parallel 'Sustainable Favela Network' program launched in 2017 to recognize, support, strengthen, and expand on the sustainable qualities and community movements inherent to Rio de Janeiro's favela communities. Check out all the profiles of mapped projects here.