Check out the complete series of community media profiles here.
For over ten years, community news site FavelaDaRocinha.com has been an important source of local reporting on favela culture, events, and innovative social projects for residents of Rocinha, in Rio's South Zone, as well as for interested people from other parts of the city and around the world.
Establishing FavelaDaRocinha.com as a Reference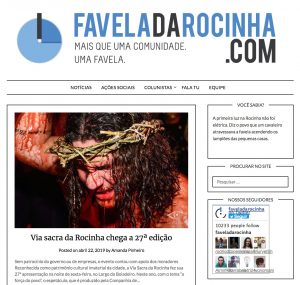 The community-based media outlet was started by a young Rocinha resident named Leandro Lima. Since he was a child, Lima dreamed of becoming a journalist and sharing positive stories about his community. "Today, I'm proud because we have become a reference. Currently, there are many different community media projects being created in Rocinha. Each month, we hear a new name. And they always reach out so that we can explain how it was in the beginning and [describe] the challenges that we faced because we put a lot of professionalism into this project," says Lima.
As a resident of Rocinha, Lima recalls that the only contact he had with journalists prior to launching the project was during moments of conflict. "Sadly, the years passed and nothing was done [to shift the narrative] because Rocinha suffered from violence, drug trafficking, death, shootings, drugs"—typically the main topics represented in mainstream media coverage of the community.
This led him to create an online blog focused on alternative and positive news about Rocinha during his early years as a journalism student, gradually becoming an important source for traditional media outlets to gather first-hand information about Rocinha. As his blog grew, it developed into the news site FavelaDaRocinha.com.
He began to form a team with fellow journalism students from Rocinha and other favelas, providing opportunities for students to gain experience in the field given the difficulty of obtaining internships at large media enterprises. "The idea was to provide an opportunity to college students from favelas," says Flávio Carvalho, who was born in Rocinha and also studied journalism, joining the initiative in 2009.
Special Features: A Viewpoint from Within the Favela and Social Projects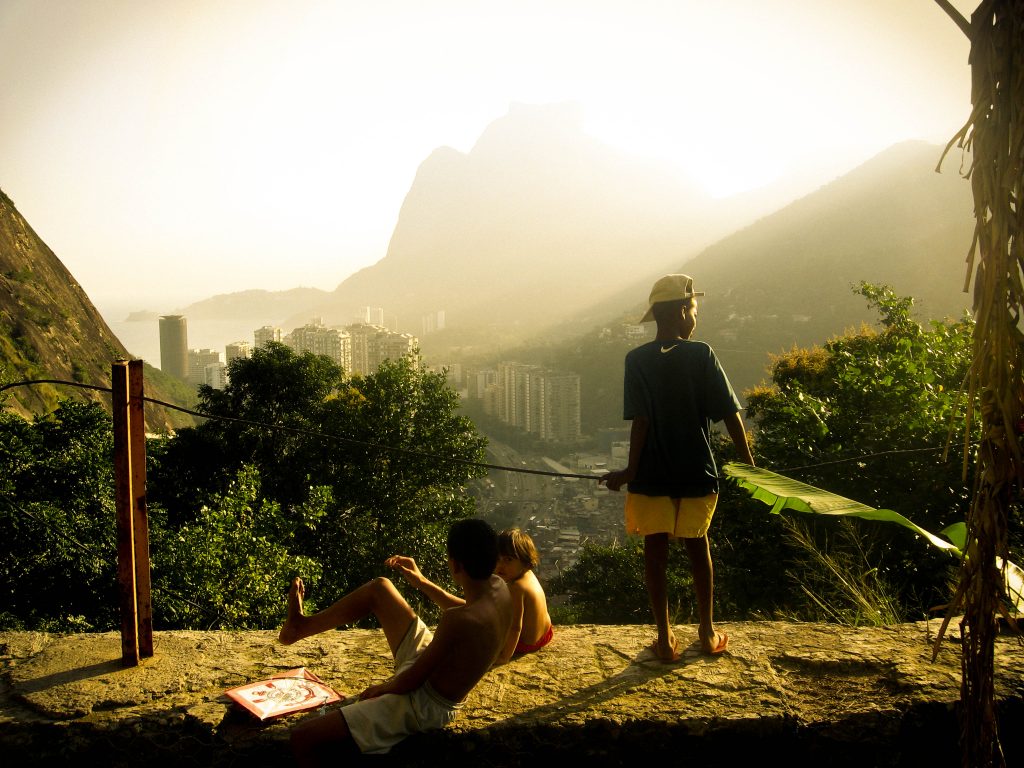 As residents of Rocinha familiar with the favela's on-the-ground reality, journalists at FavelaDaRocinha.com approach their work through a unique lens, relating to other residents as peers and navigating complex issues with nuance. "We already have contact with people in Rocinha and we already know them. We have a certain level of intimacy to ask specific things and we can talk about these issues with a greater sense of ownership. We know their lived experience—we see the story happening to this person who is engaged in activities in Rocinha," Carvalho explains.
"Naturally, we want to listen to residents because we ourselves are residents. We listen to residents by chatting at a bar or on the street," Lima adds.
Beyond its journalistic focus, FavelaDaRocinha.com works to support social projects in Rocinha. Lima elaborates: "We feature people who want to make a difference. We even had a photography collective called 'Photographing the Rocinha Favela.' We took part in some exhibitions, including one at the Rocinha Park Library. The feedback from people who previously didn't know Rocinha was really great. Seeing [Rocinha] from the eyes of a resident—that is very special.
Aside from its social projects, FavelaDaRocinha.com is active on Facebook on a daily basis, informing approximately 14,850 followers—residents and nonresidents alike—about what is going on in Rocinha. In addition, the community media group has an Instagram account, a YouTube channel, and a Twitter account with 10,200 followers. Lima proudly describes that the group uses digital technologies such as Google Apps and Dropbox to structure their work as a team.
Beyond Reporting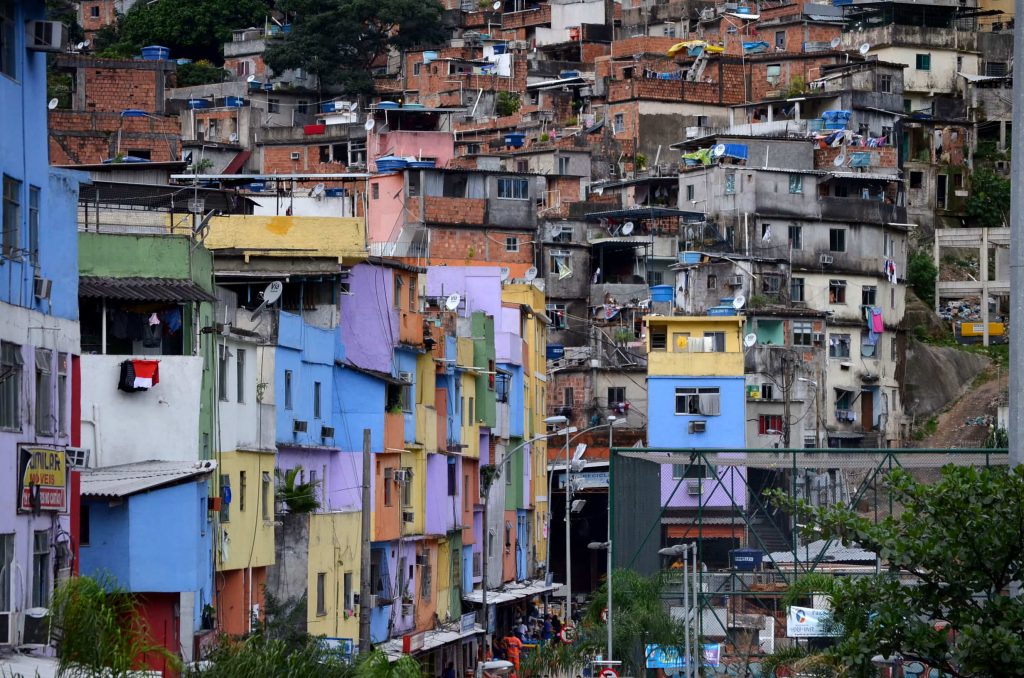 "I think that FavelaDaRocinha.com has great potential that also goes beyond reporting. We have always been producing something. I'm always on the lookout for ways to improve and accomplish more," Lima describes. This ambition is further illustrated by Lima's intention to design FavelaDaRocinha.com with additional functionality, incorporating audiovisual elements and serving as more than just a news source. As an experienced cameraman with TV Globo's local RJ station, Lima has many ideas for projects in the field.
Young journalism student Eduardo Carvalho also works for Globo while simultaneously participating as a member of the FavelaDaRocinha.com team. Carvalho's ambition as an aspiring journalist impressed his fellow teammates, who included him in the initiative at the youthful age of thirteen. Today, Carvalho is amazed to know the reach of his work beyond Brazil's borders–evidenced by the visit of a Nepalese student who spent three months in Rocinha to learn about the initiative.
Beyond the global resonance of their work, community journalists at FavelaDaRocinha.com aspire to directly impact their community in positive ways. This includes creating strategic partnerships with other local initiatives and influential opinion-shapers in the community. For instance, Lima is convinced that an event for the "You Are What You Read" project held in February at Rocinha's Garagem das Letras ("Garage of Letters") contributed to the reopening of Rocinha's Park Library, which had been closed for over a year, in March. "It was a small thing, but it gave confidence to groups of artists who are very influential here."
Ultimately, the realization of the full potential of community reporting depends on networking and collaboration among community media outlets. To this end, FavelaDaRocinha.com has developed a partnership with Voz das Comunidades, a citizen journalism initiative that began in the North Zone's Complexo do Alemão and has since expanded coverage to other favelas across Rio. As a result of this collaboration, FavelaDaRocinha.com began to distribute their reporting in print format at points located throughout the community, complementing their online platform.
"Media is maturing. [Community media groups] are growing and understanding what they really mean to society. It is not only about informing. Our responsibility is much greater," Lima concludes.
For more information, visit FavelaDaRocinha.com, or follow them on Facebook, Twitter, Instagram or Youtube.