When Globo media network invited community educator Jota Marques to the wealthy Botanical Gardens neighborhood as part of an expert panel on creative education in May, he insisted on bringing his students from City of God with him.
Seated between TV Globo reporter Caco Barcellos and museum curator Ulisses Carrilho at the Parque Lage Visual Arts School, Marques made it clear that he considered his presence an act of occupation. At the end of his opening statement, he looked around the room at the event's upper-middle class audience, deliberately stating: "The favela exists here, in Parque Lage."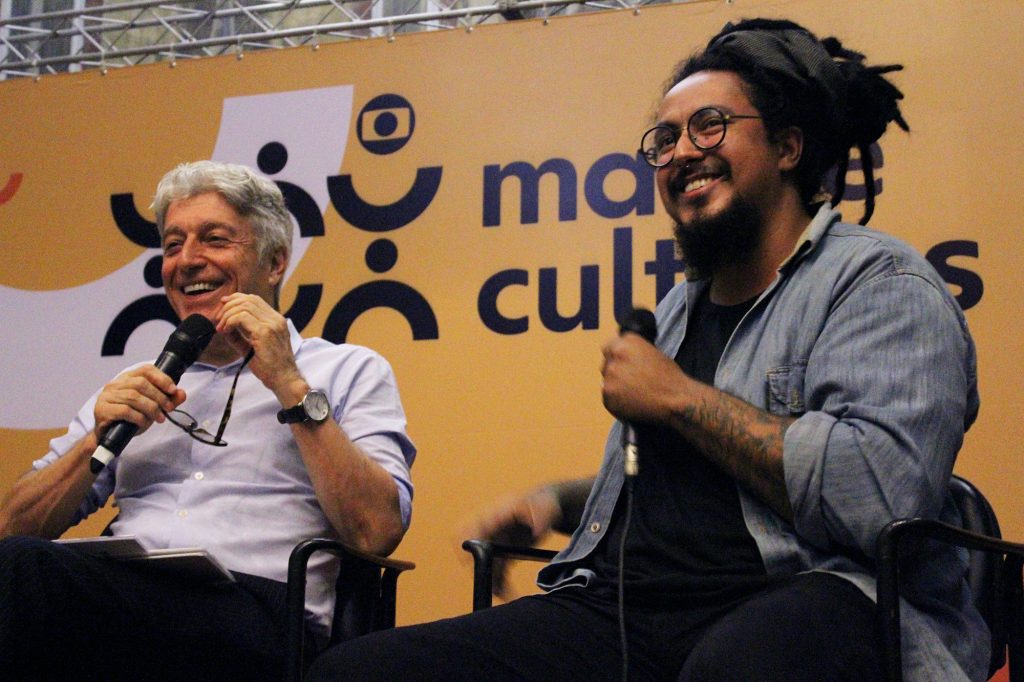 The pedagogy that Marques espouses is one of resistance, forming the basis of his eight-month-long "Critical and Creative Communication" course at the Seeds of Life Association (ASVI) in City of God. There, he teaches a brand of communication anchored in critical thought. Students learn the hard skills of photography, journalism, and social media as tools to combat harmful hegemonic media narratives surrounding City of God and other favelas.
When RioOnWatch visited the class, topics ranged from machismo perpetuated in recent telenovelas to the ins and outs of project management. Two former students, Ellen Marques and André Edgard—who Marques describes as "my siblings in dreaming of a Rio de Janeiro and City of God where rights are guaranteed"—facilitated group discussions and coached students on their final projects.
Next month, students will transition into internships with the communication team at the Seeds of Life Association, well known in City of God for its community portal and radio station.
RioOnWatch: How and when did this course come about?
Marques: In 2017, the Seeds of Life Association held the first round of its Audiovisual Media and Digital Culture training in partnership with Project Light and Banco da Providência, seeking to train youth for the job market. At that time, the training course attended a local demand for creative entrepreneurship as a means for youth to support themselves.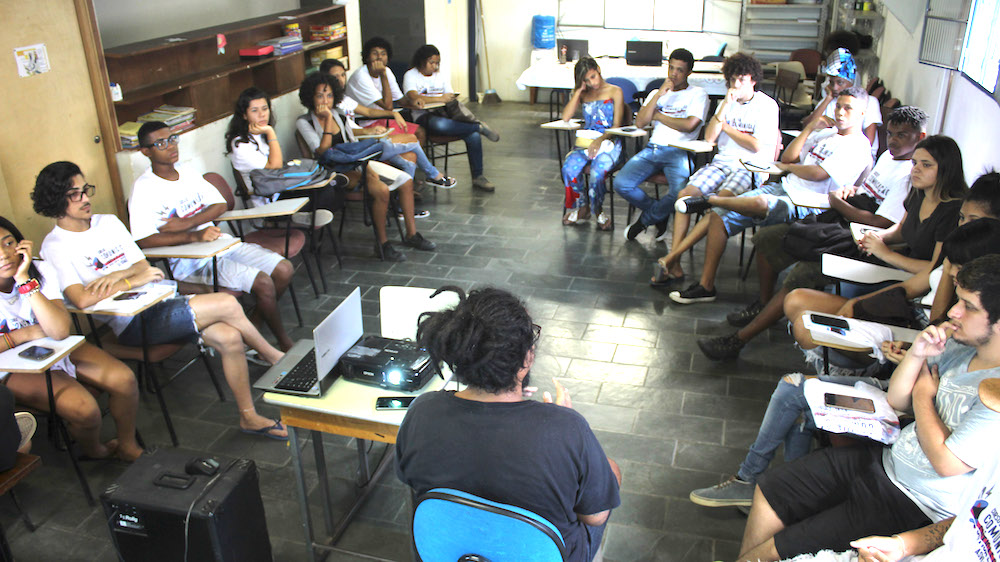 Then in 2018, our partners gave us the chance to rethink the project. Together with three students from the previous training, we created the "Critical and Creative Communication" course with an emphasis on grassroots and community-centered communication. The course uses the theoretical and practical field of 'edu-communication' [education through communication] as a teaching strategy, promoting the development of socio-emotional skills including creativity and empathy.
The programmatic content also stimulates reflection on the right to communication in an information-rich society, just as it contemplates possible strategies for communicators to position themselves in the face of backward and reactionary concepts and practices used in traditional media. The course does so in a way that breaks with the culture of silence, opening participation to citizens and allowing residents to see themselves as producers and receivers of communication.
RioOnWatch: What goal is the course aiming to achieve? What challenges are you addressing?
Marques: The training carries with it the daring mission of stimulating creative and critical communication and thought. It does so in a way that we, the subjects of the margins—and above all, the youth who find themselves in movement and constant dispute—become multipliers of counter-narratives. It seeks to overcome the common violent imaginary with regard to the favela and historically marginalized groups.
RioOnWatch: How does the course fit into the Seeds of Life Association's work in the community?
Marques: Since 2002, the Seeds of Life Association has dedicated itself to social and human development in City of God, addressing three areas: education, culture, and communication. In this vein, the Association has always considered "community communication" as a tool for social transformation. This concept gave way to the construction of the City of God Community Portal, the CDD Vive newspaper, and CDD Web Radio.
In these fifteen years of working in the territory, there have been various communication trainings made possible by the Seeds of Life Association, which continues to believe in the richness and potential of communication tools for child and youth development.
RioOnWatch: Does City of God have certain characteristics that make this type of initiative especially necessary?
Marques: Yes. Absolutely.
City of God, born amid the chaos of the floods of 1966, only took shape, gained meaning and came into existence for the rest of the world with the launch of Fernando Meirelles' film City of God in 2002. So there are 52 years of ignored stories, ignored resistance, and ignored potential here—guaranteeing that City of God remains only a synonym for violence and a reminder of the character of Little Zé.
These characteristics and memories are completely out of touch with the reality of the territory, which is so rich in culture, so full of real personalities with incredible stories. To contemplate popular, independent, community-centered communication with the youth of City of God—but also with other favelas and impoverished territories across the country—is to guarantee rights and life.
RioOnWatch: What is your philosophy of education? What about your thoughts on education in Rio de Janeiro?
Marques: I understand education as a continuous and collective process involving the flow and intersection of forms of knowledge and ambitions, which transcends [academic] achievement. In this sense, doubt and the unknown live at the center of the construction of knowledge. Our conclusions, which at times constrain critical thought, are secondary expectations in a learning process that is fueled by inquiry and therein finds answers, doubts, and more answers.
Being uncertain in a world of certitudes might be my most important contribution as an educator. And this huge favela, in effect its own city, is a territory that seeks not certainty but inquiry.
At last, we arrive here, at a place in which I take no pride in view of the certainty of some—those who colonized our country with violence; defined the limits of the city; and determined the rights, including the right to life, that each segment of society would have or not have.
Education—as a bridge to critical citizen participation and an instrument responsible for genuine processes of liberation—remains trapped in the hands of those who seek social control. It is for this reason that grassroots education, the knowledge of the alleyways, memory, and ancestral orality have become so necessary. They resist the commodification of knowledge and life, as they historically stimulate the rise of the journey that will subvert [systems] currently in place.