Initiative: Favela Orgânica
Contact: Facebook | Website | Email
Year Founded: 2011
Community: Babilônia and Chapéu-Mangueira, South Zone
Mission: Valuing and sharing the food cycle through respect and love for what nature gives us
Public Events: Favela Orgânica hosts workshops for adults and children on the appreciation of food and cooking, planting vegetable gardens, and yoga.
How to Contribute: Participate in events, volunteer, and financially support the initiative.
Regina Tchelly always wanted to be a different kind of cook. For Tchelly, who is originally from the state of Paraíba in Brazil's Northeast, consciousness about food waste was always an aspect of life. "In Paraíba, it's common to plant, harvest, and use food to its full extent, so people don't throw food away," Tchelly describes.
In 2001, Tchelly moved to Rio de Janeiro's Babilônia favela and started working as a maid. She noticed that many people in Rio did not know how to manage their own consumption. "The first thing that really caught my attention here in Rio de Janeiro was the quantity of food waste at outdoor markets," she recalls.
Knowing that she wanted to make a change, in 2011 Tchelly applied for a R$10,000 (US$2,500) grant from Agência de Redes para a Juventude (Networks for Youth Agency), an initiative that provides training and resources for young people to develop community-based projects in Rio de Janeiro. Although her project was approved in the initial stages, Tchelly was not ultimately selected as a grant recipient.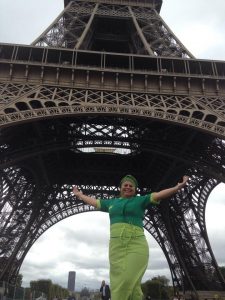 Tchelly, now 37, did not give up. Less than a month later, from her house in Babilônia in Rio's South Zone, she started Favela Orgânica—a project that seeks to reduce waste and change people's relationship with food. "I started with R$140 (US$35) and six mothers," Tchelly describes. The community supported her efforts and attended her workshops: "The second week there were ten [mothers], the third there were fifteen, the fourth there were forty, and so the project grew."
Today, with more than 500 unique recipes, it's not just Rio's community that gets nourished by her food. Tchelly receives volunteers from other favelas in Rio, other cities in Brazil, and from around the world. She has given workshops and talks abroad in France, Italy, Argentina, and Uruguay, in addition to participating in events like the Rio+20 United Nations Conference on Sustainable Development as part of the Favela as a Sustainable Model film produced to premiere at the conference in 2012.
In 2017, Tchelly even launched her own television show on Canal Futura, Amor de Cozinha ("Cooking Love" or "Love to Cook")—reflecting her accomplishment in being recognized as a worldwide reference for sustainable consumption.
Despite the project's international success, Favela Orgânica's roots remain firmly planted in Rio's Babilônia and neighboring Chapéu-Mangueira favelas. Favela Orgânica's workshops teach both adults and children creative methods of cooking to enjoy food in its entirety and to make compost with the truly unusable parts. Workshop participants learn to use commonly discarded parts of fruits and vegetables—such as peels, stalks, and seeds—in recipes. "The mission is to alter people's relationship with food. To see that peels, stalks, and seeds are food, real food," Tchelly says.
The project also includes gatherings featuring a buffet of dishes made with Tchelly's recipes. Her inspiration for creating recipes comes from her belief in working with what she has on hand: "If I have watermelon rind, I'll use it. If I have papaya peel, I'll use it. If I have a banana peel, I'll use it. And just like that, the ideas come."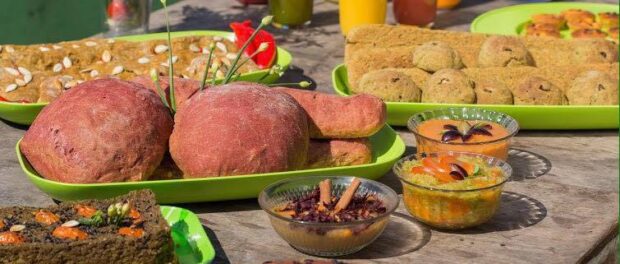 Sometimes people even think that her vegetable dishes taste as though they contain meat. "It's great when people eat risotto made with watermelon rind that appears to be shredded chicken—or when they eat cappelletti made from pumpkin peel, which they think is shrimp," said Tchelly, laughing.
Another part of Favela Orgânica's mission is to preserve and revitalize enjoyment in food. "We have to revive what was done in the past, where everyone met to cook and eat and talk about food," Tchelly says.
With this mindset, Tchelly is conscious of each part of the food cycle, from production to disposal. Each week she receives leftovers from farmers markets that would otherwise be discarded. She also buys directly from producers and uses vegetables from community gardens in Babilônia.
Tchelly's food is not only full of flavor but it is also healthy. João Batista, 61, is from Chapéu-Mangueira and started working with Favela Orgânica three years ago, teaching courses about growing vegetable gardens. After retiring, Favela Orgânica gave him an opportunity to do different activities to help both himself and the community. Working with Favela Orgânica taught him to eat more vegetables and consume less salt, sugar, oil, and fat. "I make the foods that I learned here," Batista said. "This is also good for my health."
In the future, Tchelly hopes to create a school to show children how to more highly value the foods that they eat. "I want children to enter [the school] at age five and stay until age ten, understanding the food cycle," Tchelly said. "I want each of these children to have a vegetable garden at home."
For now, Tchelly plans to continue her workshops and lectures, never forgetting the community that helped her grow. "I learn every day that I need to be increasingly compassionate and understand what nature is asking me to do," Tchelly says. "It's listening to the favela, letting [the favela] speak."
*Favela Orgânica is one of over 100 community projects mapped by Catalytic Communities (CatComm), the organization that publishes RioOnWatch, as part of our parallel 'Sustainable Favela Network' program launched in 2017 to recognize, support, strengthen, and expand on the sustainable qualities and community movements inherent to Rio de Janeiro's favela communities. Check out all the profiles of mapped projects here.