A Community Land Trust (CLT) is a community-managed nonprofit organization or association established to provide permanent affordable housing and build community assets in the territory that it owns and governs. CLTs are grounded in community participation and stakeholder cooperation. This article looks at five diverse case studies of existing CLTs around the world—from the model's founding in the Deep South to its application in post-industrial Boston and Albuquerque, and informal settlements in Kenya and Puerto Rico—and explores the potential of the CLT framework as a model for sustainable development.
New Communities: First CLT Was Established to Promote Desegregation and Independence in Albany, Georgia, USA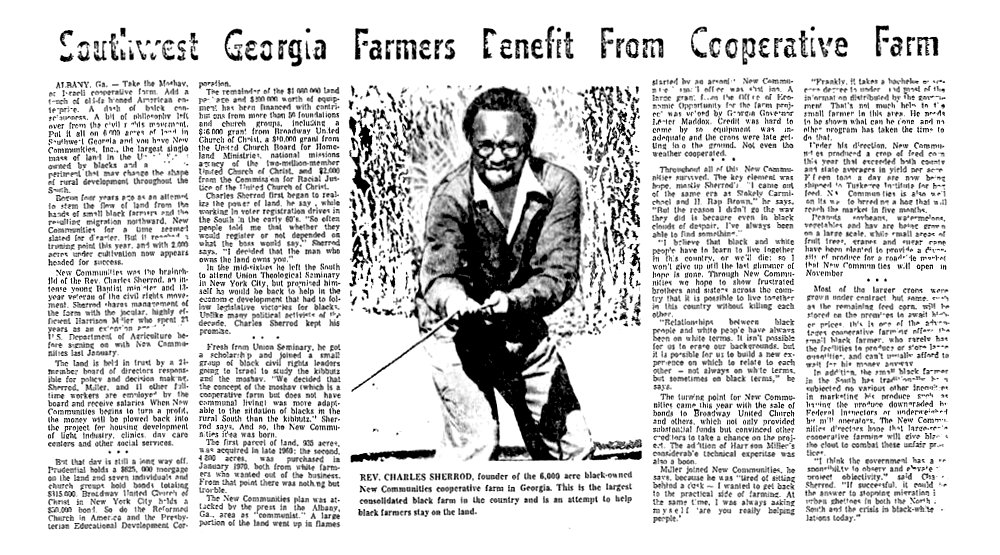 New Communities, located in Albany, Georgia, is often credited as being the very first CLT. Born in the 1960s from the Civil Rights Movement in the United States, New Communities aimed to attain economic and political independence for African-American farmers. The founders, who were instrumental in the local desegregation movement, were motivated by the belief that legally recognized land ownership is the only way for African-Americans to assert their independence and guarantee land security. Through the establishment of the CLT, community members collectively acquired 3,000 acres of farmland and 2,000 acres of woodland—which, at the time, was the largest landholding by African-Americans in the United States.
"It would have allowed us to do business internationally, would have allowed us to build a food delivery system from the South to North, and a system that would have allowed us to build a local base of farmers whom we could buy from… cooperative development; buying, selling, holdings, storage." – Charles Sherrod, co-founder of New Communities
The Dudley Street Neighborhood Initiative: "Development Without Displacement" Partnered with Local Government in Boston, MA, USA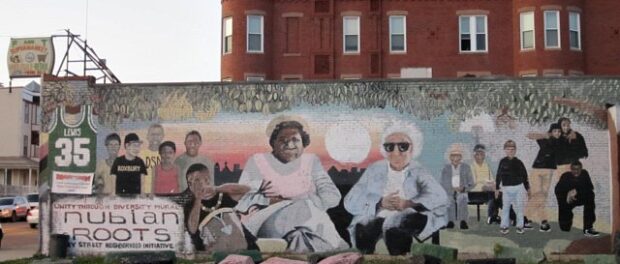 The Dudley Street Neighborhood Initiative (DSNI) was established in 1984 to guarantee "development without displacement." The initiative is the first community-based organization in the United States to gain eminent domain authority—the power to acquire private land for public use.
In 1987, soon after its founding, DSNI drafted the Dudley Street Neighborhood Initiative Revitalization Plan, which was adopted and funded by the City of Boston. The plan outlined priorities including restoring commercial rail service, building a community greenhouse, and generating partnerships to improve the quality of local schools. In 2016, recognized for its critical role in citywide grassroots community development efforts, DSNI was selected as a planning partner for implementing the federal Choice Neighborhoods grant in the City of Boston.
The DSNI Board of directors is notable for ensuring all racial backgrounds—black, Latino, Cape Verdean and white—have equal standing.
"Raising our voices: it is the most powerful thing you can imagine." – Resident of Dudley Street Triangle

"Those of us that are living here, those of us that are working here, need to be involved." –Resident of Dudley Street Triangle

"[The CLT] allows for residents to demand the best and have partnerships… that work for them." – DSNI Community Leader

"We believe that everybody in the neighborhood is an organizer. In fact, everybody in the neighborhood is an agent for change." – Resident of Dudley Street Triangle
Tanzania-Bondeni: A Legacy in Voi, Kenya 
The Tanzania-Bondeni CLT in the town of Voi is the very first of its kind in Kenya. The CLT implemented between 1990 and 2004 through a pilot informal settlement upgrading initiative of the Kenyan government in partnership with international agencies. Through the establishment of the CLT, residents of the Tanzania-Bondeni informal settlements gained access to land tenure in their villages and have advocated for social justice, community education, and equity in land allocation. The community and agencies involved are hopeful that this CLT could be used as a model for the development of other CLTs in Kenya.
"If we decide to opt for individual title deeds, some will start selling them. And what will happen to the children? Where will they live?" – Mama Fatima, Resident of Tanzania-Bondeni

"I am convinced… that this can be replicated elsewhere." – Gideon Muindi, former town clerk, Voi Municipal Council
Sawmill: Reclaiming Industrial Sites and Guaranteeing Affordability in Albuquerque, NM, USA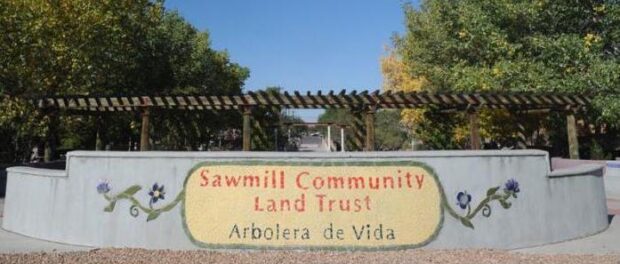 The Sawmill CLT, founded in 1996, aims to confront increasing property values and pollution from a local particle board factory—two factors that would quickly make the area uninhabitable for primarily Latino working-class families. The mission of the CLT is to guarantee a permanently affordable housing stock and develop mixed-use spaces that benefit the community. With the participation of the City of Albuquerque, Sawmill CLT has reclaimed and restored 34 acres of a former industrial site, where 93 affordable homes and three affordable apartment complexes are now located.
"Sawmill Community Land Trust holds land 'in trust' for the benefit of the community while preserving the affordability of the housing on the land…permanently. This means, you are able to have your own slice of the American dream and help others in the future, to do the same." – Sawmill CLT website

"Once that home is purchased… the affordability just doesn't go away." – Vicki Dugger, director of development, Sawmill CLT

"In many places, you buy a home and that's it. Here, you buy into a community." – Judy Gallegos, first-time homebuyer, Sawmill CLT
Caño Martín Peña: Preserving Local Identity in Downtown San Juan, Puerto Rico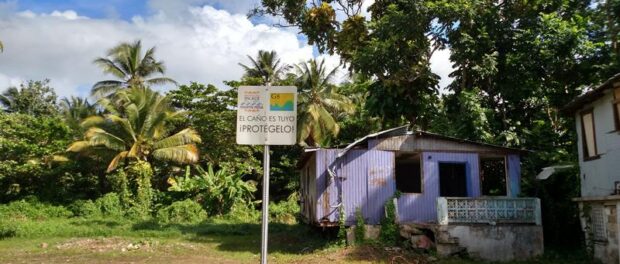 The Martín Peña CLT—locally known as the Fideicomiso de la Tierra del Caño Martín Peña—serves residents of eight informal settlement communities located along the Martín Peña Canal in San Juan, Puerto Rico.
The pollution of the canal, resulting from the city of San Juan's inadequate formal sewage system, became a major health concern for residents due to the nature of their homes—situated in former mangrove swamps. The government eventually recognized the need to dredge the canal, but residents worried about displacement due to a possible increase in land value following the canal's ecological restoration and government plans to implement individual titling. Following numerous public forums, community members opted to develop a CLT, including establishing a new law, a decision supported by local authorities. A public corporation, ENLACE, was then established to follow through on creating the CLT with the Group of Eight Communities (G-8) in 2004 and formally established the Martín Peña CLT in 2008. Conferred with a collective land title in 2009, the CLT enabled the legalization of land tenure for over 2,000 families, and has been committed to community upgrading efforts since. Following Hurricane Maria, the Martín Peña CLT was able to galvanize local and global resources in support, in a way that other informal settlements in Puerto Rico were unable to do.
"I have lived in this community for 81 years and I am not moving anywhere else."– Resident of Caño Martín Peña

"Besides, we truly love these lands. I don't understand why we would have to leave." – Resident of Caño Martín Peña

"If there are no mechanisms such as the CLT, once the Martín Peña channel is restored, our people will be displaced by market forces, and at the end of the day they will continue to live in poverty, and will move to other parts of the country. So this project reunites all those elements and makes them into an opportunity for the neighborhood. From the neighborhood to the country, we all benefit, whether or not we live in the Martín Peña channel." – Film about Caño Martín Peña

"We want to get the channel back but we don't want it to be at the expense of our displacement. We want to be in control of our future and we want to be here." – Lyvia Rodríguez del Valle, executive director of ENLACE

"We think it's really important for communities that live in informal settlements (elsewhere), and that are subject to the same market pressures, political fluctuations, and power struggles as us, to see in us a humble example." – Lyvia Rodríguez del Valle, executive director of ENLACE
The CLT Framework as a Model for Sustainable Development
The diverse application of Community Land Trusts holds great potential for the future of sustainable and equitable development, particularly in light of the ever-present issues of land tenure and affordable housing facing communities in Brazil and around the world. The CLT model presents the opportunity to mobilize and involve residents in formal decision-making and manage the future development of their land. The cases of the Tanzania-Bondeni CLT, New Communities, the Dudley Street Neighborhood Initiative, the Sawmill CLT, and the Martín Peña CLT are compelling examples of the success that awaits when communities are free to address their needs and lead the process of their own development.