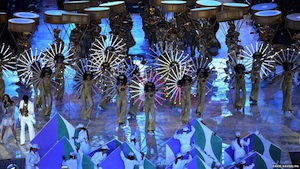 With last night's closing ceremonies in London, another Olympic Games has come and gone. The multi-pronged torch has been extinguished. The official Olympic Flag has been passed to the hands of Rio's mayor Eduardo Paes. And in a glimpse of what is to come four years hence, Seu Jorge performed a song backed up by a throng of iridescent, elaborately dressed dancers and joined by football great Pelé and supermodel Alessandra Ambrosio.
Every two years, the host country of the Olympic Games makes a declaration about the trajectory in history on which it finds itself. In 2008, China showcased its vast, lockstep precision with the orchestration of 2000 drummers and nearly 900 human operators of expandable box props seemingly controlled by computer. For the Winter Games two years later, Vancouver's ceremonies embraced Canada's endless tracts of still-pristine, snow-covered landscapes. And in London this time around, opening ceremonies director Danny Boyle staged the "Queen of England's" leap from a helicopter to show that Great Britain could parachute with whimsy and grace from its historical heights as an imperial superpower.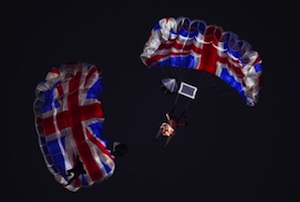 As the Olympic fortnight of 2012 now draws to a close, and the torch moves from London to Rio, Brazil will be asking itself: What statement does it want to make with its Summer Olympic Games? As the tens of thousands of overseas guests file out of a newly refurbished Maracanã stadium at the end of the closing ceremonies in 2016, what impressions will they be taking back to their home countries? Should Rio try to outdo the enormous scale and expense of Beijing's opening show? Should it aim for something offbeat like London's? Should it simply confirm its reputation as the world's best place to party?
Here's an idea (and regular readers of this blog will recognize it as a stubborn idea at that): Brazil's Olympic Games should embody and reflect an Olympics of inclusion. It should be the Games where society's traditionally dispossessed are allowed to make their mark and to occupy center stage, and not just as performers in a samba show. Such a theme would make a particularly powerful statement in a nation that was the last major holdout in the African slave trade; that has suffered from one of the highest rates of economic inequality in the world; and where voting and other rights of citizenship have been constitutionally universal for less than a quarter century.
In progressive politics these days, social inclusion is the watchword. "Inclusive growth" is one of President Dilma Rousseff's core economic governing principles, as she repeatedly emphasized at a speech I attended earlier this year. And, indeed, millions have been lifted from poverty during the country's recent surge in GDP, as the size of Brazil's economy surpasses the U.K.'s, and, by the time the Parade of Nations kicks off in 2016, likely France's as well.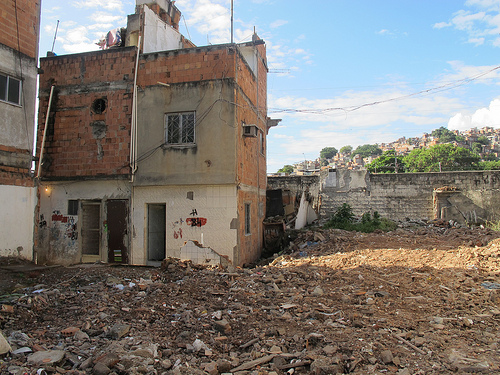 But unfortunately, Rio has thus far not taken a particularly inclusive path in its preparation and provisioning for the Olympics. Transportation investments are steered toward serving politically-connected land developers rather than concentrations of the poor. Maracanã will emerge from its second retooling in a decade with more seats designed for VIPs and fewer for the masses. Development in the neighborhood will have forcibly evicted thousands from their homes.
With respect to favelas, even programs under the auspices of "social integration," such as the introduction of Pacifying Police Units or Morar Carioca physical upgrades, while often bringing needed improvements to security and quality of life, generally are experienced by their affected communities as actions imposed from above. Residents typically have little input into their fate. "Integration," it turns out, does not equal "inclusion."
In the minds of the public-private partners driving Olympics planning, favelas and their residents are problems to be either managed or swept aside, rather than resources to be engaged with. Take the controversy surrounding the Olympic Park project, slated for a waterfront setting currently occupied by a racetrack and the Vila Autódromo settlement. The ongoing fight between residents and the city concerns this legal settlement's complete removal versus retaining most of its present territory within a carefully-cordoned off perimeter. The Master Plan for the site, by the prominent international planning and design firm AECOM, makes little mention of Vila Autódromo and certainly doesn't foresee any of the planned development for the site relating or responding to the community.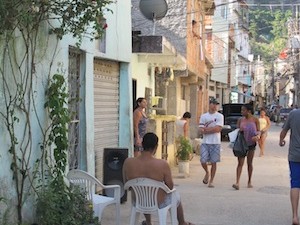 What if, instead of evicting or, at best, merely tolerating Vila Autódromo, the Brazilian Olympic Committee sought out designs for the Olympic Park that related to the existing built fabric at the site? What if the existing favela were upgraded and beautified, and the design for new development abutting the community were inspired by the seemingly haphazard, human-scale spontaneity of the existing settlement? What if the look and feel of this "legacy" neighborhood reflected a natural transition and pedestrian connection between Vila Autódromo and the new sports venues on the site, repurposing them as facilities useful for underserved youth throughout the district? What if residents of Vila Autódromo and other spontaneous settlements nearby, experienced in planning and constructing their own communities, were given preference for jobs building and operating the park? What if local residents, instead of being made to resist, had a stake in all of this?
Four years from now, when the Olympic flame is lit once more, Rio may well have produced the opening show that we all expect, complete with feather-clad samba dancers, all the internationally recognized Brazilian musicians, and a re-appropriation of certain cultural traditions, such as capoeira, that were actually outlawed or marginalized during much of their histories.
Or it could do the unexpected: it could spotlight—honestly and completely—the people and everyday living conditions that gave rise to this celebrated heritage. Just as London's show was unafraid to recreate the less romantic images of fuming smokestacks and overworked laborers that underpinned British industrial might, so could Rio's festivities simulate the improvised aesthetic and spatial intimacy of the favelas and quilombos that so many regard simply as slums. The theme of inclusion could be driven home by creating opportunities for audience participation and spontaneity in some of the scheduled performance sequences.
An opening ceremony inspired by the unplanned and the informal would be distinctly Brazilian and unexpected indeed in what has become perhaps the most commercialized and intricately choreographed event in the world. But a rightful celebration of the unplanned and informal communities that make Rio's very identity possible could only be performed with a straight face if those communities are given a real stake in the Games. Only then could Rio put on the opening ceremony it deserves.