From October 1-5, Community Health Agent Week took place in Manguinhos, organized by local Community Health Agents in partnership with the Manguinhos Community Health Agent Committee (COMACS Manguinhos/RJ). This year's event focused on the following question: "Is Community Health Agent Week only important for Community Health Agents?"
Community Health Agents (ASC) are residents of the communities in which they work. They play a fundamental role in the functioning of the federal Family Health Strategy (ESF) program and of Basic Health Units (UBS), comprising part of the primary care teams across Brazil. According to the guidelines established by the National Primary Care Policy (PNAB), Community Health Agents are responsible for monitoring up to 750 people in their respective areas, making periodic home visits; participating in the development of therapeutic projects; recording data on health problems; carrying out demographic, social, cultural, and epidemiological assessments in their designated territory and community; and promoting integration between the healthcare team and local population assigned to each Basic Health Unit, among other responsibilities.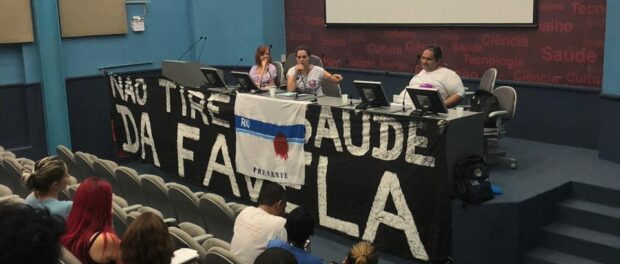 During Community Health Agent Week, seminars and debates were hosted at the Joaquim Venâncio Polytechnic School of Health (EPSJV/Fiocruz). Health promotion and disease prevention campaigns took place in Campo da Varginha, in the Manguinhos favela in Rio's North Zone. A blood drive was also held at the Germano Sinval Faria School Health Center (CSEGSF).
The debates were centered on themes such as the 30th anniversary of Brazil's Unified Health System (SUS), violence and health, the right to housing and basic sanitation, and the challenges that exist for Community Health Agents working within SUS. A panel entitled "Health in the Crosshairs of Violence" was held on October 2 and was composed of Anastácia Santos (COMACS Manguinhos/RJ), Jorge Nadais (COMACS Manguinhos/RJ), and Vera Frossard (psychologist at CSEGSF). The panelists sought to discuss current healthcare challenges in territories marked by various types of violence, such as armed conflict, gender-based violence, and racial violence. Santos raised the issue of the precariousness of public spaces in favelas—necessary for integration among residents and for the promotion of recreational activities, especially taking children into account. She also noted that "the favela is invisibilized—people are afraid and are silenced through various mechanisms."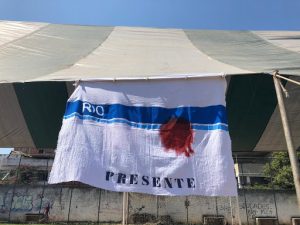 Continuing the discussion, in the context of personal stories recounted, Nadais commented that "social inequality is the basis of all other forms of violence that favelas suffer. Growing up in a favela means that you will not have an ordinary life cycle." He emphasized the specific case of the urban occupation process in the territory of Manguinhos, which received people who had been evicted from other areas of the city such as downtown and the South Zone with the promise that it would only be a temporary home. Over the years, residents gradually rebuilt their lives in the area. In 2009, residents underwent eviction processes yet again—this time due to public works related to the federal Growth Acceleration Program (PAC).
One of the challenges posed by psychologist Vera Frossard of CSEGSFV is the low number of reported instances of violence in the Mortality Information System (SIM). Since few cases are actually recorded, violence is rendered invisible when planning public health policies. In contrast, Community Health Agents follow up on reported cases, which often get lost in the bureaucracy. Another very pertinent point made by Frossard related to the self-perception of people who experience violence: "They blame themselves for the violence that they suffer. This is the violence of violence."
Audience members also contributed to the discussion. Mayalu Matos—a researcher at the Jorge Careli Latin American Center for Studies on Violence and Health (CLAVES/FioCruz)—emphasized: "Not only does violence have an impact on health—it is also a violation of rights: the right to life, the right to come and go." Complementing Matos' words, Fábio Monteiro, member of COMACS, highlighted the consequences of routine violence and pointed out that "investments in healthcare and education are slow to generate returns, which reveals the need for increased funding and careful planning." He also insisted on the necessity of ongoing health programs for workers—especially for Community Healthcare Agents, whose needs are urgent.
As such, it became clear that the challenges of promoting health in these territories are constant and complex. These challenges may accentuate health issues among healthcare professionals, especially among Community Health Agents—who both live and work in these communities. These processes are exacerbated by policies that reduce healthcare spending and by the changes to the 2017 National Primary Care Policy—which does not define a minimum number of Community Health Agents required for each primary care team and thus could further overburden the profession.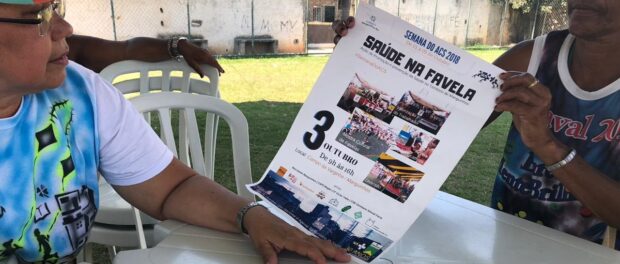 In the midst of challenges, there is a great deal of struggle and determination to generate positive outcomes for residents of the community. On October 3, Community Health Agents organized "Favela Health Day" with actions to promote health and leisure and recreational activities in Campo da Varginha, together with community projects organized by partners of COMACS. As part of the day's activities, an information booth was set up with materials on prevention, risky behaviors, and health issues—addressing the importance of combating smoking, the necessity of maintaining a healthy diet, and the practice of self-examination for breast cancer prevention.
In addition, there were other activities such as a handicraft, cross stitch, crochet, and an embroidery workshop run by the Arteirinhas project—a Community Health Agent initiative at CSEGSF; performances by the group Música na Calçada and by the Manguinhos Ballet; and children's recreational activities involving painting and drawing by the Recriando Manguinhos Collective. All of these initiatives originated in the community. Throughout the day, children also had space to play on a trampoline and in a ball pit.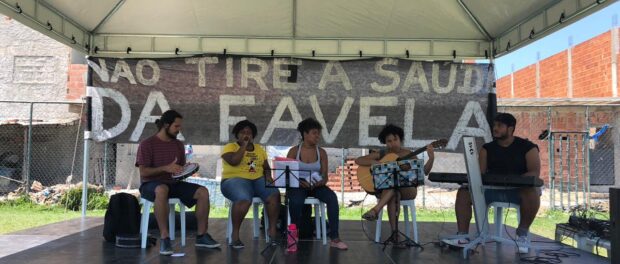 Elenice Pessoa—a collaborator at the Recriando Manguinhos Collective who has been working in this area for the past three years—lamented the lack of community integration and recreational activities for children. "We wonder why there's no money for health or education but there is money to invest in weapons. Those who want to see change don't accept this," she commented. She also emphasized the work of Community Health Agents, who in her eyes "are warriors—they do many things with few resources."
Responding to the initial question "Is Community Health Agent Week only important for Community Health Agents?," other professionals, as well as the general population, need to understand the importance of Community Health Agents. They represent the voices of people who live and work in favelas. As Monteiro from COMACS commented, "We are the ones who must say what we need. We have to make labor relations more horizontal." Indeed, they are expressing their needs—but they don't know if they are being heard.
All of this context demonstrates the strength and capacity of these professionals. The most emblematic speech referred to the struggle and unity of these workers: "The group needs to be strengthened, both in terms of activism and in terms of the profession. We will continue fighting to face the challenges, new and old, of our profession and of our reality."