Sixty concerned citizens gathered Tuesday, September 11, for a public forum organized by the Marcelo Freixo campaign, to discuss their observations and raise concerns about the future of Rio de Janeiro as we approach a critical juncture in the city's history. The forum was a gathering of interdisciplinary professionals and academics—architects, engineers, students and professors–concerned with the city as it takes on many ambitious development projects approaching the World Cup, the Olympics, and a promising, but potentially volatile, future. Marcelo Freixo, one of Rio's mayoral candidates, was in attendance taking notes and spoke briefly at the end.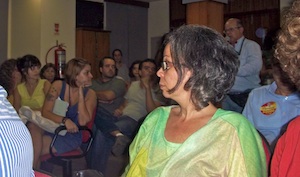 Forced evictions in Rio's favelas were high on the list of concerns. With the city's favela development plan, Morar Carioca seeks to refurbish and upgrade nine favelas in Curicica, a zone near the future Olympic site, but two of those communities will be almost completely wiped out. "How is it that this remains invisible? How are we going to deal with this?" one citizen demanded. The forced eviction of favela residents from their homes is an ever-growing concern, as City government paints a black and white picture of grandiose and fast-paced development projects versus the protection of the basic human rights of favela residents. With Rio already infamous for its disparity between rich and poor, citizens expressed their concerns about Morar Carioca failing to provide a cure for this grievous problem. Without careful planning, the housing and urbanization departments could merely duplicate similar circumstances of inequality, as one participant pointed out.
Architect and professor at the Federal University of Rio de Janeiro (UFRJ), Cristovão Duarte, criticized the Porto Maravilha project, citing faults in the port development plan. He brought up insufficient oversight on the project, pointing out there was lack of approval from experts and higher-ups and that the project was rushed, having been approved in record time. Furthermore, he expressed concern with the lack of transparency in the project planning and approval process.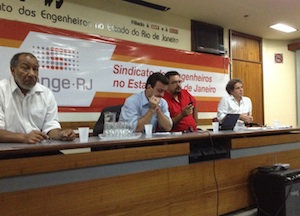 An engineer expressed concerns with the city's sewerage system. He explained that the municipal government had assumed responsibility for sewerage in Rio's West Zone in 2007, but then explained this pressing issue has been ignored. He discussed the "fantasy" that there will be sanitary sewerage systems in the condominiums, and expressed doubt about its likelihood, citing a disturbing report that sewerage in Barra de Tijuca had been flowing into the Lagoa de Marapendi.
Other issues raised included: crime, controlling the militias, the presence of the army in the favelas, criminalization of the poor, income generation for people who are switching from the informal work sector to the formal work sector, Minha Casa Minha Vida, land titles for favela residents, and a general concern for Rio's image.
Marcelo Friexo closed the event by praising and encouraging the constructive discussion about Rio's future and affirmed his commitment to continue this forum, regardless of election results.