Initiative: Horta Inteligente ("Intelligent Garden")
Contact: Facebook | Website | Email
Year Founded: 2015
Community: Morro da Providência, Central Rio
Mission: To collectively create new ways of inhabiting and relating to the city of Rio de Janeiro through agroecology, art, and community-based education, creating spaces for cultivating food and other emancipatory practices.
Public Events: Monthly collective planting and agroecology activities, seasonal "Intelligent Hikes," and bimonthly environmental education workshops for children at the Permaculture Space at Central Station (EpiCentral) and at the project's headquarters.
How to Contribute: Contract their services, which include workshops and lectures on environmental education, urban agriculture, and permaculture for children, teens, and adults; and garden and agroforestry system implementation. Financial donations are also welcome, as are donations of building, gardening, and educational materials and tools.
Located at the foot of Morro da Providência in Rio de Janeiro's Port Region, Horta Inteligente ("Intelligent Garden"), promotes environmental education in the community through a range of gardening workshops, courses, and collective action projects. Founded by Elisângela Almeida Oliveira, a local resident, the project was envisioned as a means of cultivating environmental awareness through activities with children from the community. Later teaming up with environmental engineer Lorena Portela, the two women are at the helm of the project.
In the initiative's first two years, over 400 children participated in recycling, planting, culinary, and artistic activities. These diverse events are held at the Tia Dora Municipal Day Care, at outdoor fairs, and at the Centenary Methodist Church's small garden in the nearby neighborhood of Gamboa. The church has permitted Horta Inteligente to use its space as its headquarters.
The Birth of the Project and Partnership
Almeida, 22, was born in Vitória da Conquista in the state of Bahia, in Brazil's Northeast. She moved to Morro da Providência in 2010 and immediately felt the need to found a social project—an impulse that eventually led her to the idea of Horta Inteligente. Portela, 26 years old, was born in Niterói, Rio's sister city across Guanabara Bay. Supported by a team of volunteers, the two began facilitating actions to improve the quality of life in the community in collaboration with residents.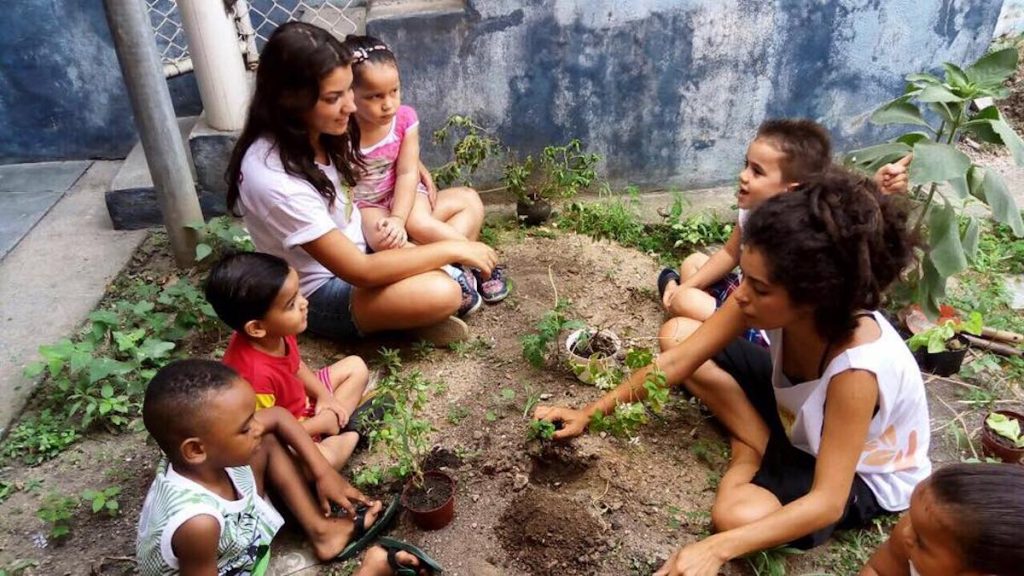 When Almeida first came to Rio, she perceived a huge difference from life in her hometown: "Back in my city, I never saw people carrying guns, violence, or police conflict. I went from my childhood reality to a new one." She recalls needing therapy to adapt to her new life in downtown Rio. As she went through this internal process, she also came to the conclusion that "having a social project in the community makes a difference."
One moment, in particular, inspired Almeida to work with local children. "The thing that really opened my eyes to the reality of my community was when I saw kids playing with some pigs that were eating [the trash]… I saw that there was an opportunity. At the start, it wasn't a gardening project. My goal had been to address the presence of garbage in the community since I'd always see children playing in it… Witnessing that scene motivated me to seek out resources to begin the project."
At the time, Almeida was participating in the Agência de Redes para Juventude ("Networks for Youth Agency"). "The program works with youth, whether or not their communities have preexisting social projects, by providing them with mentorship. After developing an idea, you present it for jury evaluation, and if you're accepted, you're given the chance to incubate your project and the agency helps connect you to potential partners. Afterward, you present in front of the jury again, and if you're given a stamp of approval, they'll help finance and support your project," Almeida explained. She added: "It was during this process that Horta Inteligente was born."
Almeida was granted the funding, but it wasn't enough to execute the project as she had envisioned it—a recycling collection project in the community. "If I had put the money towards that, our funds would have dried up quickly. So we decided to put our resources towards collecting part of the community's trash and teaching children [about reusing waste items]." Almeida affirmed that it is much simpler to make children aware of these issues. "While adults have hard heads, kids are little learning sponges," she reflects. "We do lots of work in schools, educating [children] on our approach to recycling."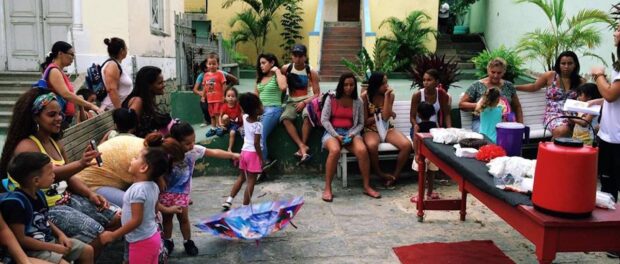 Portela notes the ease with which she joined the project: "It was very natural. I worked in education during college, leading workshops for kids. For a year, working at public elementary and middle schools, I focused on permaculture and agroecology. So I joined the project to help maintain its main gardens. Then, one day, I decided to help out at the garden at the [Tia Dora] daycare. Working with kids, you learn so much, develop so many strengths, and grow a little bit with each experience. For Elis and I, there wasn't a single moment when we decided to run the project together. It happened [naturally] over time."
Horta Inteligente had its start at Tia Dora Day Care, leading weekly activities in art, recycling, and planting for children aged three to five.
Horta Inteligente's Work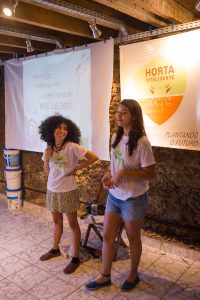 Currently, the project runs activities every two weeks in Providência for children aged seven to twelve. These events are held at Epicentral, as the Tia Dora Day Care is temporarily closed due to lack of funding. In addition, Almeida and Portela give regular lectures and workshops on composting, urban gardening, ecological sanitation, and waste management, as well as sharing their experience with environmental education through a liberatory—rather than regulatory—perspective.
While Horta Inteligente works mostly with children, all workshops and lectures are open to the general public. According to Portela, the project attracts "adults, senior citizens, and young people who are interested in learning about planting and low-cost ecological technologies and who want to get involved in some way."
Almeida affirms that the project has been well received by the community: "We hear from parents that we are making a difference in the lives of their children, that their kids now want their own plants…animals, even their own farm… Every time [the kids] see me in the garden, they want to help me water the plants."
Their Relationship with the Community
Born in a different reality, for Portela it is very important to have constant contact and dialogue with the diverse worlds. She notes: "Indifference only exists because we're not in contact with other ways of life. We are all imprisoned in our own little worlds. For me, coming here [to Morro da Providência] and getting to know Almeida, who is a fighter, reminds me that there are so many different realities and that we grow when we open ourselves to all of them."
Almeida reflects on her participation in the collective Entre o Céu e a Favela ("Between Heaven and the Favela"), which brings together different groups working in Providência to speak about life in the community and how they can make things better. "When a resident gives his or her point of view—that's resistance, existence. We push forward with our projects, despite the violence [in our community]… if we were to count, we'd see that so many people have gotten involved."
Almeida and Portela also comment on the challenges of addressing the needs of the community related to waste. Since the public waste management utility does not collect trash door-to-door in the community, waste disposal is quite difficult for residents. So, while some residents do "throw out their trash in the proper place for collection, "Almeida notes, "they also throw away trash in the street. They know that it's wrong because they are fined, but unfortunately, there is a general lack of awareness." Portela adds: "Basic sanitation is a right and it should be functional. Due to the inadequacy of public services, residents are required to bring their trash to a specific place—but people only do so once they realize that leaving garbage near their homes attracts rats, which can cause health problems. Habits only change when people realize that new practices can transform their lives."
Portela explains, "Environmental education is quite delicate because there is always the risk of imposing and regulating people's lives or burdening individuals with responsibilities and services that should be provided by the government." She instead asks: "What environmental habits contribute to my happiness and to that of the people around me? Those that are collective. But getting everyone to see each other as partners who must work collectively to take care of our space is a long-term goal as we're brought up in a culture of individualism and competition. For this reason, it is important to promote other values and ideas. It's the only way to get things done. This is why we work with children. It's painstaking work and it takes time. But here we are."
Achievements as Project Managers
For Portela, meeting Almeida was fundamental: "It's so good to work with someone who you see wants to do everything in her power, who has the strength and determination to make things happen. It's so gratifying to feel like we're doing something important." She talks about one memory in particular that had an impact on her: "Someone in the community turned to me and said, 'We used to do all of this in Bahia. I never imaged that there would be people coming here [to Providência] to learn about composting.' I think that this is the point, to learn how to value these ancient forms of knowledge that our people have practiced for centuries, millennia, and see that as a form of power."
Almeida notes that her mother was initially skeptical of Horta Inteligente. "No mother believes in what you're doing at first. She would say, 'There's not much a single person can do.' But nowadays, she sends me ideas for activities to do with the kids in the garden. I see that people are really touched by our work." Almeida adds, "When I run into kids in the street and they tell me how much they like the project and call me 'auntie from the garden'—that really inspires me."
Challenges
For Almeida, the greatest challenges facing the community are confrontations with the police, which often inhibit the organization from carrying out its activities. For Portela, finances constitute a great challenge, noting, "With a little more money, we could do so much more. We'd be able to re-open activities at the daycare. While we refuse to stop working simply because we lack the money, it does make the whole process harder. I think that our biggest challenge is achieving financial stability. And this is a challenge that we can do something about—unlike state violence, which is structural."
Almeida elaborates: "We have already received funding from the Networks for Youth Agency and from other small public foundations (including Fazedores do Bem in 2016 and 2017, and Casa Cidades in 2018). In 2018, we were also able to finance the project through a crowdfunding campaign. We are always looking for new resources." She clarifies: "Additionally, we rely on the support of volunteers, who form the foundation of our project, because it's not just on money [that we depend]. We always receive volunteers for our activities."
Portela and Almeida know what they need to make the project viable: "We're searching for local support." Portela specifies: "Shops to donate construction materials, school supplies for classes, snacks for the kids. Right now, we're mapping out the most basic things we need, stuff that would amount to almost nothing for these companies and would be highly rewarding. We already made one project happen this way. We need very little to make social activities happen; a single day of work with the kids makes a huge difference at a low cost. Our challenge is to turn this project into permanent work—so that we can make money from our work and stick with it."
Horta Inteligente's Positive Impact and Future
Portela clarifies the true motivation and impact of Horta Inteligente: "Since our work is focused on children and gardening, sometimes our work seems like a 'cute' little thing that we do to preserve nature. But that's not our main objective. Our focus is on environmental preservation, reclaiming something that is so basic to our existence and relearning how to plant our own food. We're doing more than simply working with nature—we're working with a sense of collectivity. We make community pacts, small rules that the kids themselves create. We are learning every day how to develop even broader kinds of education, to freely foster children's autonomy and creativity." For example, we led a workshop where we made musical instruments out of scraps. We researched how to do it, brought all the necessary materials, and when we got there, the kids began to make everything by themselves—we didn't need to tell them anything."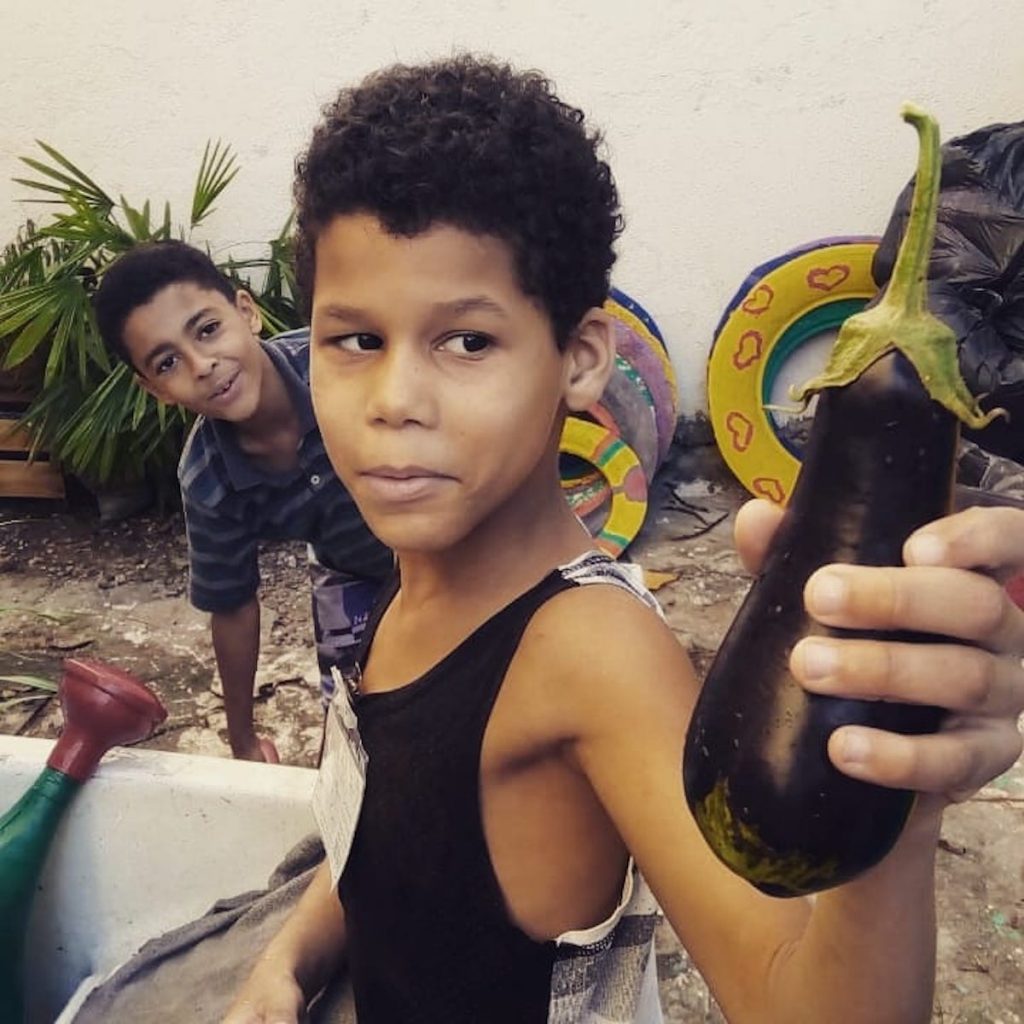 Her dream for the project is to develop an agroforest above the tunnel near Providência, which will be put into motion in the first half of 2019. Going forward, Portela and Almeida have faith that the project will continue to grow.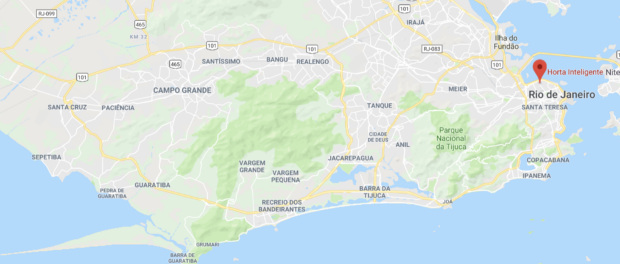 *Horta Inteligente is one of over 100 community projects mapped by Catalytic Communities (CatComm), the organization that publishes RioOnWatch, as part of our parallel 'Sustainable Favela Network' program launched in 2017 to recognize, support, strengthen, and expand on the sustainable qualities and community movements inherent to Rio de Janeiro's favela communities. Check out all the profiles of mapped projects here.