At 3:14pm on Wednesday, March 20, residents of Rio de Janeiro's Morro do Borel favela in the city's North Zone took to social media to report an intense shootout amid a large scale police operation. Soon, videos emerged of two police helicopters circling low, raining bullets from overhead. Residents took cover, worried that the operation had begun just as school let out.
Rio de Janeiro – Tijuca – Morro do Borel. pic.twitter.com/kyoCA0yt8E

— PdRo_HeRc™ (@pdroherc) March 20, 2019
"There are a number of kids that travel through here with different [school] schedules," one resident told RioOnWatch, speaking on the condition of anonymity. "You really worry about whether the structure of your house will be able to handle the power of high caliber rifles. I was horrified. I have two kids here at home."
Recently elected Rio state representative Mônica Francisco, herself a Borel native, immediately began fielding reports on Facebook, writing: "Operation taking place now in Borel and communities in Tijuca. Helicopters are deliberately shooting from above as children get out of school, placing them at risk […] This is absurd! We refuse to mourn more dead!" As of Wednesday evening, local sources reported four deaths resulting from the police operation.
Less than three months into 2019, Rio de Janeiro has already seen at least seven separate operations in which police helicopters fired into favelas. In Rio, police operations typically involve armed confrontations on the ground with drug traffickers in residential areas (as was the case of the Military Police operation in Complexo do Alemão yesterday, Thursday, March 21, which left one resident with a bullet wound in his hand). Rio's police force has been known to use helicopters solely for visual air support. Now, however, community leaders warn that the use of helicopters as firing platforms is becoming commonplace.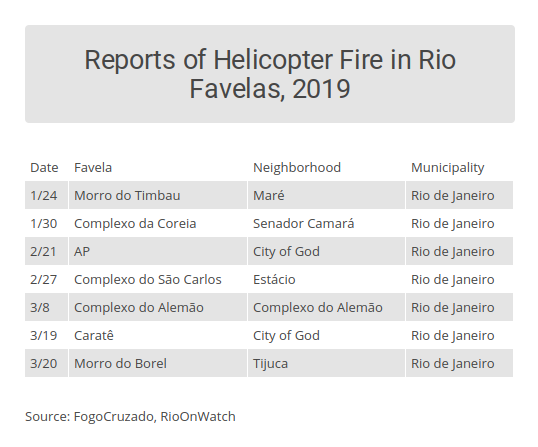 "I think it's something new," says Thainã de Medeiros of Coletivo Papo Reto, a human rights reporting group based in the favelas of Complexo do Alemão, in Rio's North Zone. Recalling December 2014, when a police helicopter shot rubber bullets into a crowd to disperse protesters in the favela of Vila Cruzeiro, Medeiros recounts sporadic reports of police helicopter fire over the past decade but warns that this sort of militarization is turning into regular policy. "Since then, it has only gotten worse. One time is already too much. And it's not like it has happened only once. We have seen it multiple times."
Only weeks ago, on the last Friday of carnival, Alemão residents awoke to helicopter fire.  Police scrambled through the favela of Fazendinha on foot while two armored Civil Police helicopters fired from above.
Community human rights activist Raull Santiago, also of Coletivo Papo Reto, live-streamed the police operation on Facebook "Here, look! Two helicopters, you can hear them. They're passing by the houses and firing." He tells his friends to huddle on the ground, yelling across the street to a neighbor, "Get off that rooftop!"
ESSE VÍDEO É MEU. ESSA VOZ SOU EU! ESSE TERROR SOU EU QUE VIVO, SOMOS NÓS QUE VIVEMOS, POR CAUSA DE VOCÊS QUE APLAUDEM ESSA MERDA!

QUE ÓDIO! 😭😡 pic.twitter.com/16FXXZySwO

— Santiago, Raull. (@raullsantiago) March 8, 2019
The spike is recent, and human rights groups have only just begun to monitor gunfire from police helicopters. Local NGO Redes de Desenvolvimento da Maré (Maré Development Networks) marks December 2017 as the beginning of consistent helicopter use. Lidiane Malanquini, coordinator of the Public Security and Access to Justice programs at Redes da Maré, says that they began to survey data on helicopter use following a violent police operation in Complexo da Maré in June 2018. That operation, involving helicopter gunfire, left seven dead—including 14-year-old student Marcos Vinicius da Silva.
According to data from Redes da Maré, the favelas of Complexo da Maré saw:
33 police operations in 2016, three of which used helicopters but none of which saw helicopter fire;
41 police operations in 2017, four involving helicopters, one of which involved helicopter fire; and
16 operations in 2018, four of which employed helicopters—with all four involving firing from helicopters into the favelas.
"The use of helicopters as a firing platform places lives at risk and generates panic," says Malanquini. "Every time the government employs a new weapon of war as though it were the only means of combating criminal activity in the favelas, residents have to find new ways to protect themselves."
Residents of Maré's favelas had already grown accustomed to militarized police violence with the use of the armored personnel carrier, a tank known locally as the caveirão, or "big skull." Police use such vehicles to speed into favelas unimpeded, often firing from the armored vehicles' gun ports. "These helicopters are even worse than the tanks," says Maré resident Ana Maria, who describes the use of tanks as a tool of revenge. "There have always been helicopters flying low overhead, but now they've put two things together…circling overhead and firing. I think that this is strategic."
Across town, in Rio's West Zone, the favela of City of God has seen little helicopter activity until now, save a 2016 accident when a Military Police helicopter fell nearby during a police operation, killing four police officers. "That helicopter crash was a major trauma for City of God," says a community resident, speaking on the condition of anonymity.
Already in 2019, City of God has reported two instances of helicopter fire during police operations. Because of the favela's flat topography and open roads, police had previously typically entered on foot or via armored vehicle. Now, says the resident, things have begun to change.
"All of these things that other favelas are already familiar with, City of God is now getting to know too," they say. "I think you can really see this change in City of God. In a certain way, for other peripheries, these armored helicopters have always been there. Now, they have come for us."